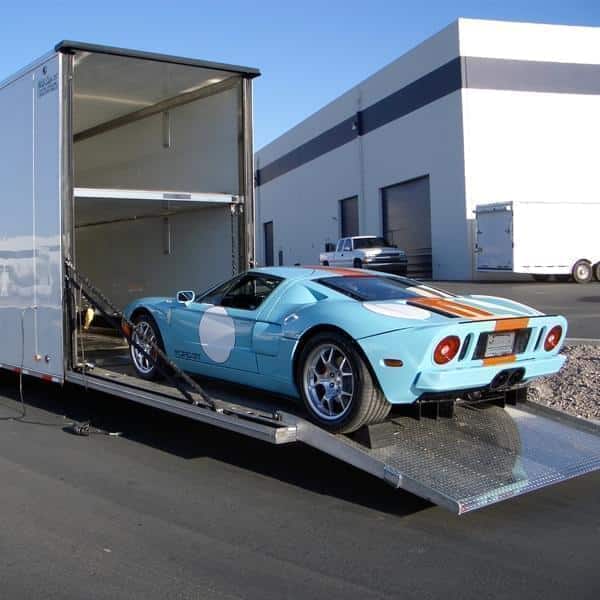 Get The Most Reliable Auto Shipping Services in Austin, Texas
Austin, the vibrant capital city of Texas, is known for its live music scene, cultural diversity, and thriving tech industry. Whether you're a longtime resident, a newcomer, or a business owner, there are times when the need arises to move a vehicle. This could be due to a job relocation, a new vehicle purchase from out of state, or even seasonal migration. In such scenarios, the importance of efficient and reliable auto shipping services cannot be overstated.
Austin's sprawling metropolitan area, bustling highways, and dynamic lifestyle create a demand for dependable vehicle transport. Whether you're moving a car, truck, motorcycle, or even heavy machinery, understanding your options for auto shipping services is crucial to a seamless and stress-free experience.
In this comprehensive guide, we delve into the world of auto shipping services in Austin, Texas. We explore the diverse range of services available to cater to various transportation needs. Whether you require local, regional, or long-distance vehicle shipping, our aim is to provide you with insights, tips, and recommendations for choosing the right auto shipping solution that aligns with your unique requirements.
From open and enclosed transport options to considerations for luxury and classic car shipping, we'll cover it all. Whether you're an individual looking to relocate a personal vehicle or a business in need of efficient freight transport services, this article will serve as your essential resource for navigating the world of auto shipping in Austin, Texas.
Cross Country Car Shipping is your go-to option for all your vehicle and freight shipping needs in Austin, Texas. Our dedicated team, based in Austin, is wholeheartedly committed to providing outstanding services throughout the region. Count on us for smooth, safe, and reliable transportation, building trust with numerous satisfied customers in the area. Your vehicle's journey begins right here.
Our Company
Cross Country Car Shipping excels in Austin, Texas, and is dedicated to providing exceptional car shipping services, harnessing our extensive industry expertise. Our team consists of highly skilled professionals with a profound understanding of secure and efficient vehicle and freight transportation. Our primary goal is to ensure customer satisfaction while delivering top-tier service. Our unwavering commitment to these principles has firmly established us as the preferred service provider in Austin, Texas.
Get Our Services
Cross Country Car Shipping is immensely proud to provide a comprehensive range of tailored services to meet a variety of transportation requirements in Austin.
Auto Transport Services in Austin
Rely on our comprehensive car shipping services in Austin for punctual and smooth vehicle transport, ensuring the preservation of your vehicle's pristine condition from the moment we pick it up to when we make the delivery. Leveraging our extensive experience and strong logistical network, we expertly navigate Austin's transportation routes. Whether you own a compact car or an SUV, we accommodate all vehicle types, offering convenient door-to-door service to give you complete peace of mind.
Motorcycle Shipping in Austin
Motorcycle enthusiasts in Austin, Texas, can trust our dedicated shipping services, providing a secure and reliable option for transporting your cherished two-wheeled companion. With specialized equipment and extensive expertise in motorcycle transportation, we serve both classic and modern bikes. Our highest priority is the safe and timely delivery of your motorcycle, and we take great pride in accomplishing this goal with the utmost care and dedication.
Austin Enclosed Transport
Committed to prioritizing safety, Cross Country Car Shipping provides secure enclosed transportation services in Austin, Texas, guaranteeing the protection of your vehicle from external elements throughout its journey. Our fleet of meticulously maintained enclosed carriers is purpose-built to safeguard valuable or vintage vehicles, offering complete defense against adverse weather conditions, debris, and potential hazards. You can have peace of mind knowing that we handle each vehicle with the utmost care, treating them as if they were our own.
Austin RV Shipping
When it comes to RV shipping services in Austin, Texas, our team is well-prepared to manage the intricacies linked to the transportation of these sizable vehicles. Whether you own a compact travel trailer or a spacious motorhome, we possess the expertise and capabilities to guarantee a secure journey. We comprehend the distinct challenges associated with RV shipping and are ready to tackle them, instilling confidence in you throughout the entire transportation process.
Boat Transport in Austin
Have confidence in our professional boat shipping solutions in Austin, Texas, ensuring the safe and efficient transport of your watercraft. Whether you own a personal watercraft or a larger yacht, we handle your boat with the highest level of care and professionalism. Rest assured that we provide extensive insurance coverage to ensure the secure delivery of your boat to its intended destination.
Freight Transport in Austin
Customized to meet the unique needs of individuals and businesses, our freight shipping services in Austin, Texas, are ideally suited for the transport of oversized, heavy, or substantial items. Whether you're relocating palletized goods, construction materials, or industrial cargo, we possess the necessary resources and expertise to efficiently handle all aspects. No matter your specific freight shipping requirements in Austin, Texas, we are fully equipped to provide customized solutions that closely align with your exact needs.
International Car Shipping Austin
Rely on our international car shipping services in Austin, Texas, for seamless vehicle transfers during international moves. We manage all transportation procedures, aid with customs paperwork, and coordinate the logistics for overseas delivery to guarantee a stress-free experience. Our primary goal is to streamline international shipping, providing you with peace of mind throughout the entire process.
Heavy Equipment Hauling in Austin
With a strong focus on safety, we expertly manage the transportation of large machinery and equipment in Austin, Texas, ensuring a smooth and secure journey. Whether it involves construction, agricultural, or industrial machinery, our dedicated carriers and skilled experts guarantee safe and efficient transportation. You can have confidence that your heavy equipment will arrive on time and in excellent condition, providing you with peace of mind.
For reliable car shipping and comprehensive transportation services in Austin, Texas, don't hesitate to get in touch with Cross Country Car Shipping today. Reach out to our team, and we are fully prepared to enthusiastically address all your vehicle and freight transportation needs.
How does Austin car transport work?
Austin, Texas, with its dynamic population and bustling lifestyle, often requires efficient and reliable car transport services. Whether you're relocating to the city, buying a vehicle from out of state, or need to move a car for any reason, understanding how car transport works in Austin is essential for a smooth experience.
1. Choose the Right Auto Shipping Company: Start by selecting a reputable auto shipping company in Austin. Look for credentials, customer reviews, and experience. Verify their licensing and insurance to ensure your vehicle's protection during transit.
2. Request a Quote: Contact your chosen car transport company to request a quote. Provide details about your vehicle, pickup and delivery locations, and any specific requirements you may have. Comparing quotes from multiple companies can help you find the most cost-effective option.
3. Select the Type of Transport: Decide between open and enclosed transport. Open transport is budget-friendly, while enclosed transport provides extra protection from weather and debris. Your choice will depend on your vehicle's value and your budget.
4. Schedule Pickup and Delivery: Coordinate pickup and delivery dates with the car transport company. Be flexible when possible, as this can help secure a more competitive rate. Ensure you're present for vehicle inspection during pickup and delivery.
5. Vehicle Inspection: Before shipping, thoroughly inspect your vehicle. Document its condition with photos and notes, noting any existing damage. This documentation will serve as a reference point upon delivery.
6. Prepare Your Vehicle: Remove personal belongings from your car, ensuring it's clean and in working order. Keep your gas tank at a quarter full or less, as a full tank adds unnecessary weight.
7. Transit and Delivery: Once your vehicle is loaded onto the transport carrier, it will be shipped to its destination. Depending on the distance and route, transit times can vary from a day to several weeks. Keep in touch with the transport company for updates.
8. Inspection Upon Delivery: Upon arrival, inspect your vehicle again, comparing its condition to the pre-shipment documentation. Report any discrepancies immediately.
By following these steps and understanding how car transport works in Austin, you can ensure a seamless and secure process when moving your vehicle. With the right auto shipping company and proper preparation, your car will arrive at its destination safely and on time.
Choosing an Austin Auto Transport Company: Your Roadmap to Reliability
When it comes to shipping your vehicle in Austin, Texas, choosing the right auto transport company can make all the difference in a smooth and secure experience. Austin's diverse population and thriving economy demand a robust network of auto transport services. Here's your roadmap to selecting the ideal Austin auto transport company.
1. Research and Credentials: Start your journey by conducting thorough research. Look for Austin auto transport companies with established credentials, including proper licensing and insurance. This foundational step ensures your vehicle's protection during transit.
2. Reputation and Reviews: Dive into customer reviews and the company's reputation. Websites, social media, and platforms like the Better Business Bureau (BBB) are valuable resources for gauging a company's reliability and customer satisfaction.
3. Services Offered: Consider the range of services offered. Do they specialize in the type of vehicle you need to transport, whether it's a car, motorcycle, or heavy machinery? Understanding the company's expertise can help ensure a tailored solution.
4. Transparent Pricing: Request quotes from multiple Austin auto transport companies. Compare their pricing and services to find the best value. Be cautious of overly low quotes, as they may indicate hidden fees or subpar service.
5. Insurance Coverage: Verify the insurance coverage provided by the auto transport company. While most companies offer insurance, the extent of coverage can vary. Ensure your vehicle's value is adequately protected.
6. Open or Enclosed Transport: Decide between open and enclosed transport based on your vehicle's needs and value. Open transport is cost-effective but exposes your vehicle to the elements, while enclosed transport provides added protection.
7. Customer Support: Evaluate the quality of customer support. A responsive and communicative company can provide peace of mind throughout the shipping process.
8. Contract Review: Carefully review the contract, including terms, conditions, and cancellation policies. Ensure you understand your rights and responsibilities.
9. Delivery Options: Confirm whether the company offers terminal-to-terminal or door-to-door service, depending on your convenience and budget.
10. References and Recommendations: Don't hesitate to ask the company for references or seek recommendations from friends or colleagues who've used Austin auto transport services.
By following these steps and considering these factors, you'll be well-equipped to choose the right Austin auto transport company for your needs. Whether you're moving to Austin, buying a vehicle from afar, or transporting a valuable asset, a reputable auto transport partner ensures a reliable and secure journey for your vehicle.
Austin Car Transport and Auto Shipping Service Nationwide: Your Trusted Partner – Cross Country Car Shipping
When it comes to Austin car transport and nationwide auto shipping services, Cross Country Car Shipping stands out as a trusted and reliable partner. Whether you're in the heart of Texas or anywhere else in the United States, Cross Country Car Shipping offers a comprehensive solution for all your vehicle transport needs.
1. Extensive Expertise: With years of experience in the auto shipping industry, Cross Country Car Shipping boasts a team of professionals who understand the intricacies of vehicle transport. Their wealth of knowledge ensures that your car, motorcycle, or heavy machinery is handled with precision and care.
2. Nationwide Coverage: While based in Austin, Cross Country Car Shipping's services extend far beyond Texas. They offer nationwide auto shipping services, making them your go-to choice whether you're moving within the state, to a neighboring state, or clear across the country.
3. Diverse Range of Services: Cross Country Car Shipping caters to a wide range of vehicles and transport needs. Whether you're looking to move a compact car, a luxury vehicle, a classic car, or even industrial machinery, they have tailored solutions to meet your unique requirements.
4. Open and Enclosed Transport: Choose between open and enclosed transport options based on your vehicle's needs. Open transport is budget-friendly and suitable for most vehicles, while enclosed transport offers an extra layer of protection for valuable or delicate vehicles.
5. Customer-Centric Approach: Cross Country Car Shipping places customer satisfaction at the forefront of their services. Their commitment to open communication, transparency, and responsive customer support ensures a positive experience from start to finish.
6. Competitive Pricing: Request a quote from Cross Country Car Shipping and discover their competitive pricing. They offer transparent and fair rates, allowing you to choose the services that align with your budget.
7. Insured and Secure: Rest assured that your vehicle is fully insured during transit. Cross Country Car Shipping's insurance coverage provides peace of mind, knowing your valuable asset is protected.
Whether you're in need of Austin car transport or nationwide auto shipping services, Cross Country Car Shipping is your trusted partner for a seamless and secure experience. Their dedication to excellence, combined with their extensive expertise and nationwide coverage, makes them a top choice for all your vehicle transport needs.
10 Essential Tips for a Smooth Move to Austin, Texas
Austin, Texas, with its unique blend of culture, music, and thriving tech scene, is a city that has captured the hearts of many. If you're planning a move to the "Live Music Capital of the World," here are ten invaluable tips to ensure your transition is as smooth as a Texas two-step.
1. Research the Neighborhoods: Austin boasts diverse neighborhoods, each with its own charm and personality. Research thoroughly to find the one that suits your lifestyle and preferences.
2. Beat the Heat: Austin's summers can be scorching, so be prepared for the heat. Invest in good sunscreen, stay hydrated, and dress comfortably.
3. Traffic Awareness: Austin's traffic can be challenging during rush hours. Plan your daily commute strategically or consider using public transportation or biking to beat the traffic.
4. Embrace the Outdoors: Austin is famous for its outdoor activities. Explore the city's parks, trails, and waterways. Don't forget to try paddleboarding on Lady Bird Lake!
5. Live Music Culture: Immerse yourself in Austin's vibrant live music scene. The city hosts countless music festivals and events throughout the year.
6. Foodie Paradise: Austin is a food lover's paradise, renowned for its food trucks and Tex-Mex cuisine. Explore the local culinary scene and savor mouthwatering dishes.
7. Housing Costs: Austin's housing market is competitive. Be prepared to act fast when you find a place you like, and consider your budget carefully.
8. Keep Austin Weird: The city takes pride in its motto, "Keep Austin Weird." Embrace the unique and quirky aspects of Austin's culture and community.
9. Education Options: If you have children, research the area's school districts and educational options to find the best fit for your family.
10. Make Friends: Austin is known for its friendly and welcoming residents. Attend local events, join clubs, and make an effort to connect with the community.
Moving to Austin, Texas, is an exciting adventure filled with opportunities and experiences. With these ten tips in mind, you'll be better prepared to navigate the city, embrace its culture, and make the most of your new life in the heart of Texas.
FAQs
How much does car shipping to or from Austin, TX cost?
The cost of car shipping to or from Austin, Texas, can vary depending on several factors. The distance of the shipment, the type of transport (open or enclosed), the size and weight of your vehicle, the chosen car shipping company, and current market conditions all influence the price.
For shorter distances within Texas or to neighboring states, you might pay between $300 and $1,000. Cross-country car shipping can range from $800 to $1,500 or more. International car shipping is generally more expensive, starting at $1,000 and going up based on the destination and mode of transport.
To get an accurate cost estimate, request quotes from multiple reputable car shipping companies in Austin. Provide detailed information about your vehicle and the specific route to receive the most precise pricing. While cost is a significant consideration, it's crucial to select a reliable and reputable shipping company to ensure the safety and security of your vehicle during transport.
How long does Austin car transport take?
The duration of Austin car transport can vary based on several factors. Generally:
Local or Regional Transport: If you're moving a car within Austin or to a nearby city in Texas, the process can typically take a day or two for the shipment to be completed.
Cross-State Transport: Transporting your vehicle within Texas or to neighboring states may require about 2 to 7 days, depending on the specific route and distance.
Coast-to-Coast Transport: Shipping a car from Austin to the opposite coast or vice versa may take approximately 7 to 14 days, considering the longer distance and potential route variations.
International Transport: When shipping a car overseas, the duration can vary widely. It often ranges from a few weeks to a couple of months, depending on the destination, international shipping method (e.g., sea or air), and customs clearance.
These timelines are general estimates, and actual delivery times can be influenced by factors such as the chosen car shipping company's schedule, weather conditions, and any potential delays during transit. To get a more precise estimate, it's advisable to consult with your selected car transport provider in Austin and communicate your specific needs and timeline expectations.
What are the shipping options?
When it comes to car shipping options in Austin, you have several choices to consider:
Open Transport: This is the most common and cost-effective option. Your vehicle is loaded onto an open-air carrier along with other cars. While it's exposed to the elements, it's a budget-friendly choice for most shipments.
Enclosed Transport: For added protection, enclosed transport is ideal. Your vehicle is placed in an enclosed trailer, shielding it from weather, debris, and potential damage during transit. This option is commonly chosen for luxury, classic, or valuable vehicles.
Terminal-to-Terminal: With this option, you drop off and pick up your vehicle at specified terminals. It's typically more affordable than door-to-door service but may be less convenient.
Door-to-Door: This premium service involves the car shipping company picking up your vehicle from your chosen location and delivering it directly to your destination. It offers convenience but may come at a higher cost.
Open or Closed Carrier: You can select between open and closed carriers for both terminal-to-terminal and door-to-door services, providing flexibility based on your budget and vehicle's needs.
International Shipping: If you're shipping a vehicle overseas, specialized international shipping services are available, including sea or air transport, depending on your destination and timeframe.
Express Shipping: Some companies offer expedited or express car shipping services for quicker delivery, though this option may come at a higher price.
When choosing a car shipping option in Austin, consider factors such as your budget, the type of vehicle you're shipping, the level of protection needed, and your desired level of convenience. It's advisable to request quotes from reputable car shipping companies to compare options and find the one that best suits your specific requirements.
Can I have some documents inside car while shipping?
Yes, you can typically have some documents inside your car while shipping, but there are some important considerations to keep in mind:
Limited Amount: Most car shipping companies allow a small number of documents or personal items inside the vehicle. This is usually limited to items that can fit in the glove compartment or the trunk.
Check with Your Carrier: It's crucial to check with your chosen car shipping company about their specific policies regarding personal items. Some companies may have restrictions or guidelines in place.
Insurance Coverage: Be aware that any personal items inside the car are generally not covered by the car shipping company's insurance. If your items are valuable or irreplaceable, it's recommended to transport them separately.
Weight Consideration: Keep in mind that any additional weight inside the vehicle can affect the overall weight of the shipment, potentially impacting the cost and logistics of the transport.
Empty and Clean: It's a good practice to empty your car of any valuable or sensitive items and ensure it's clean and in good condition before shipping.
Always communicate with your chosen car shipping provider to understand their policies and guidelines regarding personal items inside the vehicle. While it's generally allowed to have documents and a limited amount of personal items, it's essential to adhere to their rules to ensure a smooth and trouble-free transport process.