How To Balance Cost And Efficiency When Looking For Auto Shipping Rates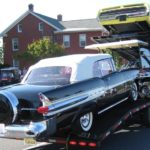 The auto shipping market has certainly seen a rise in competition over the last decade as demand increases and more individuals find themselves using these services to transport their vehicles, for business or even personal needs. This has caused shipping rates to go down by quite a bit, and many companies are throwing discounts and package deals into the equation to try and bring in customers.
You do not necessarily have to use a big name shipping company to move your vehicle, and with the help of the internet, finding a reputable but affordable transit solution is quite simple. In most situations, the auto shipping rates that you will be faced with are based on the distance of the move and the time of the year that the transit is taking place. Other factors such as weather conditions can also change prices. You should always keep this in mind when looking at quotes for auto shipping rates, as most estimations are not final and the actual price will be different.
If you really want to save money on your auto shipping rates, open car shipping is usually the way to go. Your car will be grouped with a few others of course, and will be exposed to the elements, but as long as your trip is not very long, everything should be okay. If you have a more exotic or expensive car that needs to be shipped and do not mind the extra expense, enclosed car shipping is another option. Be patient and really take the time to analyze the companies that you come into contact with before making your decision on who to hire. To simplify this process, it is recommended that you look at reviews and take advantage of the great informational access that the internet gives you.