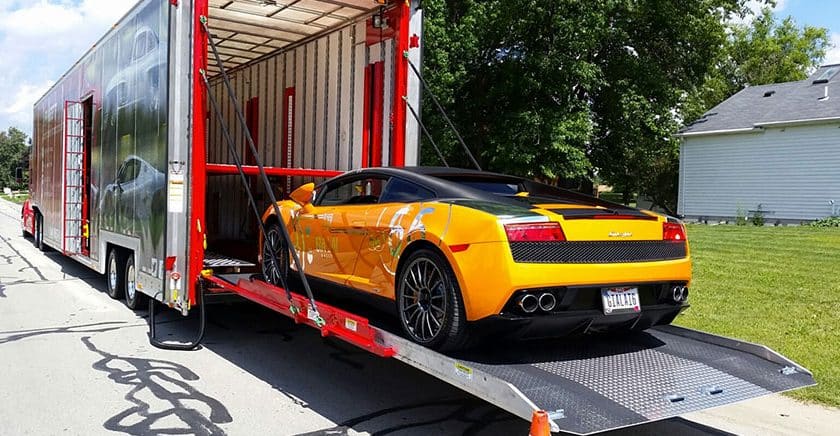 Luxury Car Transport (Everything You Need to Know)
Luxury car transport is a specialized service offered by auto transport companies to cater to the needs of clients who own high-end, expensive vehicles. Shipping a luxury car can be a daunting task, and any damage to the vehicle during transportation can result in significant losses for the owner. Therefore, it's crucial to choose a reliable and experienced luxury car transport company to ensure the safety and security of your prized possession.
Luxury car transport companies offer a range of services tailored to meet the unique requirements of high-end vehicles, such as enclosed trailers, door-to-door transport, and white-glove service. These specialized services provide extra protection and care to ensure that the vehicle arrives at its destination in pristine condition.
Luxury car transport is not just limited to cars but also includes other high-end vehicles such as yachts, boats, and RVs. Transporting these vehicles requires specialized knowledge, equipment, and experience to ensure their safe and secure transportation.
In this article, we will explore the benefits of luxury car transport services, the things you need to know when shipping your luxury car, the cost and delivery times for luxury vehicles in the U.S., and much more. By the end of this article, you will have a clear understanding of the process involved in luxury car transport and the things you need to consider when shipping your luxury car.
The Ultimate Luxury Car Shipping with Cross-Country Car Shipping
Cross-Country Car Shipping is a top-rated car shipping company that specializes in luxury car transport services across the United States. They have over 25 years of experience in the auto transport industry and have earned a reputation for providing safe, reliable, and affordable transportation services.
If you need to transport your luxury car, Cross-Country Car Shipping can help. They have a team of experienced professionals who are trained to handle high-end vehicles and ensure they arrive at their destination in pristine condition. They offer both open and enclosed transport options to suit your needs.
When you choose Cross-Country Car Shipping for your luxury car transport needs, you can expect a hassle-free experience. They handle all the logistics, including pickup and delivery, so you don't have to worry about a thing. Their team will keep you updated throughout the process and provide you with the information you need to feel confident that your vehicle is in good hands.
Cross-Country Car Shipping understands that your luxury car is an investment, and they take great care to ensure it arrives at its destination in the same condition it left in. They use state-of-the-art equipment and employ trained professionals to handle your vehicle. They also offer insurance coverage to protect your vehicle during transport.
If you're looking for a luxury car transport service, Cross-Country Car Shipping is an excellent choice. With their commitment to customer satisfaction, experienced staff, and top-notch equipment, you can trust them to handle your vehicle with care. Contact them today to learn more about their services and get a quote for your luxury or antique car transport needs.
Yacht & Watercraft Shipping
Yacht and watercraft shipping is a specialized transportation service that involves moving boats and other watercraft from one location to another. Transporting a yacht or watercraft can be a complex and delicate process, which is why it's important to choose a reputable and experienced shipping company.
At Cross Country Car Shipping, we offer yacht and watercraft shipping services to our customers. Our team of experts has years of experience in the transportation industry and is equipped with the knowledge and tools to safely and efficiently transport your boat or watercraft to its destination.
We understand that your yacht or watercraft is a valuable investment and take every precaution to ensure its safe delivery. Our team will work with you to determine the best shipping method for your specific needs, whether it be open transport or enclosed transport.
In addition to our shipping services, we also offer storage options for your yacht or watercraft. If you need to store your boat or watercraft for any amount of time, we have secure facilities available to ensure that your investment is protected.
At Cross Country Car Shipping, we pride ourselves on providing exceptional customer service and support throughout the entire shipping process. From initial consultation to final delivery, our team will work closely with you to ensure that your yacht or watercraft arrives at its destination safely and on time.
If you're in need of yacht or watercraft shipping services, contact us at Cross Country Car Shipping to learn more about our options and to receive a quote.
Cost & Delivery Times For Exotic Car Transport In The U.S.
Shipping luxury vehicles in the U.S. can be quite costly, but it largely depends on the type of vehicle and the shipping method you choose. Luxury vehicles require special handling and care during transport, which increases the cost.
Open transport is the most affordable way to ship a luxury vehicle, with costs ranging from $1 to $2 per mile, depending on the distance and the type of vehicle. Enclosed transport, on the other hand, offers more protection and security for your luxury vehicle, but it can cost anywhere from $2 to $4 per mile.
Another factor that affects the cost of luxury car shipping is the delivery time. Expedited shipping, which guarantees faster delivery times, will cost more than standard shipping. Delivery times will also vary depending on the shipping distance and the specific route.
When shipping a luxury vehicle, it's important to choose a reputable shipping company that specializes in exotic car transport services. These companies have experience handling expensive vehicles and have the necessary equipment and insurance to ensure safe and secure transportation. You can get an instant quote of luxury car shipping from here.
In addition to cost and delivery time, it's also important to consider the reputation and experience of the shipping company. Look for reviews and testimonials from previous customers, and make sure the company has the necessary licenses and insurance to operate.
Overall, shipping a luxury vehicle in the U.S. requires careful consideration of cost, delivery time, and the reputation of the shipping company. By choosing the right shipping method and company, you can ensure the safe and secure transport of your valuable luxury vehicle.
The Benefits of Our Luxury Auto Transport Services
At Cross-Country Car Shipping, we offer luxury auto transport services that provide a range of benefits to our clients. Here are a few reasons why you should choose our services for your exotic car transport needs:
Professionalism and Expertise: Our team of professionals has years of experience in the auto transport industry and is equipped with the knowledge and expertise to handle your luxury car with care and precision.
Secure and Safe Transport: We use state-of-the-art technology and equipment to ensure that your luxury vehicle is transported securely and safely. Our enclosed trailers provide added protection against the elements and potential road hazards.
Customized Services: We understand that every client's needs are unique, which is why we offer customized auto transport services tailored to your specific requirements. Whether you need a door-to-door or terminal-to-terminal delivery, we can accommodate your needs.
Cost-Effective Solutions: We provide cost-effective solutions for luxury car transport, with competitive pricing that is designed to suit your budget.
Peace of Mind: With our luxury auto transport services, you can rest easy knowing that your valuable investment is in safe hands. We provide real-time updates on the status of your transport and offer 24/7 customer support to ensure that all your concerns are addressed promptly.
Convenient and Flexible: We offer a range of delivery options, including expedited and standard services, to suit your timeline and schedule. We work around your schedule to ensure a stress-free transport experience.
Things You Need To Know When Shipping Your Luxury Car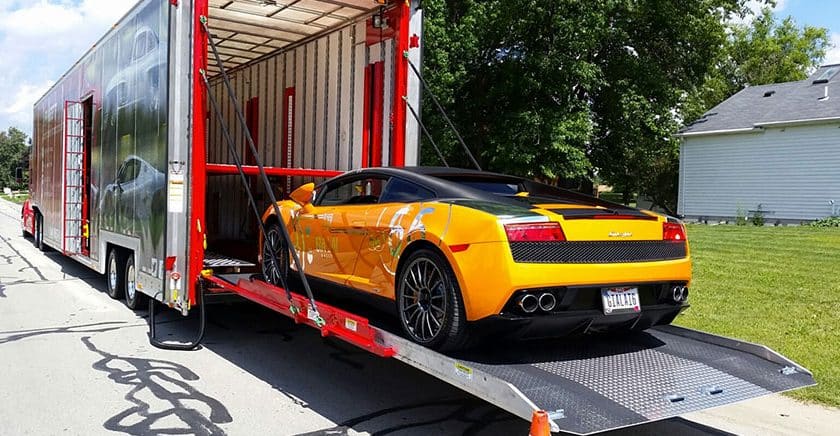 Shipping a luxury car can be a nerve-racking experience, but with the right preparation and information, it can be a smooth process. Here are some things you need to know when shipping your luxury car:
Choose the right auto transport company: Look for a company that specializes in luxury car shipping and has experience handling high-end vehicles. Make sure they have proper insurance and a good reputation in the industry. Here is a detailed guide on how to choose a car shipping company.
Prepare your car for shipping: Clean your car inside and out, remove any personal belongings, and take photos of any existing damages before shipping. Also, make sure your car is serviced and in good working condition.
Choose the right shipping method: There are two main methods of shipping a car: open transport and enclosed transport. For a luxury car, enclosed transport is recommended to protect your vehicle from weather and road debris.
Understand the cost: Luxury car shipping can be more expensive than regular car shipping due to the value of the vehicle and the extra precautions that need to be taken. Make sure you understand the cost and ask for a detailed breakdown of the charges.
Plan for delivery: Make sure you have someone available to receive the car at the delivery location. You will also need to sign a Bill of Lading, which is a legal document that outlines the details of the shipment.
Check your car upon delivery: Inspect your car thoroughly upon delivery and note any damages that may have occurred during transport. If there are any issues, make sure to report them to the auto transport company and your insurance company.
By following these tips, you can ensure a safe and stress-free luxury car shipping experience. Remember to do your research, prepare your car properly, and choose the right shipping method for your needs.
Is Enclosed Car Shipping a Better Option for Luxury Cars?
If you own a luxury car, you want to ensure that it's treated with the utmost care when being transported. While open auto transport is a viable option for most cars, enclosed car shipping offers added protection for high-end vehicles during transit. Enclosed car shipping is a popular choice for luxury car owners as it provides complete protection from external factors such as weather, road debris, and dust.
During enclosed car shipping, the vehicle is loaded onto a covered trailer, which protects it from the elements during transit. Enclosed trailers are typically used to transport high-end sports cars, classic cars, and luxury vehicles. These trailers come equipped with special features like air-ride suspension, lift gates, and climate control systems, which provide an additional layer of protection to the car.
Choosing enclosed car shipping for your luxury car also ensures privacy and security. The car is not visible during transit, which eliminates the possibility of theft or damage from prying eyes. Additionally, many enclosed car shipping companies offer insurance coverage that provides protection against damages incurred during transportation.
However, enclosed car shipping typically comes with a higher price tag than open auto transport due to the added protection and specialized equipment required. The cost of enclosed car shipping can vary based on factors such as distance, route, and the type of vehicle being transported. Despite the added expense, the added protection and peace of mind make enclosed car shipping an attractive option for luxury car owners.
When choosing an enclosed car shipping company, it's important to do your research and select a reputable provider with a proven track record of successfully transporting high-end vehicles. Look for companies with experience in exotic car transport and positive customer reviews.
In conclusion, while open auto transport may be suitable for standard cars, enclosed car shipping offers superior protection and security for luxury vehicles during transit. If you're looking to transport your luxury car, choosing an enclosed car shipping service may be the best option for ensuring the safe and secure transport of your high-end vehicle. Feel free to check out this detailed comparison of open vs enclosed car shipping to avoid any confusion.