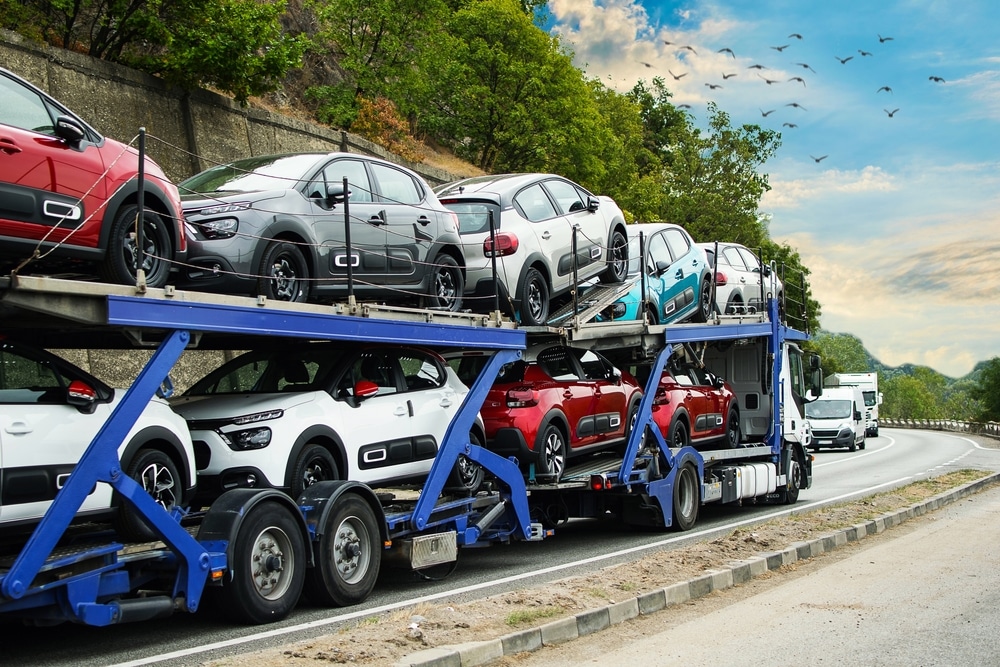 Get Your Convenient Alaska Auto Shipping Services
Alaska, a dynamic and vibrant state characterized by bustling urban hubs and picturesque landscapes, captures the interest of numerous individuals and businesses seeking reliable auto transport solutions. Whether you're relocating to or from Alaska, purchasing a vehicle from a distant seller, or in need of heavy machinery transport, securing a reputable auto transport service is essential for a smooth and stress-free process.
Among the multitude of car shipping companies operating within the state, choosing the right one can be a challenging endeavor. Factors such as safety, reliability, flexibility, and pricing all play a significant role in making an informed decision. Fortunately, Alaska boasts a diverse range of established and trustworthy auto transport service providers, each offering unique attributes to accommodate a variety of transportation needs.
In this article, we will explore the top-rated auto transport services in Alaska, highlighting their exceptional qualities, specialized offerings, and unwavering commitment to customer satisfaction. Whether you require transportation for a standard car, luxury vehicle, or heavy equipment, these dependable companies will ensure the secure and efficient delivery of your vehicle to its intended destination.
Auto Transport Services in Alaska
Cross Country Car Shipping provides the ideal solution for all your vehicle and freight transportation requirements in Alaska. Our committed team, located in Alaska, takes great pride in delivering outstanding services across the state. Count on us for a seamless, safe, and dependable transportation experience, as we have earned the confidence of numerous contented clients in the region. Your vehicle's journey starts with us.
Get the Best Shipping Services From Our Company
With significant industry expertise, Cross Country Car Shipping is dedicated to providing exceptional car shipping services in Alaska. Our team consists of experienced professionals who possess in-depth knowledge of the nuances of safe and efficient vehicle and freight transport. Acknowledged as a top-tier service provider in the region, we uphold a firm commitment to customer contentment and service excellence. You can rely on us to handle your transportation needs with the utmost care and effectiveness.
Our Services
Cross Country Car Shipping in Alaska is proud to offer a wide array of services customized to fulfill a diverse range of transportation needs:
Car Shipping in Alaska
Rely on our comprehensive vehicle transportation services in Alaska to ensure your car arrives at its designated destination promptly and without any hitches. With our extensive knowledge and robust logistical infrastructure, we expertly navigate transportation routes across the state. Whether you own compact cars or SUVs, we manage a variety of vehicle models, offering convenient door-to-door service and ensuring your car reaches its destination in the same impeccable condition as when it was originally collected.
Need Enclosed Trailers in Alaska?
To ensure the highest level of safety during transportation, we offer secure enclosed transport services in Alaska, carefully designed to shield your vehicle from external elements. Particularly suitable for safeguarding valuable or vintage cars, our fleet of well-maintained enclosed carriers provides top-notch protection against adverse weather conditions, debris, and potential risks. With scrupulous and dedicated attention, we treat every vehicle as a cherished possession, assuring its safe and flawless arrival at the intended destination.
RV Shipping in Alaska
When it comes to meeting your RV transportation requirements in Alaska, our team is fully prepared to handle the complexities of moving these sizable vehicles. Whether you're dealing with compact travel trailers or spacious motorhomes, we have the expertise and specialized equipment necessary to ensure their safe transport. Recognizing the distinctive challenges associated with RV shipping, we are well-equipped to address them with the highest level of effectiveness, ensuring a seamless and safe transport experience.
Boat Shipping From/To Alaska
With our specialized boat transportation services in Alaska, you can have confidence that your watercraft will be expertly and promptly moved. Whether you're overseeing a personal watercraft or a larger yacht, we treat each boat with the highest level of care and expertise. Our all-inclusive insurance coverage provides an additional level of confidence, establishing us as the dependable choice for safely transporting your boat to its intended location.
Freight Transportation in Alaska
Customized to cater to the distinct requirements of clients in Alaska, our freight shipping services offer an exceptional solution for businesses or individuals in need of transporting bulky, heavy, or cumbersome items. Whether you're handling palletized goods, construction materials, or industrial freight, we have the expertise and capability to handle a diverse range of cargo varieties. Rely on us to provide efficient and tailored solutions, guaranteeing the seamless and reliable transportation of your freight to its specified destination.
Choose Us For International Car Shipping
Planning an international relocation from Alaska? Let us assist you in achieving a smooth vehicle transition with our worldwide auto transport services. We carefully manage every facet of the transportation process, from navigating customs documentation to coordinating international delivery logistics. Our aim is to simplify the international shipping process, guaranteeing a hassle-free and stress-free experience for all our esteemed clients.
Heavy Equipment Hauling in Alaska
With an unwavering dedication to rigorous safety measures, we expertly manage the transportation of substantial machinery and equipment in Alaska, ensuring a secure and seamless journey. Our expertise extends across various industries, encompassing construction, agriculture, and industrial machinery, ensuring the safe transportation of a diverse range of items. Our committed carriers and experienced professionals work diligently to ensure the timely and secure arrival of your heavy equipment at its designated endpoint.
Contact Auto Transport Specialty today for reliable vehicle shipping services in Alaska and a comprehensive range of transportation solutions. Trust in our meticulous attention and efficiency to handle all your transportation needs.
Things to consider before moving your car from Alaska
Moving your car from Alaska requires careful consideration to ensure a smooth and hassle-free transportation process. Here are some essential factors to keep in mind:
1. Distance and Destination: Determine the distance to your destination and whether it's a local or long-distance move. Longer distances may require different transportation methods.
2. Weather Conditions: Alaska's extreme weather can affect your vehicle during transport. Consider the season and weather conditions at your current and future locations.
3. Transportation Method: Choose the right transportation method for your car, whether it's open transport (cost-effective but exposed to the elements) or enclosed transport (safer but pricier).
4. Budget: Establish a budget for car transportation, factoring in costs such as transportation fees, insurance, and potential additional services.
5. Insurance: Ensure your car is adequately insured during transit. Verify your existing policy or purchase additional coverage if needed.
6. Vehicle Condition: Take note of your vehicle's current condition and document any existing damage. This will be crucial for insurance claims if any issues arise during transport.
7. Transport Company: Research and choose a reputable car transport company with a track record of safety and reliability. Read reviews and request quotes from multiple providers. First, select a few Alaska car shipping companies or Alaska auto transport companies. From those Alaska vehicle transport companies or Alaska vehicle shipping companies select the best Alaska car shipping company or Alaska auto shipping company. Here is a complete guide on how to choose a car shipping company.
8. Scheduling: Plan your car transport well in advance to secure the desired dates and avoid any last-minute rush.
9. Preparation: Clean your car, remove personal belongings, and make sure it's in good working order before transport. This blog will give you a complete idea on preparing your vehicle for transportation.
10. Legal Requirements: Familiarize yourself with any state-specific regulations or requirements for car transport in Alaska and your destination state.
By considering these factors, you can ensure a smooth and worry-free transition for your vehicle when moving from Alaska to your new location.
Tips For Using Alaska Car Transport Companies
Utilizing car transport services in Alaska requires careful planning and consideration to ensure a successful and stress-free experience. Here are valuable tips for using Alaska car transport companies effectively:
1. Research Reputable Companies: Start by researching and comparing multiple car transport companies in Alaska. Look for firms with positive customer reviews and a proven track record of safety and reliability.
2. Request Multiple Quotes: Obtain quotes from several companies to compare pricing and services. Ensure you understand the cost breakdown and any potential additional fees.
3. Check Insurance Coverage: Verify that the car transport company provides adequate insurance coverage to protect your vehicle during transit.
4. Vehicle Preparation: Clean your vehicle inside and out, remove personal items, and document its condition before transport.
5. Stay Informed: Maintain regular communication with the transport company for updates on your vehicle's journey and any changes to the schedule.
6. Pickup and Delivery Inspection: Be present for vehicle pickup and delivery to inspect your car's condition and sign off on the paperwork.
7. Review Contracts: Before signing any contract, carefully review the terms and conditions, including cancellation policies and any liabilities.
By following these tips, you can maximize your experience with Alaska car transport companies, ensuring the safe and efficient transportation of your vehicle.
Top 10 most popular routes for transporting a car to/from Alaska
Transporting a car to or from Alaska involves navigating popular routes that connect this unique state with the rest of the United States. Here are the top 10 most popular car transport routes to and from Alaska:
1. Alaska to Washington: The route from Alaska to Washington State is a common choice, particularly to major cities like Seattle.
2. Alaska to California: Many people transport their vehicles from Alaska to California, especially to cities like Los Angeles and San Francisco.
3. Alaska to Oregon: This route serves those moving to Oregon or other parts of the Pacific Northwest.
4. Alaska to Arizona: Transporting cars between Alaska and Arizona is a popular choice for seasonal travelers seeking to escape harsh winters.
5. Alaska to Texas: People relocating to or from Alaska and Texas often utilize this route.
6. Alaska to Florida: Alaska to Florida routes are chosen by snowbirds who migrate seasonally.
7. Alaska to Illinois: Moving to the Midwest? The route to Illinois is frequently used.
8. Alaska to New York: For those heading to the East Coast, this route connects Alaska to New York and other northeastern states.
9. Alaska to Nevada: Transporting cars to Nevada is common, particularly to cities like Las Vegas.
10. Alaska to Colorado: People moving to or from Alaska and Colorado often rely on this route.
These popular car transport routes offer various options for individuals and businesses looking to move vehicles to or from Alaska, catering to a range of needs and destinations. When planning your car transportation, consider these well-traveled routes to find the one that best suits your requirements.
Long Distance Auto Transport to/from Alaska
Long-distance auto transport to or from Alaska is a significant undertaking that demands careful planning and consideration. Whether you're moving to the Last Frontier or relocating from it, here are some key aspects to keep in mind:
1. Distance and Terrain: Alaska's vast size and unique geography can impact transport times and routes. Consider the distance and the specific locations involved in your move.
2. Weather Conditions: Alaska's extreme weather, especially during winter, can affect the transportation process. Plan accordingly and discuss weather-related concerns with your transport company.
3. Transportation Method: Choose between open and enclosed transport based on your vehicle's needs. Enclosed transport offers extra protection but comes at a higher cost.
4. Budget: Establish a budget for auto transportation, taking into account costs like transportation fees, insurance, and potential additional services.
5. Insurance Coverage: Ensure your vehicle is adequately insured during transit, given the potential challenges of long-distance moves.
6. Transport Company: Research and select a reputable Alaska auto transport company with expertise in shipping cars long-distance. Read reviews and request quotes from multiple providers.
By addressing these factors, you can ensure a successful and smooth long-distance auto transport experience to or from Alaska, no matter the distance or destination.
Cheap Car Transportation Options in Alaska
When it comes to car transportation in Alaska, finding cost-effective options can be a priority for many individuals and businesses. Here are some affordable car transportation choices to consider in the Last Frontier:
1. Open Car Transport: If you want to ship vehicles in a budget-friendly manner then choose open transport. While your vehicle will be exposed to the elements, it's a secure and reliable option for most car types.
2. Terminal-to-Terminal Transport: Selecting terminal-to-terminal delivery means dropping off and picking up your vehicle at designated terminals, which can be more economical than door-to-door service.
3. Multi-Vehicle Transport: If you have multiple vehicles to transport, consolidating them onto a single carrier can reduce overall costs.
4. Seasonal Shipping: Plan your car transportation during non-peak seasons or avoid peak demand times to secure lower rates.
5. Flexible Scheduling: Consider being open to flexible pickup and delivery dates, as this can lead to more affordable options.
By exploring these cost-effective car transportation choices in Alaska, you can find a solution that aligns with your budget while ensuring your vehicle reaches its destination safely and securely.
Instant Car Shipping Quote
Obtaining an instant car shipping quote is a crucial step when planning to transport your vehicle. Many reputable car transport companies now offer online tools that provide quick and accurate quotes. Here's why instant car shipping quotes are beneficial:
1. Time-Efficiency: Instant quotes save you time compared to waiting for manual calculations or callbacks from companies.
2. Budget Planning: With an immediate quote, you can better plan your budget for car transportation services, ensuring you have the necessary funds in place.
3. Comparison: Instant quotes allow you to compare prices and services from multiple companies swiftly, helping you make an informed choice.
4. Convenience: You can obtain quotes at any time, day or night, making it convenient for your schedule.
5. Transparency: Reputable companies provide detailed breakdowns of costs, ensuring transparency in pricing.
Before accepting a quote, remember to verify the company's reputation and services. Instant car shipping quotes are a valuable tool, streamlining the planning process for vehicle transportation. Get an instant quote from us here.
FAQs
How long does vehicle transport to/from Alaska take?
The duration of vehicle transport to/from Alaska can vary widely based on several factors. For shorter distances within the state or nearby locations in Canada, it typically takes one to two weeks. For transport between Alaska and the contiguous U.S., the transit time can range from two to four weeks. International shipping, especially to destinations overseas, may require several weeks due to customs procedures and longer distances. However, exact timing depends on variables such as distance, route, weather, and the transport company's schedule. To get a more accurate estimate, it's advisable to discuss your specific circumstances and destination with your chosen transport provider.
How much does auto transportation to/from Alaska cost?
The cost of auto transportation to/from Alaska varies significantly, primarily influenced by several factors. For shorter distances within Alaska or to nearby states, you may pay between $800 to $1,500. Cross-country transport to or from the contiguous U.S. can range from $1,500 to $3,000 or more. International shipping, particularly to overseas destinations, can exceed $3,500, depending on the final location and shipping method. Variables like the vehicle's size, type, condition, chosen transport method (open or enclosed), and the transport company's rates all play a role in determining the final cost. To obtain an accurate estimate tailored to your specific circumstances, it's advisable to request quotes from multiple reputable auto transport companies. Through this blog, you'll know more about the pricing process of the shipping companies.