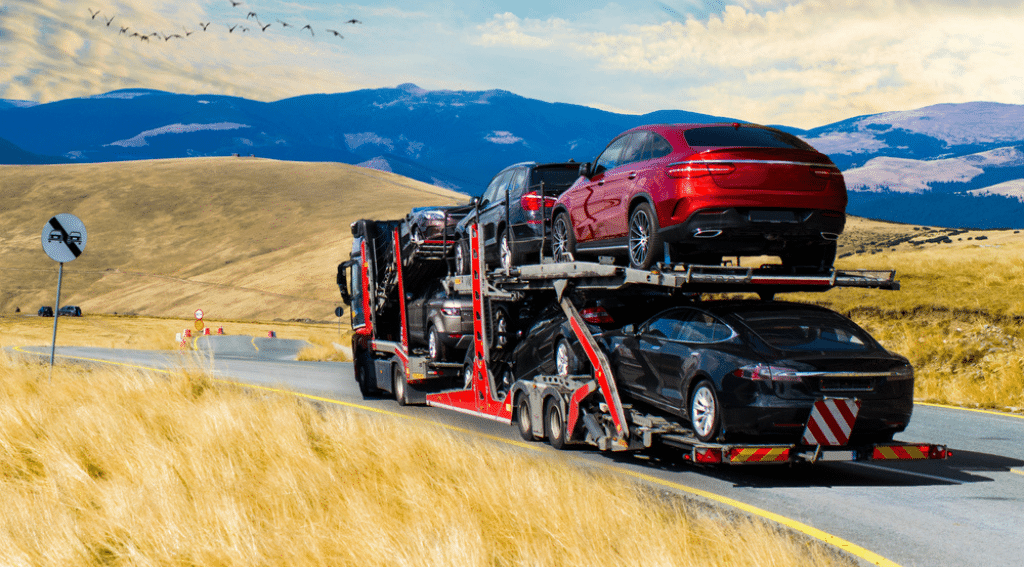 Find The Best Auto Shipping And Car Transport Services in Connecticut
Connecticut, nestled in the heart of the northeastern United States, is a state renowned for its rich history, picturesque landscapes, and vibrant cities. Whether you're a resident or planning a move to or from this beautiful state, the need for reliable auto transport services can arise for various reasons.
Connecticut auto transport services offer a convenient and efficient solution for transporting your vehicle within the state, to neighboring regions, or across the country. Whether you're relocating, selling your vehicle, or simply need to move it for any other purpose, these services play a crucial role in ensuring your vehicle reaches its destination safely and securely.
From Stamford to Hartford and beyond, Connecticut residents and businesses rely on auto transport services to simplify the process of moving their vehicles. Whether you have a compact car, a luxury vehicle, a motorcycle, or even heavy machinery, Connecticut auto transport companies are equipped to handle a wide range of transportation needs.
In this guide, we'll explore the world of auto transport services in Connecticut, covering topics such as the cost of shipping, popular transport routes, factors to consider before shipping your vehicle, and much more. Whether you're a first-time shipper or a seasoned veteran, our aim is to provide you with the knowledge and insights to make informed decisions and ensure a smooth and stress-free vehicle transport experience in Connecticut. Your vehicle's journey begins here, so let's dive in and discover how you can make the most of auto transport services in the Nutmeg State.
Find Suitable Auto Transport Services
Cross Country Car Shipping offers the perfect solution for your vehicle and freight shipping needs in Connecticut. Our dedicated team, located in Connecticut, takes great pride in providing outstanding services throughout the state. Count on us for smooth, safe, and reliable transportation, which has earned the trust of many satisfied customers in the area. Your vehicle's journey begins right here.
Our Company
Cross Country Car Shipping specializes in Connecticut and is dedicated to providing outstanding car shipping services, drawing from a wealth of industry experience. Our team consists of highly skilled professionals with extensive knowledge in safe and efficient vehicle and freight transportation. Customer satisfaction and service excellence are of utmost importance to us, and our unwavering commitment to these principles has solidified our esteemed reputation as the preferred service provider in Connecticut.
Check Our Services
Cross Country Car Shipping takes great pride in offering a wide array of services customized to fulfill diverse transportation needs in Connecticut.
Connecticut Car Transport Services
Rely on our all-encompassing car shipping services in Connecticut for the timely and flawless transport of your vehicle, preserving its pristine condition from pickup to drop-off. Utilizing our vast knowledge and robust logistical network, we adeptly navigate Connecticut's transportation routes. Whether you own a compact car or an SUV, we cater to all vehicle types, delivering convenient door-to-door service for your peace of mind.
Motorcycle Shipping in Connecticut
Connecticut's motorcycle aficionados can trust our specialized shipping services, providing a safe and reliable solution for transporting your cherished two-wheeled companion. With specialized equipment and extensive expertise in motorcycle transportation, we accommodate both vintage and modern bikes. Ensuring the security and timely arrival of your motorcycle remains our foremost priority, and we take immense satisfaction in accomplishing this goal with the utmost care and diligence.
Connecticut Enclosed Auto Transport
Dedicated to ensuring utmost safety, Cross Country Car Shipping provides secure enclosed transport services in Connecticut, safeguarding your vehicle from external factors throughout its voyage. Our fleet of well-maintained enclosed carriers is designed to protect high-value or classic vehicles, offering comprehensive shielding against adverse weather, debris, and potential hazards. You can have confidence that we handle each vehicle with meticulous care, treating them as if they were our own.
RV Shipping in Connecticut
When it comes to RV shipping services in Connecticut, our team is fully prepared to manage the intricacies of transporting these sizable vehicles. Whether you possess a compact travel trailer or a roomy motorhome, we possess the expertise and resources to ensure a secure trip. We recognize the distinct challenges linked to RV shipping and are ready to address them adeptly, offering you peace of mind throughout the entire transportation process.
Looking for Boat Shipping Services?
Count on our expert boat shipping services in Connecticut to ensure the secure and effective transportation of your watercraft. Whether you possess a personal watercraft or a larger yacht, we treat your boat with the utmost care and professionalism. Rest assured with our extensive insurance coverage, guaranteeing the safe delivery of your boat to its designated location.
Get Freight Shipping Services
Tailored to cater to the distinctive demands of individuals and businesses, our freight shipping services in Connecticut are a perfect fit for the transportation of oversized, heavy, or substantial items. Whether you're relocating palletized goods, construction materials, or industrial cargo, we possess the necessary resources and knowledge to efficiently handle all aspects. Whatever your freight shipping requirements in Connecticut may be, we are fully equipped to provide personalized solutions that match your precise needs.
Reliable Connecticut International Car Shipping Services
Depend on our international car shipping company in Connecticut for a seamless vehicle transfer during international relocations. We manage all transportation processes, take care of customs documentation, and coordinate foreign delivery logistics to make the process trouble-free. Our main priority is to streamline international shipping, providing peace of mind throughout the entire journey.
Heavy Equipment Hauling in Connecticut
Emphasizing safety, we adeptly manage the transport of large machinery and equipment in Connecticut, ensuring a smooth and secure journey. Be it construction, agricultural, or industrial machinery, our committed carriers and experienced professionals ensure safe and efficient transportation. You can have confidence that your heavy equipment will arrive punctually and securely, providing you with peace of mind.
For reliable car shipping and comprehensive transportation solutions in Connecticut, don't hesitate to contact Cross Country Car Shipping today. Reach out to our team, and we are fully prepared to meet all your vehicle and freight transport needs with enthusiasm.
Car Shipping in Connecticut | How It Works?
When it comes to relocating your vehicle in Connecticut, you want a car shipping service that not only gets the job done but also understands the nuances of this beautiful state. CT car transport services offer a seamless and reliable solution, ensuring your vehicle reaches its destination safely and securely.
Step 1: Booking Your Service
The process begins with booking your car shipping service. Simply reach out to a reputable company in Connecticut that offers car transport services. They'll guide you through the options, including open or enclosed transport, depending on your vehicle's needs.
Step 2: Vehicle Inspection and Preparation
Before your vehicle hits the road, it undergoes a thorough inspection to document its condition. This step is essential for any potential insurance claims. You'll also need to prepare your car by removing personal belongings and ensuring it's in good working order.
Step 3: Pick-up and Transportation
The car shipping service will arrange a convenient pick-up location. Experienced drivers will load your vehicle onto a carrier, securing it for the journey. Whether you're shipping a family car, an antique, or an exotic vehicle, CT auto transport services are equipped to handle it all.
Step 4: Tracking and Delivery
During transit, you can track the progress of your vehicle. CT auto shipping services keep you informed every step of the way. Upon arrival at your destination, a final inspection ensures your vehicle arrives in the same condition as when it was picked up.
Car shipping in Connecticut with CT car transport services is the stress-free way to move your vehicle, whether you're relocating or selling it to a buyer in another state. With professionals who understand the state's roads and conditions, your car is in good hands.
Factors To Consider Before Shipping Your Car From/to Connecticut
When it comes to moving your vehicle to or from Connecticut, there are essential factors to weigh before entrusting it to Connecticut car shipping services or CT auto hauling services. Ensuring a smooth and stress-free transportation experience requires careful consideration.
1. Service Reputation: Research auto transport companies thoroughly. Read reviews, ask for referrals, and ensure they have a solid reputation for reliability and customer satisfaction.
2. Cost Estimates: Obtain quotes from multiple Connecticut car shipping services. Compare costs, but remember that the cheapest option isn't always the best. Ensure there are no hidden fees.
3. Insurance Coverage: Verify the insurance coverage provided by the car transport service. Your vehicle should be protected during transit, and you should understand the coverage limits.
4. Transport Type: Decide between open and enclosed transport. Open carriers are cost-effective, but enclosed carriers provide extra protection for valuable or delicate vehicles.
5. Delivery Time: Determine your timeframe. Standard shipping is typically more affordable, but expedited services are available for quicker delivery.
6. Licensing and Certification: Ensure the car shipping service is properly licensed and certified to operate in Connecticut. This guarantees compliance with state regulations.
7. Vehicle Inspection: Conduct a thorough inspection of your vehicle before shipping. Document any existing damage and share this with the shipping company.
8. Communication: Choose a company that offers clear communication throughout the process, including tracking options.
By carefully considering these factors, you can make an informed decision when selecting Connecticut car shipping services or Connecticut car shipping companies. This ensures your vehicle's safe and secure transport, providing peace of mind during the relocation process.
Average Cost of Auto Transportation to/From Connecticut
When it comes to relocating your vehicle to or from the picturesque state of Connecticut, understanding the average cost of auto transportation is essential. Connecticut car shipping services or CT car shipping services can help you move your vehicle with ease, but it's crucial to budget for this service appropriately.
The cost of auto transportation in Connecticut varies based on several factors:
1. Distance: The distance your vehicle needs to travel plays a significant role in determining the cost. Longer journeys typically result in higher prices.
2. Vehicle Type: The size, weight, and condition of your vehicle matter. Smaller cars are generally less expensive to transport than larger vehicles or luxury cars.
3. Transport Type: Choosing between open and enclosed transport affects the cost. Enclosed carriers provide extra protection but come at a higher price.
4. Delivery Timeframe: If you need expedited service, expect to pay more. Standard shipping is usually more budget-friendly.
5. Location: The starting and ending points of your journey can influence the cost, as well as accessibility and route conditions.
On average, the cost of auto transportation to/from Connecticut ranges from $500 to $1,500 or more, depending on the factors mentioned above. It's advisable to obtain quotes from multiple Connecticut car shipping services or CT car hauling services to ensure you get a competitive rate.
Remember that while cost is important, reliability and quality of service are equally crucial when selecting an auto transport provider. Prioritize finding a reputable company to ensure a smooth and stress-free vehicle relocation experience.
Most Popular Routes for Auto Shipping Companies in Connecticut
Connecticut, known for its charming landscapes and vibrant cities, sees a steady flow of vehicle transport requests throughout the year. Connecticut car shipping services are adept at handling various routes, ensuring your vehicle reaches its destination safely and securely. Here are some of the most popular routes:
1. Northeast to Florida: Many snowbirds rely on Connecticut auto shipping services to transport their vehicles from the Northeast to the Sunshine State, especially during the winter months.
2. Interstate 95 Corridor: Interstate 95, stretching from Florida to Maine, is a heavily traveled route for auto shipping companies. It connects major cities and serves as a vital artery for vehicle transport.
3. Connecticut to California: Coast-to-coast shipments are common, with many people relocating or selling vehicles across the country.
4. Tri-State Area: Connecticut is in close proximity to New York and New Jersey, making it a popular starting or ending point for vehicle transport within the tri-state area.
5. Connecticut to the Midwest: Auto shipping companies frequently transport vehicles between Connecticut and Midwestern states like Illinois, Ohio, and Michigan.
6. Connecticut to Texas: Texas's vast size and diverse landscapes often require transport company, with Connecticut as a common origin or destination point.
Connecticut car shipping companies are well-equipped to handle these routes, offering convenient and reliable solutions for vehicle transport. When planning your vehicle's journey, consider the route, distance, and any specific requirements your vehicle may have to ensure a smooth and stress-free transport experience.
Check Our Instant Car Shipping Quote
If you're in Stamford or the surrounding areas and need to transport your vehicle, our instant auto shipping quote service is here to make your life easier. We understand that moving your vehicle is a critical part of your plans, whether it's for a relocation, a vehicle registration change, or any other reason.
Our user-friendly online platform allows you to get a quote within moments. Just enter the necessary details about your vehicle, including its make, model, and destination, and our system will provide you with an accurate and competitive auto shipping quote.
One of the great advantages of using our instant quote service is transparency. You'll know exactly what to expect in terms of costs, allowing you to plan your budget accordingly. No hidden fees or surprises – just a straightforward quote that takes the guesswork out of your transportation plans.
Whether you're moving within Stamford, to a neighboring area, or even to a distant location, our auto shipping quote will help you make an informed decision. So, if you're in need of reliable vehicle transportation and want to know the cost upfront, try out our instant car shipping quote tool today. It's your first step towards a hassle-free and budget-friendly vehicle transport experience.
FAQs
How Long Will It Take?
The delivery time with a Connecticut auto transport company can vary based on several factors. The distance of the transport, the specific route taken, and the chosen delivery option (standard or expedited) all influence the timeline. Typically, a domestic auto transport within the state or to nearby states may take a few days to a week. Cross-country shipments can take 1-2 weeks, while coast-to-coast journeys might extend to 2-3 weeks. It's essential to discuss your specific needs and get an estimated delivery window from your chosen Connecticut car shipping service, as precise delivery times can differ based on various circumstances.
Can I Take My Personal Belongings During Vehicle Shipping?
Yes, you can typically take personal belongings during vehicle shipping, but there are some important considerations. Most auto transport companies allow a certain amount of personal items in the car, but they should be securely packed and not exceed a specific weight limit. Valuables and essential items are best kept with you, as the transport company won't be responsible for any loss or damage to personal belongings inside the vehicle. Always check with your chosen auto transport provider for their specific guidelines and limitations regarding personal items to ensure a smooth and hassle-free shipping experience.