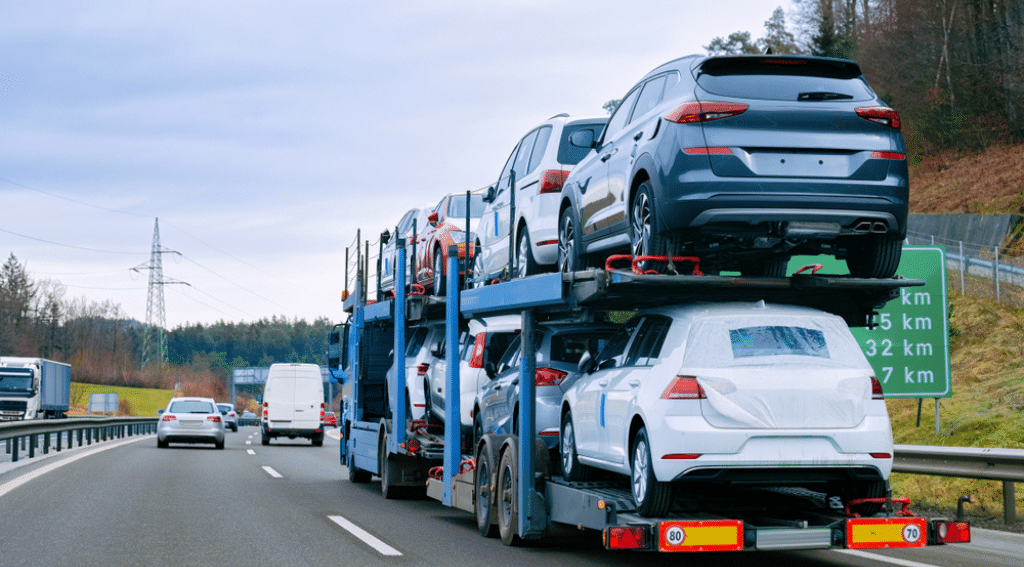 Get The Best Auto Shipping And Car Transport Services in Colorado
Colorado, with its stunning landscapes, bustling urban centers, and a thriving automotive culture, often calls for reliable auto shipping services. Whether you're relocating to the Centennial State, purchasing a vehicle from afar, or need to transport your car for any reason, finding the right auto shipping solution is paramount.
When it comes to auto shipping in Colorado, you're presented with various options and considerations. From selecting the most suitable transport method and route to choosing a reputable car shipping company, there are key factors to keep in mind to ensure a smooth and stress-free experience.
In this comprehensive guide, we'll explore the intricacies of auto shipping services in Colorado. We'll delve into the factors that influence car shipping costs, the best practices for securing a car shipping quote, and how to plan for long-distance car transport to or from the state. Additionally, we'll provide insights into the most popular car shipping routes within Colorado and highlight the importance of careful vehicle preparation.
Whether you're a Colorado resident seeking to relocate within the state or an auto enthusiast looking to transport your prized vehicle to or from Colorado, our guide will serve as your trusted resource for all things related to auto shipping services in this picturesque region.
Find Auto Transport Services in Colorado
Cross Country Car Shipping provides the ideal solution for your vehicle and freight shipping requirements in Colorado. Our committed team, situated in Colorado, is dedicated to delivering exceptional services across the state. You can rely on us for seamless, secure, and dependable transportation, a reputation that has garnered the trust of numerous satisfied clients in the region. Your vehicle's journey commences right here.
Our Company
Cross Country Car Shipping focuses on Colorado and is committed to delivering exceptional car shipping services, leveraging extensive industry expertise. Our team comprises highly proficient experts with deep understanding of secure and efficient vehicle and freight transport. We prioritize customer satisfaction and service excellence, and our steadfast dedication to these values has firmly established us as the preferred choice for service in Colorado.
Get Our Services
Cross Country Car Shipping takes immense pride in providing a comprehensive range of tailored services to meet various transportation requirements in Colorado.
Colorado Car Shipping Services
Count on our comprehensive car shipping services in Colorado for punctual and flawless vehicle transportation, ensuring the preservation of your vehicle's pristine condition throughout the entire journey, from pickup to delivery. Leveraging our extensive expertise and strong logistical network, we skillfully navigate Colorado's transportation routes. Whether you have a compact car or an SUV, we accommodate all vehicle types, providing convenient door-to-door service to ensure your peace of mind.
Motorcycle Transport Services
Motorcycle enthusiasts in Colorado can rely on our dedicated shipping services, offering a secure and dependable solution for transporting your beloved two-wheeled companion. We possess specialized equipment and extensive knowledge in motorcycle transportation, catering to both classic and contemporary bikes. Our top priority continues to be the safety and punctual delivery of your motorcycle, and we take great pride in achieving this objective with the utmost attention and diligence.
Enclosed Car Shipping Services
Committed to prioritizing safety, Cross Country Car Shipping offers secure enclosed transportation services in Colorado, ensuring the protection of your vehicle from external elements during its journey. Our fleet of well-maintained enclosed carriers is specifically designed to safeguard high-value or classic vehicles, providing complete protection against inclement weather, debris, and potential risks. Rest assured, we handle each vehicle with meticulous attention, treating them as though they were our own.
Colorado RV Shipping
When it comes to RV shipping services in Colorado, our team is well-equipped to handle the complexities associated with transporting these large vehicles. Whether you own a compact travel trailer or a spacious motorhome, we have the knowledge and resources to guarantee a safe journey. We understand the unique challenges associated with RV shipping and are prepared to navigate them skillfully, providing you with confidence throughout the entire transportation process.
Boat Shipping Colorado
Rely on our professional boat shipping services in Colorado to ensure the safe and efficient transport of your watercraft. Whether you own a personal watercraft or a larger yacht, we handle your boat with the highest level of care and professionalism. You can have peace of mind knowing that we provide extensive insurance coverage to ensure the secure delivery of your boat to its intended destination.
Colorado Freight Shipping Services
Customized to meet the unique needs of individuals and businesses, our freight shipping services in Colorado are well-suited for transporting oversized, heavy, or substantial items. Whether you're moving palletized goods, construction materials, or industrial cargo, we have the essential resources and expertise to effectively manage every aspect. Regardless of your specific freight shipping needs in Colorado, we are fully prepared to offer tailored solutions that align with your exact requirements.
Reliable Colorado International Car Shipping Services
Rely on our international car shipping company in Colorado for smooth vehicle transfers during international moves. We handle all transportation procedures, handle customs paperwork, and organize foreign delivery logistics to ensure a hassle-free process. Our primary focus is simplifying international shipping, ensuring peace of mind throughout the entire process.
Heavy Equipment Hauling in Colorado
Prioritizing safety, we skillfully handle the transportation of large machinery and equipment in Colorado, guaranteeing a smooth and secure voyage. Whether it's construction, agricultural, or industrial machinery, our dedicated carriers and skilled experts ensure the safe and efficient transport. You can trust that your heavy equipment will arrive on time and in excellent condition, offering you peace of mind.
For dependable car shipping and comprehensive transportation solutions in Colorado, feel free to reach out to Cross Country Car Shipping today. Contact our team, and we are fully equipped to address all your vehicle and freight transport requirements with enthusiasm.
Car Shipping in Colorado Springs | How It Works?
Car shipping companies play a crucial role in ensuring the safe and hassle-free transportation of vehicles, and this service is especially valuable in a picturesque state like Colorado. With its diverse landscapes, from the vibrant urban scenes in Fort Collins to the stunning mountainous terrains, Colorado car shipping companies offer a lifeline for those moving vehicles across this beautiful region.
So, how does car shipping work in Colorado?
Selecting a Reliable Company: The process begins with choosing a reputable car shipping company. Look for one that has experience in handling various vehicle types and a track record of safe deliveries.
Request a Quote: Reach out to the chosen Colorado car shipping company and request a quote. Be prepared to provide details such as the vehicle's make and model, pickup and delivery locations, and desired timeframe.
Booking the Service: Once you receive and accept the quote, it's time to book the service. The car shipping company will schedule a pickup date that works for you.
Vehicle Inspection: Before loading your vehicle onto the transport truck, a thorough inspection is conducted. This helps document the car's condition before shipping.
Transportation: Your vehicle is securely loaded onto the transport truck and begins its journey to the desired destination.
Delivery: Upon arrival at the destination, another inspection is performed to ensure the vehicle's condition remains unchanged during transit.
Completion: With a successful inspection, your vehicle is ready for pickup or delivery, depending on your preference.
Auto transport companies in Colorado make the entire process straightforward, allowing you to enjoy the scenic beauty of the state without the stress of driving your vehicle across long distances. Whether you're relocating to Fort Collins or exploring the Rockies, these services provide a convenient solution for your vehicle transportation needs.
Factors To Consider Before Colorado Auto Transport
When you need to move your vehicle within or to the beautiful state of Colorado, considering the right factors before choosing Colorado car transport services is crucial for a smooth and reliable experience.
Reliability of Colorado Car Shipping Services: Start by researching reliable Colorado car transport services. Look for companies with a strong reputation for punctuality and safety in handling vehicles.
Cost and Quotes: Request quotes from multiple providers and compare prices. Be wary of unusually low quotes, as they may indicate subpar service quality.
Transport Method: Decide between open or enclosed transport. Open carriers are cost-effective but expose your vehicle to the elements, while enclosed carriers provide additional protection.
Delivery Timeframe: Discuss the estimated delivery timeframe with the car transport company to ensure it aligns with your schedule.
Insurance Coverage: Verify the insurance coverage provided during the transport. Ensure it adequately protects your vehicle in case of unexpected events.
License and Credentials: Confirm that the car shipping company is licensed and insured to operate in Colorado.
Customer Reviews: Read reviews and testimonials from previous customers to gauge their satisfaction with the service.
Additional Services: Inquire about any additional services offered, such as door-to-door delivery or expedited shipping.
Communication: Effective communication is key. Ensure the company maintains clear and open lines of communication throughout the transport process.
Preparation: Prepare your vehicle for shipping by removing personal items, securing loose parts, and ensuring it's in good working condition.
By carefully considering these factors, you can make an informed decision when choosing Colorado car transport services. This ensures that your vehicle arrives safely and on time, making your Colorado experience all the more enjoyable.
Average Cost of Car Shipping to or From Colorado
If you're planning to transport your vehicle to or from Colorado, understanding the average car shipping cost is essential for budgeting and choosing the best car shipping companies. The cost of reliable Colorado car shipping can vary based on several factors.
Distance: The primary factor influencing car shipping cost is the distance between the pickup and delivery locations. Longer distances generally result in higher prices.
Vehicle Type: The size and weight of your vehicle can impact the cost. Smaller cars are typically less expensive to ship than larger vehicles, such as SUVs or trucks.
Transport Method: The choice between open and enclosed transport affects the cost. Open carriers are more budget-friendly, while enclosed carriers provide added protection at a higher price.
Season and Timing: Car shipping costs may fluctuate depending on the time of year. Peak moving seasons, like summer, can lead to slightly higher prices due to increased demand.
Additional Services: If you require extra services such as door-to-door delivery or expedited shipping, expect to pay more.
On average, the cost of car shipping to or from Colorado can range from $500 to $1,500 or more, with variations based on the above factors. It's crucial to obtain quotes from different reliable Colorado car shipping companies to find the best deal that suits your specific needs and budget.
While cost is a significant consideration, prioritize quality and reliability when selecting a car shipping company. Ensure they have a reputation for safe and secure transportation, as the safety of your vehicle is paramount during the shipping process.
Most Popular Colorado Car Shipping Routes
Colorado, known for its breathtaking landscapes and diverse terrain, is a state that attracts people from all over the country. As a result, several popular car shipping routes have emerged over the years to accommodate the transportation needs of residents and newcomers alike.
Denver to Colorado Springs: This route is a frequently traveled corridor for those moving between Colorado's two largest cities. The journey offers a blend of urban and scenic views, making it a common route for car shipping.
Interstate 70 (I-70): Stretching across the state, I-70 is a major east-west highway connecting Denver to the picturesque mountain towns of Vail, Breckenridge, and Aspen. Many car shipping requests involve transporting vehicles to these renowned ski destinations.
Denver to Boulder: The short distance between these two cities is a popular route for commuters and college students alike. Car shipping companies often handle the transport of vehicles along this route.
Front Range to Western Slope: Shipping vehicles from the populous Front Range region (including Denver and Fort Collins) to the Western Slope cities of Grand Junction and Durango is another common route, especially for those seeking adventure in Colorado's western mountains.
Denver to Out-of-State: Colorado's central location in the United States makes it a key hub for cross-country car shipping. Many cars pass through the state on their way to or from neighboring states like Utah, Arizona, and Wyoming.
These popular Colorado car shipping routes reflect the state's vibrant mix of urban and rural areas and its status as a gateway to the Rocky Mountains. Whether you're relocating, embarking on a road trip, or buying a car from another part of the state, car shipping services are readily available to assist with your transportation needs.
Long Distance Car Transport to/From Colorado
When you're faced with the task of transporting your vehicle over long distances to or from Colorado, it's essential to consider the intricacies of long-distance car transport. Whether you're relocating, purchasing a vehicle from afar, or embarking on an extended road trip, reliable long-distance car transport services can be a valuable solution.
Start by researching and selecting a reputable car transport company that specializes in long-distance journeys. Look for companies with a proven track record for safety and reliability.
Determine the most suitable route for your long-distance car transport. Consider factors like distance, terrain, and road conditions when planning the journey.
Decide whether open or enclosed transport is the better option for your vehicle. Open carriers are cost-effective and suitable for most vehicles, while enclosed carriers provide extra protection against the elements.
Coordinate the timing of your car transport to align with your schedule. Long-distance transport may take several days, so plan accordingly.
Ensure that your vehicle is adequately insured during the long-distance transport to protect against any unexpected events.
Prepare your vehicle for transport by cleaning it, removing personal items, and securing loose parts.
Maintain open communication with the car transport company throughout the journey to stay informed about your vehicle's progress.
Long-distance car transport to or from Colorado offers a convenient and stress-free solution for ensuring your vehicle arrives safely at its destination, even when facing vast distances. By considering these factors and working with a reliable transport provider, you can enjoy peace of mind knowing your vehicle is in capable hands during its long journey.
Get an Instant Car Shipping Quote From Us
Obtaining an instant car shipping quote has never been easier. Whether you're planning to transport your vehicle locally or across state lines, having a clear understanding of the cost is essential. That's where we come in. We offer a streamlined and user-friendly process that allows you to receive an instant car shipping quote from us in no time.
Our commitment to transparency and efficiency means you can access a quote quickly and conveniently. No need to wait for days or go through a lengthy application process. With just a few key details about your shipping needs, you can get an accurate estimate right away.
Our quoting process takes into account various factors that influence the cost of car shipping, such as the distance, vehicle type, transport method, and any additional services you may require. We understand that each transport is unique, and our goal is to provide you with a fair and competitive quote that aligns with your specific requirements and budget. Check our quote here.
Whether you're relocating, buying or selling a vehicle, or need transportation for any other reason, our instant car shipping quote service is designed to simplify the planning process. With the information at your fingertips, you can make informed decisions and proceed with confidence, knowing that you've chosen a reliable and cost-effective car shipping solution.
FAQs
How Long Does Vehicle Shipping Take to or From Colorado?
Vehicle shipping times to or from Colorado can vary depending on several factors. The distance, route, and specific details of your transport can influence the duration. Typically, local or intrastate shipments within Colorado may take a few days, while cross-country transports can range from one to two weeks. Expedited services are available for faster delivery. It's important to discuss the estimated delivery timeframe with your chosen car shipping company, as they can provide more accurate information based on your unique circumstances.
What Is the Best Way To Ship My Car to From/to Colorado?
The best way to ship your car to or from Colorado depends on your specific needs and priorities. Open transport is cost-effective and suitable for most vehicles, while enclosed transport provides extra protection. Door-to-door service is convenient, but terminal-to-terminal can be more budget-friendly. Research reputable car shipping companies, read reviews, and compare quotes to find the best fit for your requirements. It's also advisable to plan ahead and book your car shipping service in advance to secure your preferred dates and rates, especially during peak seasons.