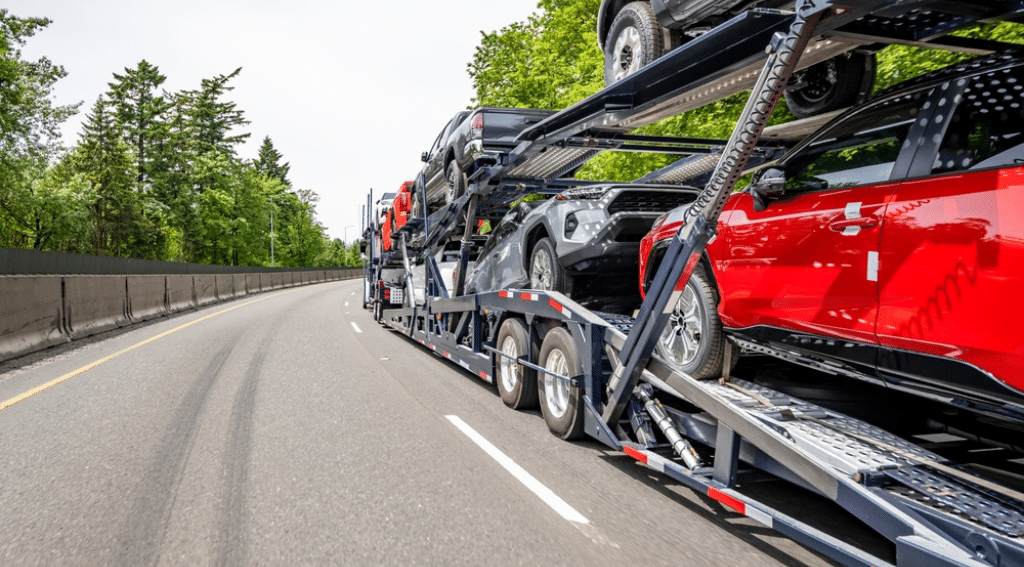 Find Your Desired Auto Transport And Car Shipping Services in Kansas City
Welcome to the world of car shipping services in Kansas City, where the vibrant heartland meets the automotive industry's demands for excellence and precision. Kansas City, nestled at the confluence of the Kansas and Missouri rivers, is not only a cultural and economic hub but also a pivotal location for vehicle transportation services.
In a city that thrives on its automotive heritage and forward-looking spirit, the need for reliable, efficient, and secure car shipping services is ever-present. Whether you're relocating to or from this bustling metropolis, purchasing a new vehicle online, or attending a car auction, finding the right car shipping solution is crucial.
This article delves into the diverse facets of car shipping services available in Kansas City. From understanding the factors influencing shipping costs to ensuring the safe and efficient transportation of luxury and classic cars, we will explore the world of vehicle transportation in this dynamic and automotive-loving city. So, fasten your seatbelt, as we embark on a journey through the realm of car shipping services in Kansas City.
Explore Convenient Auto Shipping Services
Cross Country Car Shipping offers an optimal solution for your vehicle and freight transport needs in Kansas City. Our dedicated team, based in Kansas City, takes immense pride in delivering exceptional services throughout the city. You can trust us to provide a seamless, secure, and dependable transportation experience that has earned the confidence of numerous satisfied customers in the area. Your vehicle's journey commences right here.
Get the Best Services From Our Company
Leveraging a deep well of industry expertise, Cross Country Car Shipping is devoted to providing outstanding car shipping services in Kansas City. Our team consists of highly proficient experts who possess a profound understanding of safe and effective vehicle and freight transportation. Acknowledged as a leading service provider in the area, we maintain an unwavering commitment to ensuring customer contentment and delivering top-tier service. You can have confidence in our ability to handle your transportation needs with the utmost precision and efficiency.
Our Services
Cross Country Car Shipping in Kansas City takes pride in offering a broad array of tailored services designed to address a wide spectrum of transportation needs:
Auto Transport Services in Kansas City
Count on our comprehensive car transportation services in Kansas City to ensure your vehicle arrives at its intended destination promptly and without hassle. Drawing upon our substantial knowledge and robust logistical capabilities, we skillfully traverse transportation routes throughout the city. Whether you possess compact cars or SUVs, we manage various vehicle models, offering convenient door-to-door service and ensuring your vehicle reaches its endpoint in the same pristine condition as when it was initially collected.
Motorcycle Shipping in Kansas City
Motorcycle enthusiasts in Kansas City can depend on our specialized shipping services designed to ensure the safe and reliable transportation of your cherished two-wheeled partner. With specialized equipment and extensive expertise in motorcycle transport, we cater to a wide range of classic and modern bikes. Our primary emphasis is on ensuring the safe and on-time delivery of your motorcycle, and we take great pride in accomplishing this goal with the highest level of care and dedication.
Kansas Enclosed Shipping
In Kansas City, we offer secure enclosed transport services to prioritize the safety of your vehicle throughout the journey. These services are meticulously designed to shield your vehicle from external elements, making them particularly suitable for protecting valuable or vintage cars. Our fleet of well-maintained enclosed carriers provides top-tier protection against inclement weather, debris, and potential hazards. With our vigilant and dedicated approach, we handle each vehicle as a valuable asset, ensuring its safe and flawless arrival at the designated destination.
Kansas RV Shipping
In Kansas City, we are well-prepared to handle your RV transportation requirements, regardless of whether you have compact travel trailers or roomy motorhomes. Our team is fully equipped to navigate the complexities of moving these sizable vehicles, with the expertise and specialized equipment necessary to ensure their safe transportation. Recognizing the distinctive challenges that RV shipping presents, we are ready to address them with the highest level of efficiency, offering you a smooth and secure transportation experience.
Boat Shipping in Kansas
With our committed boat transportation services in Kansas City, you can have peace of mind knowing that your watercraft will be relocated professionally and with efficiency. Whether you're overseeing a personal watercraft or a larger yacht, we treat each boat with the highest level of care and expertise. Our extensive insurance coverage provides an additional layer of confidence, making us the reliable choice for securely transporting your boat to its intended destination.
Freight Transportation in Kansas
Customized to accommodate the specific requirements of clients in Kansas City, our freight shipping services offer an excellent option for businesses or individuals in need of transporting bulky, heavy, or challenging-to-handle items. Whether you're dealing with palletized goods, construction materials, or industrial freight, we have the expertise and capabilities to handle a diverse range of cargo types. You can rely on us to provide efficient and tailored solutions, guaranteeing the reliable and seamless transportation of your freight to its designated destination.
Reliable Kansas International Shipping Services
Are you preparing for an international move from Kansas City? Let us assist you in making your vehicle's transition smooth with our worldwide auto transportation services. We diligently oversee every facet of the transportation journey, which includes handling customs documentation and coordinating the logistics of international delivery. Our objective is to simplify the international shipping process, providing a hassle-free and stress-free experience for all our esteemed clients.
Heavy Equipment Hauling in Kansas City
In Kansas City, we demonstrate an unyielding commitment to rigorous safety protocols while expertly managing the transportation of large machinery and equipment. Our goal is to ensure a secure and seamless journey for your valuable cargo. We possess expertise that spans various industries, including construction, agriculture, and industrial machinery, which guarantees the safe transport of a wide range of items. Our dedicated transporters and experienced professionals work diligently to ensure the timely and secure delivery of your heavy equipment to its designated destination.
Contact Auto Transport Specialty today for reliable vehicle shipping services in Kansas City and a comprehensive range of transportation solutions. Rest assured in our thorough attention to detail and effectiveness in addressing all your transportation needs.
Car Shipping in Kansas City – How It Works?
When it comes to moving your vehicle, whether it's a beloved car, a vintage beauty, or a family SUV, you want a seamless and reliable transportation solution. This is where car transport companies specializing in Kansas City car shipping step in, ensuring your vehicle reaches its destination safely and on time. But how does it all work?
Booking Your Shipment The process begins with booking your shipment. You contact a reputable auto transport company in Kansas City and provide details about your vehicle, the destination, and your preferred transport options. This step sets the stage for a smooth journey.
Vehicle Pickup Once you've booked your shipment, the car transport team will arrange for the pickup of your vehicle. They'll arrive at your location, whether it's your home, a dealership, or an auction, and carefully load your vehicle onto the transport carrier.
Transportation Your vehicle is then securely transported to its destination. Auto transport companies have specialized carriers designed to protect your vehicle from the elements and road hazards during the journey. They navigate the routes efficiently, ensuring a safe ride for your car.
Delivery Upon reaching Kansas City or the designated drop-off location, your vehicle is carefully unloaded and delivered to you or the specified recipient.
Kansas City car shipping is a well-orchestrated process that prioritizes the safety and punctuality of your vehicle's journey. Car shipping companies in Kansas City offer personalized solutions that cater to your unique needs, making vehicle transportation a hassle-free experience. So, when you need to move your vehicle, trust the experts in Kansas City car shipping to get the job done seamlessly.
Types of Auto Transport Services in Kansas City
The auto transport industry in Kansas City offers a diverse range of services tailored to meet the unique needs of vehicle owners and businesses. Whether you're relocating a single car or managing a fleet, understanding the types of services available can make your Kansas City auto transport experience more efficient and stress-free.
1. Open-Car Transport Open-air transport is a common choice for many vehicle owners. It involves shipping vehicles on an open trailer, typically able to carry multiple cars simultaneously. While this option is cost-effective, it may expose your vehicle to the elements during transit.
2. Enclosed Transport For those seeking added protection, enclosed transport is the answer. Enclosed trailers shield your vehicle from weather conditions, debris, and potential hazards. This option is ideal for high-value or classic cars that require extra care.
3. Door-to-Door Service With door-to-door service, convenience is paramount. The auto transport company picks up your vehicle from your preferred location and delivers it directly to your destination, reducing the need for additional travel to and from terminals.
4. Expedited Shipping When time is of the essence, expedited shipping services offer quicker delivery. Your vehicle takes priority, ensuring it reaches its destination faster.
5. International Auto Transport Kansas City's auto transport industry also extends its services globally. Whether you're importing or exporting vehicles, international auto transport experts can handle the logistics, customs paperwork, and international delivery, ensuring a seamless cross-border experience.
Understanding these types of auto transport services in Kansas City empowers you to choose the one that best suits your needs. Whether you prioritize cost, protection, convenience, speed, or international shipping, the auto transport industry in Kansas City has you covered, providing tailored solutions for a worry-free transportation experience.
Long Distance Vehicle Shipping to/From Kansas City
Kansas City, Missouri, often referred to simply as "KC," is a bustling hub known for its vibrant culture, barbecue scene, and diverse economy. Whether you're moving to or from this dynamic city, the need for long-distance vehicle shipping can arise. Fortunately, Kansas City auto shipping services are well-equipped to handle the task with efficiency and security.
Professional Handling Long-distance vehicle shipping to or from Kansas City involves entrusting your vehicle to professionals who understand the importance of safe transport. Expert teams are trained to handle various types of vehicles, ensuring they reach their destinations in pristine condition.
Advanced Logistics Kansas City auto shipping services utilize advanced logistics to plan the most efficient routes for long-distance journeys. This not only minimizes transit time but also reduces wear and tear on your vehicle.
Comprehensive Services From open-air transport, which offers cost-effective shipping, to enclosed transport, ideal for protecting your vehicle from the elements, Kansas City auto shipping providers offer a range of services to meet your needs.
Customized Solutions Every vehicle shipping situation is unique. Kansas City auto shipping companies offer customized solutions to accommodate your specific requirements, whether you're transporting a single car, multiple vehicles, or a specialty vehicle like a classic car.
Peace of Mind Long-distance vehicle shipping can be a stressful process, but with Kansas City auto shipping experts, you can enjoy peace of mind. They handle the logistics, paperwork, and transportation, ensuring a smooth and worry-free experience.
When it comes to long-distance vehicle shipping to or from Kansas City, rely on the expertise of Kansas City auto shipping services to get your vehicle where it needs to go efficiently and securely. Whether you're moving to a new city or need to transport a vehicle for any reason, these professionals have you covered.
Luxury and Classic Car Transportation in Kansas City
Kansas City, with its distinctive charm and automotive enthusiasts, takes a unique approach to the transportation of luxury and classic cars. These exceptional vehicles, steeped in history and elegance, deserve nothing less than specialized care and attention.
Expertise Beyond Compare Within the heart of Kansas City's auto transport industry lies a niche dedicated to the transportation of luxury and classic cars. This realm demands a level of expertise that goes beyond the ordinary. Professionals here understand the nuances, intricacies, and emotional value attached to these remarkable automobiles.
Tailored Solutions Luxury and classic car transportation in Kansas City doesn't follow a one-size-fits-all approach. Instead, it offers customized solutions that cater to the unique requirements of each vehicle. Be it a vintage Jaguar or a modern Bentley, these cherished vehicles receive individualized care.
Embracing the Elements with Enclosed Auto Transport When it comes to preserving the pristine condition of luxury and classic cars, enclosed auto transport is the method of choice in Kansas City. These specialized carriers shield these automobiles from the elements, safeguarding them against unpredictable weather conditions and road debris.
Peace of Mind Beyond Measure Luxury and classic car owners demand nothing but the utmost for their prized possessions. In Kansas City, transportation services provide meticulous handling, top-tier security, and a white-glove experience. Owners can rest assured, knowing that their beloved vehicles are in capable hands.
For those embarking on a journey with their luxury or classic car, whether for relocation, a prestigious car show, or any other purpose, Kansas City's experts in luxury and classic car transportation, particularly through enclosed auto transport, ensure that every mile of the journey is as exceptional as the car itself.
The Average Cost of Car Shipping in Kansas City
If you're planning to move a vehicle, whether it's across the state or even across the country, one of the key considerations is the cost of car shipping. In Kansas City, like in many other cities, the average cost of car shipping can vary based on several factors.
Distance Matters: One of the primary factors affecting the cost of car shipping is the distance the vehicle needs to travel. Longer distances naturally result in higher shipping costs.
Vehicle Type: The type of vehicle you're shipping also plays a significant role in determining the cost. Compact cars typically cost less to ship than larger vehicles like SUVs, trucks, or luxury cars.
Shipping Method: You'll also need to decide between open-air transport and enclosed transport. Open-air transport is more affordable but exposes your vehicle to the elements, while enclosed transport offers better protection but comes at a higher price.
Pick-Up and Delivery Options: Door-to-door service is convenient but may be more expensive than terminal-to-terminal service, where you drop off and pick up your vehicle at designated terminals.
Seasonal Considerations: The time of year can impact costs. Peak seasons, such as summer, often see higher prices due to increased demand.
Additional Services: Some car shipping companies offer added services like expedited shipping or top-loading placement for added protection, which can increase the overall cost.
While these factors influence the average cost of car shipping in Kansas City, it's crucial to obtain quotes from multiple reputable car shipping companies. This allows you to compare prices and services to find the best balance between cost and quality for your specific needs.
Why Should You Choose Us?
When it comes to entrusting your vehicle's transportation to a car shipping company, you deserve an assurance of excellence and reliability. Cross Country Car Shipping stands out as your premier choice for a multitude of compelling reasons.
1. Unwavering Commitment to Safety: Our paramount concern is the safety of your vehicle. We adhere to rigorous safety protocols, ensuring that your car arrives at its destination in the same condition as when it left your care.
2. Diverse Range of Services: We offer a comprehensive array of services tailored to your specific needs. Whether you require open-air or enclosed transport, door-to-door delivery, or international shipping, we have the expertise to fulfill your requirements.
3. Experienced Team: Our dedicated team comprises seasoned professionals who possess an in-depth understanding of the auto transport industry. Their knowledge and experience guarantee a smooth and efficient process from start to finish.
4. Customer Satisfaction: Our track record of satisfied customers is a testament to our commitment to excellence. We go above and beyond to ensure your satisfaction, providing personalized solutions for your peace of mind.
5. Competitive Pricing: While we maintain the highest standards of service, we also understand the importance of competitive pricing. We offer value for your investment, delivering exceptional service without breaking the bank. Here is an instant quote for you.
6. Nationwide Reach: With a wide-reaching network, we can facilitate vehicle transport anywhere within the United States, ensuring your car reaches its destination, no matter how near or far.
7. Transparent and Trustworthy: We believe in transparent communication and conduct. You can trust us to keep you informed throughout the process, making your car shipping experience straightforward and trustworthy.
Choose Cross Country Car Shipping as your trusted partner in vehicle transportation. With a commitment to safety, a range of services, an experienced team, and a dedication to customer satisfaction, we stand as the ideal choice for your car shipping needs. Your vehicle's journey begins with us.
FAQs
How To Prepare My Vehicle for Auto Shipping?
Preparing your vehicle for auto shipping is crucial for a smooth and secure transportation process. Here are some key steps:
Clean Your Vehicle: A clean car makes it easier to inspect for pre-existing damage.
Document Existing Damage: Take clear photos of your car from all angles to document its condition before shipping.
Remove Personal Items: Remove all personal belongings from the vehicle, as they are not covered by insurance.
Check for Leaks: Ensure there are no fluid leaks, as these can damage other vehicles during transit.
Maintain Low Fuel Levels: Keep your fuel tank at around a quarter full to reduce weight and ensure safety during transport.
How Long Will It Take?
The duration of your auto-shipping journey can vary based on several factors, including the distance, route, and specific details of your shipment. Typically, shorter distances within a state may take a few days, while cross-country shipping can range from one to two weeks. International shipments may require additional time due to customs and logistical considerations. To get a precise estimate, it's best to consult with your chosen car shipping company, as they can provide you with a more accurate timeline based on your unique requirements and circumstances.