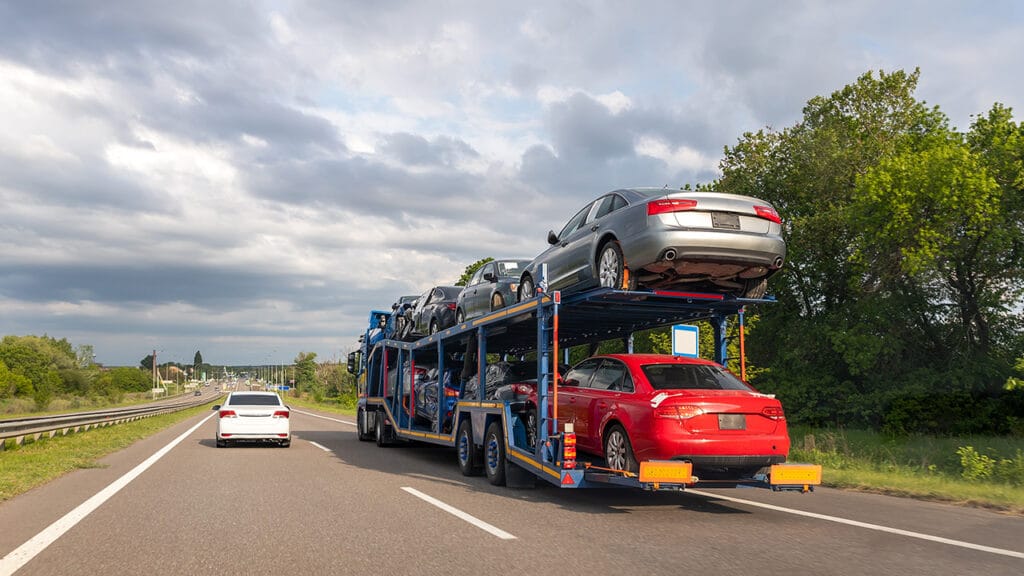 Find Your Suitable Auto Transport And Car Shipping Services in Charleston
Welcome to Charleston's premier Car Shipping Services. We understand the significance of a smooth and secure vehicle transport experience, whether you're moving within Charleston or across the country. Our dedicated team at Charleston Car Shipping Services is committed to providing top-notch services tailored to your specific needs.
With a focus on safety, efficiency, and personalized solutions, we offer a comprehensive range of auto transport options. Whether you're relocating, buying a vehicle online, or need to transport a classic car, our experts have you covered. We handle everything from meticulous vehicle inspections to timely and reliable deliveries, ensuring your peace of mind every step of the way.
At Cross Country Car Shipping, we recognize that your vehicle is more than just a mode of transportation; it's an investment. That's why we go above and beyond to treat your vehicle with the care and attention it deserves. Discover the difference of hassle-free and dependable car shipping in Charleston with us.
Explore Convenient Auto Shipping Services
Cross Country Car Shipping offers an excellent solution for your vehicle and freight transport needs in Charleston. Our dedicated team, located in Charleston, takes immense pride in delivering exceptional services throughout the city. You can trust us to provide a seamless, secure, and dependable transportation experience that has earned the confidence of numerous satisfied customers in the area. Your vehicle's journey begins right here.
Get the Best Services From Our Company
With a wealth of industry knowledge at our disposal, Cross Country Car Shipping is dedicated to delivering exceptional car shipping services in Charleston. Our team comprises highly skilled professionals who possess an in-depth understanding of secure and efficient vehicle and freight transportation. Recognized as a premier service provider in the region, we remain steadfast in our commitment to ensuring customer satisfaction and delivering top-notch service. You can trust in our capability to manage your transportation requirements with the highest level of precision and efficiency.
Our Services
Charleston's Cross Country Car Shipping is proud to provide a diverse range of customized services aimed at meeting a wide range of transportation requirements:
Auto Shipping Services in Charleston
Rely on our extensive car transportation services in Charleston to guarantee the timely and trouble-free arrival of your vehicle at its designated location. Leveraging our significant expertise and strong logistical capabilities, we expertly navigate transportation routes across the city. Whether you own compact cars or SUVs, we handle a variety of vehicle models, providing convenient door-to-door service to ensure your vehicle reaches its destination in the same immaculate condition as when it was first picked up.
Motorcycle Shipping in Charleston
Motorcycle aficionados in Charleston can rely on our dedicated shipping services tailored to guarantee the secure and dependable transportation of your beloved two-wheeled companion. Equipped with specialized gear and extensive knowledge in motorcycle transport, we accommodate various classic and contemporary bikes. Our foremost focus is on ensuring the secure and punctual delivery of your motorcycle, and we take immense pride in achieving this objective with the utmost attention and commitment.
Charleston Enclosed Shipping
In Charleston, we provide secure enclosed transportation services that prioritize your vehicle's safety throughout the entire trip. These services are thoughtfully crafted to safeguard your vehicle from external factors, making them especially ideal for preserving valuable or classic cars. Our fleet of well-maintained enclosed carriers offers top-notch protection against adverse weather conditions, debris, and potential hazards. With our attentive and dedicated approach, we treat each vehicle as a precious asset, guaranteeing its secure and impeccable arrival at the designated destination.
Charleston RV Shipping
In Charleston, we are thoroughly prepared to meet your RV transportation needs, whether you have compact travel trailers or spacious motorhomes. Our team is fully equipped to handle the intricacies of relocating these large vehicles, possessing the expertise and specialized tools needed to guarantee their safe transport. Acknowledging the unique challenges that come with RV shipping, we are poised to tackle them with utmost efficiency, providing you with a seamless and secure transportation experience.
Boat Shipping in Charleston
Through our dedicated boat transportation services in Charleston, you can rest assured that your watercraft will be professionally and efficiently relocated. Regardless of whether you have a personal watercraft or a larger yacht, we handle each boat with the utmost care and expertise. Our comprehensive insurance coverage adds an extra layer of assurance, establishing us as the dependable option for securely transporting your boat to its designated destination.
Charleston Freight Transportation
Tailored to meet the distinct needs of clients in Charleston, our freight shipping services provide an outstanding choice for businesses or individuals seeking to transport large, heavy, or difficult-to-handle items. Whether you're dealing with palletized goods, construction materials, or industrial cargo, we possess the knowledge and capabilities to manage a wide variety of freight types. You can trust us to offer effective and personalized solutions, ensuring the dependable and smooth transportation of your freight to its designated destination.
Reliable Charleston International Shipping Services
Are you getting ready for an international relocation from Charleston? Allow us to help make your vehicle's transition seamless through our global car transportation services. We meticulously manage every aspect of the transportation process, including the management of customs paperwork and the coordination of international delivery logistics. Our aim is to streamline the international shipping procedure, ensuring a convenient and worry-free experience for all our valued clients.
Heavy Equipment Hauling in Charleston
In Charleston, we proudly exhibit an unwavering commitment to stringent safety measures while proficiently overseeing the transportation of substantial machinery and equipment. Our primary objective is to guarantee a safe and seamless journey for your valuable cargo. With expertise spanning across various industries, such as construction, agriculture, and industrial machinery, we assure the secure transport of a broad spectrum of items. Our dedicated carriers and experienced professionals work tirelessly to ensure the punctual and secure delivery of your heavy equipment to its designated destination.
Get in touch with Auto Transport Specialty today for dependable vehicle shipping services in Charleston and a comprehensive array of transportation solutions. You can trust in our meticulous attention to detail and effectiveness in meeting all your transportation requirements.
Car Shipping in Charleston – How It Works?
When it comes to relocating your vehicle, ensuring a seamless and secure transportation process is paramount. Charleston car shipping services have gained recognition for their efficiency and reliability. But how does it all work? Let's dive in.
The first step is finding one of the best car shipping companies in Charleston, known for their dedication to safety and professionalism. These companies handle a wide range of vehicles, from compact cars to luxury SUVs, with a commitment to ensuring each vehicle's well-being.
Once you've chosen the right Charleston car shipping provider, the process typically begins with a detailed assessment of your specific needs. This includes understanding the type of vehicle you're transporting, the distance it needs to travel, and any additional services you may require, such as enclosed transport for valuable cars.
Next, the Charleston car shipping experts handle the logistics. This involves planning the most efficient route, managing necessary paperwork, and coordinating pickup and delivery times that suit your schedule. The best car shipping companies in Charleston take pride in their meticulous attention to detail and clear communication throughout the process.
On the scheduled day, your vehicle is safely loaded onto a carrier equipped to protect it from the elements and road hazards. Throughout the journey, your car's condition is closely monitored to ensure a trouble-free transportation experience.
In the end, car shipping in Charleston boils down to choosing a reputable provider that understands your unique needs, ensuring a safe and timely delivery that leaves you worry-free. So, when you're in need of vehicle transportation, trust Charleston's best car shipping companies to handle it with precision and care.
Luxury and Classic Car Shipping in Charleston
Charleston, with its timeless charm and elegance, is home to many aficionados of luxury and classic cars. Whether you're relocating or need to transport your prized vehicle for an event, navigating the nuances of car transport can be a daunting task. Fortunately, Charleston's auto transport industry has you covered.
Shipping a luxury or classic car requires finesse and expertise. It's not just about moving a vehicle; it's about preserving its value and condition. In Charleston, the car transport services cater to the unique needs of high-end and vintage automobiles.
When you decide to ship a car, the process begins with selecting a trusted auto transport company in Charleston. Look for experts who understand the specific requirements of luxury and classic cars, as they often need special handling and care.
These professionals meticulously plan the transportation, considering factors like the vehicle's make, model, and value. Enclosed transport options are typically recommended for added protection against weather and road debris.
Throughout the journey, your luxury or classic car is closely monitored to ensure it arrives at its destination in pristine condition. Charleston's auto transport industry takes pride in its commitment to safety, offering peace of mind to car owners.
In conclusion, when it comes to luxury and classic car shipping in Charleston, entrust your valuable vehicles to the capable hands of auto transport experts. They navigate the complexities of car transport with precision and care, ensuring your prized possession arrives in the same immaculate condition as when it left.
The Average Cost of Auto Shipping From/to Charleston
If you're planning to move your vehicle to or from Charleston or its surrounding areas like North Charleston, understanding the average cost of auto shipping is crucial for budgeting and making informed decisions. Auto transport rates can vary depending on several factors, including distance, vehicle type, and pickup and delivery locations.
The distance between pickup and delivery locations is a significant determinant of auto shipping costs. Longer distances generally result in higher transportation expenses. If you're shipping your car to or from Charleston's neighboring city, North Charleston, you'll likely find reasonable rates due to the proximity.
Vehicle type is another critical factor. Shipping a standard sedan typically costs less than transporting a larger vehicle, such as an SUV or truck. Luxury or classic cars may require enclosed transport, which is pricier but offers added protection.
Additionally, the season can influence rates. Summer tends to be a peak season for auto shipping, potentially leading to higher costs. Planning your move during the off-peak seasons could help you save on transportation expenses.
To get an accurate estimate for your specific needs, it's advisable to obtain quotes from reputable auto transport companies. They can consider all the variables, including the distance between Charleston and North Charleston, the type of vehicle, and your preferred pickup and delivery locations, to provide you with a tailored cost estimate.
In conclusion, understanding the factors that affect the average cost of auto shipping from/to Charleston and surrounding areas like North Charleston can help you make informed decisions and ensure a smooth and cost-effective transportation experience for your vehicle.
Fast and Secure Charleston Auto Transport Services by Cross Country Car Shipping
When it comes to auto transport services in Charleston, Cross Country Car Shipping stands out as a trusted and reliable partner. We pride ourselves on offering fast and secure transportation solutions that cater to your specific needs.
One of the key attributes of our services is our commitment to safety. We understand that your vehicle is a valuable asset, and its secure transportation is of utmost importance. Our experienced team takes every precaution to ensure that your vehicle arrives at its destination in the same condition it was entrusted to us. Whether you're relocating to or from Charleston, or need to transport your vehicle within the city or to surrounding areas, we've got you covered.
Cross Country Car Shipping also excels in providing swift and efficient services. We know that your time is valuable, and we work diligently to ensure that your vehicle is picked up and delivered on schedule. Our logistical expertise allows us to plan the most efficient routes and handle all the necessary paperwork, so you can relax knowing that your car is in capable hands.
Additionally, our services are tailored to meet your specific needs. Whether you're shipping a standard sedan, a luxury vehicle, or a classic car, we have the expertise and equipment to handle it with care and precision. We offer various transportation options, including enclosed transport for added protection against the elements. Here is an instant quote for you.
In conclusion, when it comes to fast and secure auto transport services in Charleston, Cross Country Car Shipping is your trusted partner. With our commitment to safety, efficiency, and tailored solutions, we ensure a hassle-free and dependable transportation experience for your vehicle.
FAQs
How To Prepare a Car for Auto Transport?
Preparing your car for auto transport involves a few key steps:
Clean your vehicle to make it easier to inspect before and after transport.
Remove personal items and valuables from the car.
Secure or remove any loose parts or accessories.
Document your car's current condition with photos.
Ensure your vehicle is in good working order, including checking for leaks and maintaining proper tire pressure.
Can I Take My Personal Belongings During Vehicle Shipping?
Yes, you can typically include a limited number of personal belongings in your vehicle during shipping. However, it's essential to keep these items to a minimum and within the weight limit specified by the auto transport company. Valuables and important documents are best kept with you, as they are not covered by insurance during transport. Consult your chosen auto transport provider for specific guidelines on personal item inclusion.