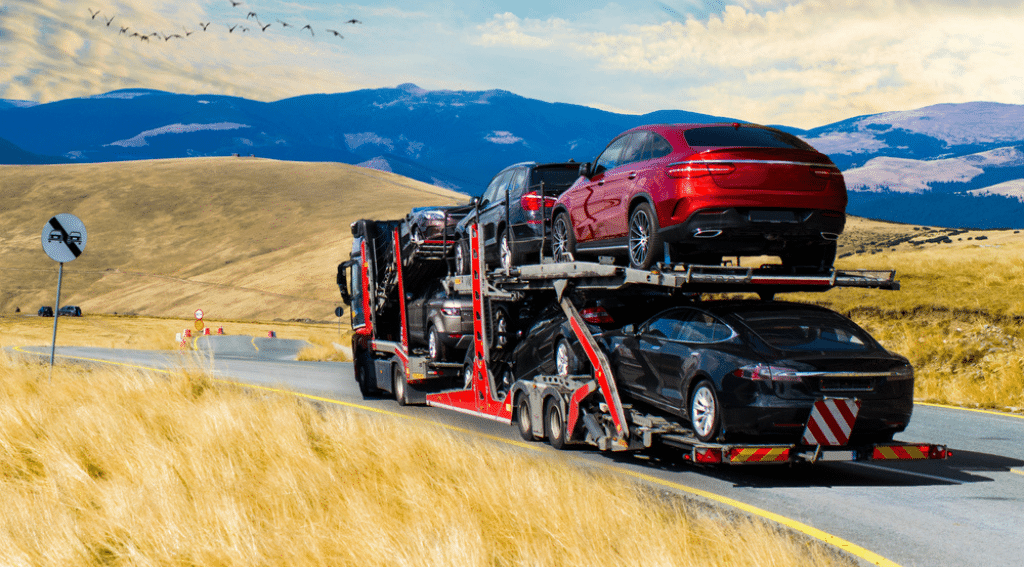 Get Your Desired Indiana Auto Transport Services
When it comes to transporting vehicles, whether it's across the state or across the country, the need for reliable, secure, and efficient auto transport services is paramount. In the heart of this endeavor lies Indiana, a state bustling with both urban centers and scenic landscapes, where the demand for professional car shipping solutions is ever-present.
Cross Country Car Shipping stands as a beacon of excellence in the realm of auto transport services in Indiana. Our mission is to provide a seamless and worry-free experience for individuals and businesses alike, ensuring that their vehicles reach their intended destinations with the utmost care and attention.
Recognizing the unique needs of each client, our services are tailored to accommodate a diverse range of transportation requirements. From standard cars to recreational vehicles (RVs) and heavy machinery, we possess the expertise, experience, and state-of-the-art equipment to handle them all. Our commitment to safety is unwavering, ensuring that your vehicle is shielded from potential hazards throughout its journey.
With our customer-centric approach, transparent communication, and skilled professionals, we provide accurate pricing and estimated delivery timeframes. Whether you're relocating, purchasing a vehicle, or moving heavy equipment, our goal is to alleviate the stress of transportation and provide you with a reliable partner you can trust.
Join us on a journey where the road ahead is paved with professionalism, dedication, and a commitment to ensuring your vehicle's safe arrival. Cross Country Car Shipping is your trusted companion in the world of auto transport services in Indiana.
Car Shipping Services in Indiana
Cross Country Car Shipping provides the ideal solution for your vehicle and freight transportation requirements in Indiana. Our committed team located in Indiana takes great pride in delivering outstanding services across the state. Count on us for a seamless, safe, and dependable transport journey, inspiring assurance in numerous contented customers within the region. The voyage for your vehicle begins at this very moment.
Our Company
Drawing upon vast industry knowledge, Cross Country Car Shipping is devoted to providing outstanding car shipping services in Indiana. Our team consists of proficient experts who possess a deep understanding of the complexities associated with safe and effective vehicle and freight transportation. Regarded as a leading service provider in the area, we maintain a steadfast commitment to ensuring customer contentment and service excellence. You can rely on us to handle your transportation needs with the utmost diligence and effectiveness.
Find Our Services
Cross Country Car Shipping in Indiana takes pride in presenting a comprehensive selection of services tailored to meet a variety of transportation requirements:
Indiana Auto Transport Services
Rely on our comprehensive vehicle transportation solutions in Indiana to ensure your car arrives punctually and seamlessly at its intended destination. Utilizing our extensive expertise and robust logistical connections, we skillfully navigate transport paths throughout the state. Irrespective of your vehicle's type, be it compact cars or SUVs, we manage diverse vehicle models, offering convenient door-to-door service. Our commitment is to guarantee your car reaches its endpoint in the same pristine state as when it was first collected.
Need Indiana Enclosed Auto Transport?
To ensure utmost safety during transportation, we offer secure enclosed transport solutions in Indiana, carefully designed to shield your vehicle from external elements. Particularly suitable for safeguarding valuable or classic cars, our fleet of impeccably preserved enclosed carriers delivers unmatched protection against weather, debris, and potential risks. With thorough and steadfast attention, we handle each vehicle as a cherished possession, guaranteeing its safe and impeccable arrival at the desired destination.
RV Shipping in Indiana
When it pertains to tending to your RV transportation requirements in Indiana, our team is fully prepared to handle the complexities of moving these sizeable vehicles. Whether you're dealing with compact travel trailers or larger motorhomes, we have the expertise and specialized tools necessary to guarantee their safe transport. Recognizing the distinct challenges associated with RV shipping, we are thoroughly equipped to tackle them with the highest level of efficiency, delivering a smooth and secure transportation experience.
Boat Shipping Indiana
With our specialized boat transportation solutions in Indiana, you can have confidence that your marine vessel will be expertly and effectively moved. Regardless of whether you're overseeing a personal watercraft or a more sizable yacht, we treat each boat with the highest level of skill and competence. Our all-inclusive insurance coverage provides an additional level of confidence, positioning us as the reliable choice for safely transporting your boat to its designated endpoint.
Indiana Freight Transportation
Customized to meet the distinct requirements of clients in Indiana, our freight shipping offerings offer an exceptional answer for businesses or individuals aiming to move substantial, weighty, or cumbersome items. Whether you're overseeing palletized merchandise, construction supplies, or industrial cargo, we have the knowledge and capacities to handle a diverse array of load varieties. Count on us to furnish effective and tailored resolutions, guaranteeing the seamless and reliable conveyance of your freight to its designated arrival point.
International Car Shipping Services in Indiana
Contemplating an overseas relocation from Indiana? Let us assist you in accomplishing a smooth vehicle transfer through our worldwide car transport solutions. We carefully manage each step of the transport procedure, from managing customs documentation to organizing delivery logistics across borders. Our aim is to simplify the international shipping process, ensuring an effortless and worry-free encounter for all our esteemed clients.
Heavy Equipment Hauling in Indiana
Placing a strong focus on stringent safety measures, we adeptly manage the movement of substantial machinery and equipment in Indiana, ensuring a safe and smooth voyage. Our expertise extends across multiple industries, encompassing construction, agriculture, and industrial machinery, guaranteeing the safe transport of a wide range of items. Our dedicated carriers and seasoned professionals work tirelessly to ensure the timely and secure arrival of your heavy equipment at its designated endpoint.
Contact Auto Transport Specialty today for reliable car shipping services in Indiana and an extensive array of transportation solutions. Have confidence in our thorough care and effectiveness to handle all your transportation needs.
Auto Transport in Indiana | How It Works?
When it comes to reliable car shipping services in Indiana, understanding the process can provide peace of mind during vehicle transportation. Whether you're relocating, buying or selling a vehicle, or even sending a car as a gift, a professional car shipping company can make the experience smooth and stress-free.
A reputable car shipping service in Indiana operates with a customer-centric approach, ensuring that your vehicle reaches its destination securely and efficiently. The process begins with contacting the car shipping company and providing details about your vehicle, the pickup and drop-off locations, and the desired timeframe. This information helps the company tailor their services to your specific needs.
Once the details are confirmed, the car shipping company will take care of the logistics. They'll assign a dedicated carrier to transport your vehicle, ensuring it's loaded and secured properly for the journey. From compact cars to SUVs and even heavy machinery, experienced professionals handle various types of vehicles.
Throughout the transportation, the car shipping company maintains communication, offering updates on the progress of your vehicle. This ensures you're well-informed and can anticipate its arrival.
Upon reaching the destination in Indiana, the car will be carefully unloaded, inspected, and delivered to your specified location. A reliable car shipping service in Indiana strives to provide a seamless process, giving you the confidence that your vehicle is in capable hands.
In conclusion, choosing a trustworthy car shipping company for your vehicle transportation needs in Indiana guarantees a hassle-free experience. With their expertise, your vehicle will be professionally transported, allowing you to focus on other aspects of your move or purchase.
The Average Cost of Car Shipping to/From Indiana
When it comes to transporting your vehicle to or from Indiana, understanding the average cost can help you plan your budget effectively. Whether you're relocating, purchasing a car from out of state, or simply need to move a vehicle, partnering with a reliable Indiana auto transport company can make the process smoother.
The cost of car shipping to or from Indiana can vary based on several factors. One major factor is the distance. If you're moving within Indiana, the cost might be lower compared to a cross-country transport. Additionally, the type of vehicle, its size, weight, and condition, can impact the price.
Cities like Fort Wayne, located in Indiana, are common starting or ending points for car shipments. The distance from these key locations, as well as the demand for transportation services, can influence the overall cost.
An Indiana auto transport company will typically provide you with a personalized quote based on your specific requirements. It's advisable to gather quotes from a few reputable companies to compare prices and services.
Remember that while cost is an important consideration, the reputation and reliability of the auto transport company are equally crucial. Ensuring that your vehicle is in capable hands is essential for a stress-free experience.
In conclusion, the average cost of car shipping to/from Indiana varies based on factors like distance, vehicle type, and specific locations like Fort Wayne. Partnering with a reputable Indiana auto transport company ensures not only a reasonable cost but also the peace of mind that comes with professional vehicle transportation services.
Most Popular Routes for Auto Shipping to/From Indiana
Navigating the roads of auto shipping to or from Indiana becomes simpler when you're aware of the most popular routes. Whether you're utilizing an Indiana car transport service for relocation, buying a vehicle, or any other reason, understanding these routes can enhance your planning and decision-making process.
One of the frequently traveled routes for auto shipping in Indiana is the connection between major cities like Indianapolis and Chicago. This corridor witnesses a steady flow of vehicles, both for personal use and commercial purposes. The proximity between these bustling cities makes transportation more accessible.
Additionally, routes connecting Indiana to neighboring states like Ohio, Illinois, and Michigan are quite common. The demand for car shipping to and from these states remains consistent, leading to well-established transportation routes.
When seeking reliable car shipping companies for your transportation needs, it's essential to choose those with experience in these popular routes. These companies often possess a deep understanding of the logistics involved and can provide smoother, more efficient services.
An Indiana car transport service knowledgeable about these routes can offer accurate pricing and delivery time estimates, ensuring that your vehicle reaches its destination in a timely manner. Researching and partnering with reputable car transport services will help you make informed choices.
In conclusion, familiarizing yourself with the most popular routes for auto shipping to/from Indiana can aid in streamlining your vehicle transportation plans. Collaborating with an experienced Indiana car transport service ensures a seamless journey, making your vehicle transportation experience stress-free and reliable.
Steps for Selecting Indiana Car Transport Companies
When you're looking to ship a car to or from Indiana, choosing the right car transport company is crucial for a smooth and secure experience. With numerous options available, it's essential to follow a few key steps to ensure you're making the best choice.
Research and Compare: Begin by researching Indiana car transport companies online. Look for companies with a solid reputation, positive customer reviews, and a track record of successful deliveries. Compare their services, pricing, and offerings.
Check for Licensing and Insurance: Ensure that the car transport company is properly licensed and insured. This provides protection for your vehicle during transportation and indicates their legitimacy.
Request Quotes: Reach out to multiple car transport companies and request quotes. Make sure to provide accurate information about your vehicle and transportation needs to receive accurate pricing.
Ask About Services: Inquire about the range of services offered by the company. Some companies provide door-to-door service, while others might have terminal-to-terminal options. Choose the service that suits your preferences and needs.
Read the Contract: Carefully read the contract or terms of service provided by the company. Understand the terms, cancellation policy, and any potential fees.
Customer Support: Assess the responsiveness and helpfulness of their customer support. A reliable car transport company should be available to address your questions and concerns.
Track Record and Experience: Look for companies with a history of successful car transportation. An experienced company is more likely to handle unexpected situations effectively.
Delivery Timeframe: Inquire about the estimated delivery timeframe for your vehicle. While factors like distance and weather can influence delivery, the company should provide a reasonable estimate.
Prep Your Vehicle: Prepare your vehicle for transport according to the company's guidelines. This may involve cleaning it, removing personal items, and securing loose parts.
Booking and Confirmation: Once you've chosen a company, make your booking and ensure you receive a confirmation with all the details.
By following these steps, you can confidently select a reputable Indiana car transport company to ship your car, ensuring a reliable and stress-free transportation process.
Why Choose Us?
Selecting the right car shipping company is a critical decision, and at Cross Country Car Shipping, we strive to stand out as your preferred choice. With a strong emphasis on quality, reliability, and customer satisfaction, here's why you should choose us for your vehicle transportation needs.
Unwavering Commitment to Safety: We prioritize the safety of your vehicle throughout the entire transportation journey. Our strict safety protocols and experienced team ensure that your vehicle arrives at its destination in the same condition it was entrusted to us.
Diverse Range of Services: Whether you're looking to move a standard car, an RV, heavy machinery, or a boat, we offer a comprehensive array of services to meet your unique transportation requirements.
Customer-Centric Approach: Our customers are at the heart of everything we do. We tailor our services to your needs, provide transparent pricing, and keep you informed at every step of the process.
Experienced Professionals: Our team comprises skilled professionals with years of experience in the auto transport industry. We bring a wealth of knowledge to handle a wide variety of vehicles and transportation scenarios.
Nationwide Coverage, Including Indiana: We provide coverage across the nation, including Indiana. No matter where your vehicle needs to go, we have the network and expertise to get it there.
State-of-the-Art Equipment: Our modern fleet of carriers and advanced equipment ensures the safe and secure transportation of your vehicle.
Transparent Communication: We believe in open and clear communication. Our team is available to address your questions and concerns, providing peace of mind throughout the transportation process.
Proven Track Record: With a history of successful deliveries and satisfied customers, our track record speaks to our reliability and professionalism.
When you choose Cross Country Car Shipping, you're selecting a partner dedicated to delivering your vehicle safely, efficiently, and with utmost care. With our customer-focused approach, experienced team, and comprehensive services, we're here to make your vehicle transportation experience seamless and worry-free. Check our instant quote here for more.
FAQs
Can I Take My Personal Items During Shipping?
Certainly! At Cross Country Car Shipping, we understand the importance of convenience. You're welcome to place personal items weighing up to 100 pounds in the trunk of your vehicle during shipping. However, for safety and insurance reasons, we recommend keeping valuable or delicate items out of the vehicle. Please note that any personal items are transported at your own risk, and we're not liable for any loss or damage. Feel free to discuss your specific needs with our team, and we'll guide you through the process. Your satisfaction and the safety of your belongings are our priorities.
What Is the Best Way To Ship My Car to or From Indiana?
The optimal way to transport your car to or from Indiana is through Cross Country Car Shipping. We offer a range of services tailored to your needs, ensuring a secure and seamless journey. Our experienced team, modern equipment, and customer-centric approach make us the best choice. Whether it's a standard car, an RV, or heavy machinery, we have you covered. Contact us for transparent pricing and expert guidance, making your car shipping experience hassle-free and reliable. Your satisfaction and your car's safety are our top priorities.
How Much Time Does Vehicle Shipping From Indiana Take?
At Cross Country Car Shipping, the time for vehicle shipping from Indiana varies based on factors like distance, route, and weather. Generally, shipping within Indiana might take a shorter time compared to longer cross-country journeys. We provide estimated delivery timeframes during the booking process, ensuring transparency. Our goal is to deliver your vehicle as promptly as possible while maintaining safety and quality. Feel free to discuss your specific transportation needs with our team, and we'll provide accurate information to help you plan accordingly. Your satisfaction and a timely delivery are our priorities.