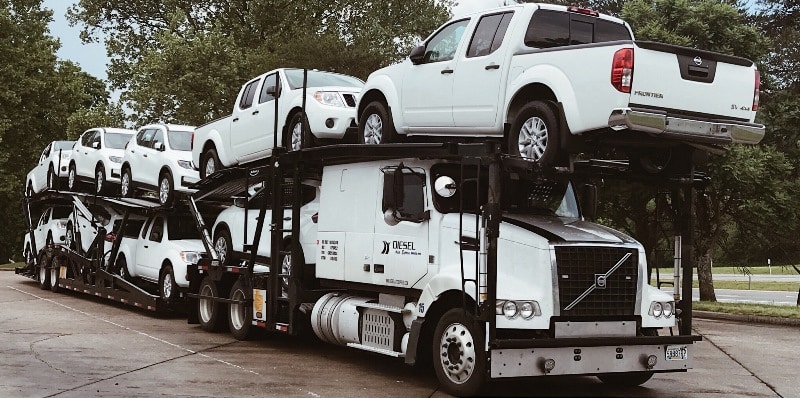 Get Your Desired Iowa Auto Shipping Services
When it comes to relocating, purchasing, or even participating in auto-related events, the need for reliable car transport services in Iowa becomes evident. The picturesque landscapes and urban centers of Iowa create a diverse backdrop where the assistance of professional vehicle transportation is invaluable. Whether you're moving within the state or across the country, finding a trusted partner to handle the logistics of moving your vehicle is essential.
At Cross Country Car Shipping, we understand the significance of your vehicle and the importance of its safe and secure transportation. With years of experience and a commitment to excellence, we offer comprehensive car transport services tailored to meet your unique needs. Our range of services encompasses diverse vehicles, from personal cars to motorcycles, classic cars, and even heavy machinery.
As you embark on your journey, questions about timelines, insurance, necessary documentation, and more are likely to arise. Our expert team is here to guide you through every step, ensuring that you're equipped with the information needed to make informed decisions about your vehicle's transportation.
With a focus on safety, customer satisfaction, and efficient transportation, Cross Country Car Shipping stands as a trusted name in the industry. We prioritize your peace of mind and the preservation of your vehicle's condition throughout its journey. Whether it's a short local move or a long-distance transport, our mission is to seamlessly move your vehicle, allowing you to focus on the next exciting chapter in your life.
Iowa Auto Transport Services
Car transport firms in Iowa offer an outstanding solution for your auto and freight shipping needs within the state. Our dedicated team, based in Iowa, takes immense pride in delivering excellent vehicle shipping services throughout Iowa. Rely on us to guarantee a smooth, secure, and reliable transportation experience, instilling confidence in numerous satisfied customers in the area. The journey for your vehicle commences right here.
Our Company
Cross Country Car Shipping stands out in providing outstanding vehicle transportation services within Iowa, utilizing extensive industry expertise. Our team comprises skilled professionals with a deep understanding of dependable and efficient vehicle and freight delivery. Our main objective remains to prioritize customer satisfaction and ensure the delivery of unmatched services. This unwavering commitment to these values has positioned us as the favored option for service delivery in Iowa.
Get Our Services
Cross Country Car Shipping takes great pride in offering a diverse array of services designed to meet different transportation needs in Iowa, resulting in elevated levels of satisfaction.
Car Transport Services in Iowa
Rely on our extensive vehicle shipping services in Iowa for timely and flawless vehicle transport, preserving its original condition throughout the entire trip. Utilizing our extensive knowledge and robust logistical networks, we adeptly navigate Iowa's transportation routes.
Regardless of whether you own a compact car or an SUV, we cater to different vehicle models, offering a convenient door-to-door service to ensure your peace of mind.
Iowa Motorcycle Shipping
For motorcycle enthusiasts in Iowa, our specialized IA car transport services are available to you, providing a reliable and secure choice for relocating your cherished two-wheeled companion. Equipped with specialized equipment and extensive expertise in motorcycle transportation, we accommodate both vintage and modern models.
Prioritizing the safety and timely delivery of your motorcycle continues to be our main goal. Accomplishing this aim with the highest level of care and precision brings us great satisfaction.
Iowa Enclosed Transportation
Committed to providing top-tier safety, Cross Country Car Shipping presents dependable enclosed transportation choices in Iowa, assuring the safeguarding of your vehicle from external elements during its journey. Customized particularly for valuable or classic cars, our carefully upheld fleet of enclosed carriers ensures comprehensive protection against harsh weather, debris, and potential hazards.
You can be confident that we handle each vehicle with meticulous care, treating them as though they were our own cherished possessions.
RV Shipping in Iowa City
When contemplating the need for RV transportation services in Iowa, our team is fully prepared to manage the intricacies of relocating these large vehicles. Whether you possess a compact travel trailer or a roomy motorhome, we possess the expertise and equipment to ensure a secure journey.
We acknowledge the distinct challenges linked to RV transportation and are well-equipped to address them efficiently, giving you a feeling of assurance throughout the entire transportation process.
Check Our Boat Shipping Services
Count on our expert boat transportation solutions in Iowa to ensure the secure and effective transport of your aquatic vessel. Regardless of whether you possess a personal watercraft or a more substantial yacht, we manage your boat with utmost diligence and skill.
You can find comfort in the knowledge that our comprehensive insurance coverage provides the peace of mind you need, guaranteeing the safe delivery of your boat to its designated location.
Iowa Freight Shipping
Designed to accommodate the diverse requirements of businesses and individuals alike, our freight shipping services in Iowa are carefully customized for transporting large, heavy, or unwieldy items. Whether you're handling palletized goods, construction materials, or industrial cargo, we possess the necessary equipment and expertise to oversee every aspect of the process.
No matter the specifics of your freight shipping needs in Iowa, we are fully equipped to provide tailored solutions crafted to meet your distinct requirements.
Dependable International Car Transport Services
Thinking about an international move from Iowa? Rely on our worldwide vehicle shipping services to ensure a seamless transfer of your car.
We handle all transportation procedures, take care of customs documentation, and organize international delivery timetables, ensuring a trouble-free journey. Our main objective is to streamline international shipping, giving you a feeling of peace throughout your entire adventure.
Heavy Equipment Hauling in Iowa City
Prioritizing safety as our highest concern, we adeptly manage the movement of significant machinery and equipment in Iowa, ensuring a seamless and safe trip.
Whether involving construction, agriculture, or industrial machinery, our experienced experts and committed carriers guarantee the safe and effective transfer of your substantial load. You can trust that your heavy equipment will reach its destination on time and in a secure condition, providing you with a sense of assurance.
For reliable vehicle shipping and other transportation services in Iowa, get in touch with Iowa Auto Movers today. Contact our office, and we look forward to addressing your vehicle and cargo transportation needs.
Auto Transport in Iowa | How It Works?
When it comes to moving vehicles from one location to another, especially across considerable distances, the convenience of professional auto transport services cannot be overstated. Iowa, with its bustling urban centers and picturesque landscapes, has a robust network of IA auto transport services that cater to the diverse needs of individuals and businesses alike. Whether you're relocating, purchasing a vehicle from out of state, or simply need to move a car for any reason, these services offer a reliable solution.
IA auto transport services offer a seamless process that ensures the safe and efficient conveyance of vehicles. The process generally begins with contacting a reputable auto transport company. These companies, like any car shipping provider, offer a range of options to suit different needs. From open carriers for cost-effective transport to enclosed carriers for added protection, clients can choose the mode that best suits their requirements.
Once the booking is made, the company's team of professionals takes over. They meticulously plan the route, considering factors like distance and road conditions. Additionally, they handle paperwork and logistics, ensuring a smooth transition through customs and regulations if the vehicle is being transported across state lines or internationally.
Safety is paramount in auto transport. Skilled carriers are assigned to pick up the vehicle from its origin and deliver it to the specified destination. These carriers are equipped with the necessary tools and knowledge to handle vehicles of various sizes, shapes, and types. This specialized expertise ensures that cars are securely loaded, transported, and unloaded, maintaining their condition throughout the journey.
In the era of online convenience, booking IA auto transport services has become increasingly accessible. Many companies offer online quotes, allowing individuals to estimate costs before making a decision. This simplifies the process and helps clients make informed choices based on their budget and timeline.
In conclusion, the process of auto transport in Iowa involves a comprehensive approach that prioritizes safety, convenience, and reliability. The availability of specialized services, such as those to ship a car, ensures that individuals and businesses can confidently move vehicles across varying distances while enjoying peace of mind. Whether it's a personal car, a classic vehicle, or even heavy machinery, Iowa's auto transport services offer a viable solution for a smooth and secure journey.
Tips for Selecting Iowa Car Transport Companies
When it comes to moving vehicles, whether you're relocating or purchasing a car from afar, the assistance of professional car transport services is invaluable. In Des Moines, IA, and across the state, a plethora of IA car shipping services are available to help ensure a smooth and secure transportation process. However, choosing the right car transport company requires careful consideration and a few essential tips.
Firstly, research is key. Take the time to explore different IA car shipping services and their reputation. Reading customer reviews and seeking recommendations from friends or online communities can provide valuable insights into the quality of service offered by a company.
Experience matters greatly in the car transport industry. Look for companies with a proven track record of successfully transporting vehicles. Experienced companies tend to have well-established networks, skilled drivers, and the know-how to navigate potential challenges.
Transparency is another crucial aspect. Reputable car transport companies should provide clear and comprehensive information about their services, including pricing, insurance coverage, and the transportation process itself. Be cautious of companies that offer unusually low prices, as this might indicate hidden fees or subpar services.
Insurance coverage is non-negotiable. Ensure that the car transport company provides sufficient insurance to cover any potential damages during transportation. Request proof of insurance and carefully review the terms and conditions.
Customer service plays a pivotal role. A reliable car transport company should have responsive and helpful customer service representatives who are ready to address your queries and concerns.
Finally, obtain multiple quotes from different IA auto shipping services. Comparing quotes allows you to assess the market rates and make an informed decision based on your budget and requirements.
In conclusion, selecting the right car transport company in Des Moines, IA, and across Iowa involves thorough research, considering experience, transparency, insurance coverage, and customer service. By following these tips, you can confidently choose a car transport service that ensures your vehicle reaches its destination safely and efficiently.
How Much Does Iowa Auto Shipping Cost?
When it comes to moving a vehicle across distances, whether for relocation or purchase, one of the most common questions is: How much does auto shipping cost in Iowa? The cost of shipping a vehicle can vary based on several factors, each playing a role in determining the final price.
Distance is a significant determinant of auto shipping costs. Longer distances often lead to higher shipping fees due to fuel, driver compensation, and logistical considerations. Shipping a vehicle within Iowa itself may be less expensive than transporting it across several states.
The type of vehicle being shipped also affects the cost. Larger vehicles or those with unique dimensions may require specialized carriers, which can lead to higher prices. Additionally, the weight of the vehicle contributes to shipping costs, as heavier vehicles require more fuel and resources.
The chosen shipping method plays a role as well. Open carriers, while more cost-effective, expose the vehicle to the elements. Enclosed carriers offer added protection but are generally more expensive due to the enhanced security they provide.
Seasonality and demand fluctuations can impact costs. Shipping during peak seasons, such as summer when many people are relocating, may lead to higher prices due to increased demand.
Lastly, the chosen car shipping company and the level of service they offer will influence the cost. Reputable companies with strong track records and insurance coverage might charge more for their services.
To get an accurate estimate, it's recommended to obtain quotes from multiple Iowa auto shipping companies. These quotes should detail the specific services, insurance coverage, and any potential fees associated with the transportation.
In conclusion, the cost of auto shipping in Iowa varies based on factors like distance, vehicle type, shipping method, seasonality, and the chosen company. While cost is undoubtedly a factor, it's equally important to prioritize the reliability and quality of service offered by the car shipping company to ensure a smooth and secure transportation experience.
Most Popular Routes for Auto Transport Iowa
When it comes to moving vehicles across distances, the expertise of car shipping companies becomes indispensable. In Iowa, a state known for its diverse landscapes and urban centers, there are several popular routes that car shipping companies commonly navigate to ensure smooth and efficient vehicle transportation.
One of the most popular routes for auto transport in Iowa is the corridor between Des Moines and Cedar Rapids. This route is frequently used due to the economic and cultural significance of both cities, making it a common choice for those relocating or purchasing vehicles.
The I-80 corridor is another highly frequented route. Stretching across the state, it connects major cities like Davenport, Iowa City, and Council Bluffs. IA car hauling services often use this route to facilitate vehicle transportation between the eastern and western parts of the state.
For those needing to move vehicles between Iowa and neighboring states, routes like I-35 and I-29 are essential. These interstate highways connect Iowa with states like Minnesota, Missouri, and South Dakota, providing crucial transportation connections.
It's important to note that while these routes are popular, auto shipping companies are equipped to navigate various routes based on individual needs and preferences. Whether you're relocating, purchasing a vehicle, or participating in auto-related events, Iowa's car shipping companies offer the flexibility and expertise to cater to a wide range of transportation needs.
In conclusion, Iowa's most popular routes for auto transport highlight the state's well-connected network of highways and cities. Vehicle shipping companies adeptly navigate these routes to ensure the smooth and secure transportation of vehicles, providing convenience and peace of mind for individuals and businesses alike.
Why Should You Choose Us?
Selecting the right auto transport company is a decision that requires careful consideration, especially when it comes to entrusting your valuable vehicle to professionals. Cross Country Car Shipping stands out as a premier choice for vehicle transportation, and here's why you should choose us for your needs.
Experience and Expertise: With years of experience in the industry, Cross Country Car Shipping has developed a deep understanding of the intricacies involved in vehicle transportation. Our seasoned experts possess the knowledge and skills to handle various types of vehicles, ensuring their safe and secure transport.
Comprehensive Services: We offer a wide range of services tailored to meet diverse transportation needs. From standard car shipping to specialty vehicle transport, we have the capabilities to accommodate different requirements, whether you own a personal vehicle, classic car, motorcycle, or even heavy machinery. Check our instant quote here.
Safety First: At Cross Country Car Shipping, safety is paramount. We prioritize the security of your vehicle throughout the transportation process. Our team utilizes the latest industry practices and equipment to ensure that your vehicle remains in pristine condition from pick-up to delivery.
Insurance Coverage: We understand the importance of providing peace of mind to our clients. Our comprehensive insurance coverage safeguards your vehicle against potential damages during transit, ensuring that you're covered in case of unforeseen events.
Customer-Centric Approach: Our commitment to exceptional customer service sets us apart. We believe in transparent communication, addressing your concerns promptly and professionally. Your satisfaction is our top priority, and we strive to provide a seamless and stress-free experience.
Nationwide Reach: Whether you're moving within Iowa or across states, our nationwide reach ensures that we can accommodate your transportation needs to virtually any location.
In conclusion, Cross Country Car Shipping combines experience, expertise, comprehensive services, safety measures, insurance coverage, and customer-centric values to offer a compelling reason to choose us for your vehicle transportation needs. When you choose Cross Country Car Shipping, you're choosing a partner dedicated to delivering your vehicle with the utmost care and professionalism.
FAQs
How Long Will It Take?
The duration of vehicle transportation depends on factors such as distance, route, and chosen shipping method. Local moves within Iowa might take a few days, while cross-country shipments could range from one to two weeks. Enclosed carriers might require more planning due to limited availability. Factors like weather, traffic, and unforeseen delays can also influence timelines. For accurate estimates, consult our experts, who can provide personalized insights based on your specific transportation needs. At Cross Country Car Shipping, we prioritize timely delivery without compromising safety and quality.
What Documents Are Necessary for Insurance?
To ensure proper insurance coverage during vehicle transportation, certain documents are essential. These typically include a copy of your vehicle's registration, proof of ownership, and a valid photo ID. Providing accurate information about your vehicle's condition, including photos if possible, can also support insurance coverage. At Cross Country Car Shipping, we guide you through the required documentation process to ensure comprehensive protection for your vehicle throughout the transportation journey.