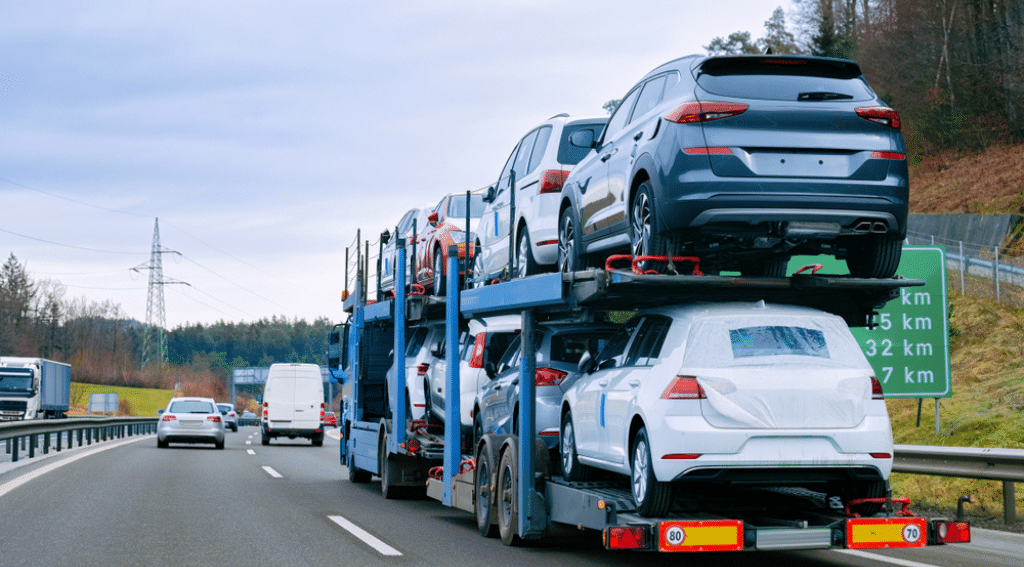 Auto Transport Services in Vermont (Complete Guide)
Car shipping services offer a wide array of solutions, accommodating various requirements, including transporting luxurious and classic cars in enclosed carriers or efficiently moving standard vehicles with open transport options. Understanding the key factors that influence car shipping, like distance, chosen method, and specific routes, allows for a smooth transportation experience.
In this article, we explore the essential aspects of car shipping services in Vermont, delving into the advantages, average transit times, and crucial considerations to guarantee the safe and timely arrival of your vehicle at its destination.
Get the Best Shipping Services From Our Company
Bringing extensive industry expertise, Cross Country Car Shipping is devoted to delivering exceptional car shipping services in Vermont. Our team comprises highly skilled professionals well-versed in the intricacies of safely and promptly transporting vehicles and freight. Recognized as a reliable service provider in the region, our dedication to customer satisfaction and service excellence remains steadfast. Count on us to handle your transportation needs with utmost care and efficiency.
Our Services
Cross Country Car Shipping takes pride in providing an extensive range of services tailored to meet a diverse set of transport requirements:
Car Shipping in Vermont
Count on our all-inclusive car transportation services to ensure your vehicle arrives at its destination promptly and in top-notch condition. With our wealth of experience and strong logistics network, we skillfully navigate transportation routes in Vermont. Whether you own a compact car or an SUV, we handle all vehicle types, providing convenient door-to-door service to ensure your vehicle reaches its destination in the same immaculate condition as when it was picked up.
Need Enclosed Trailers in Vermont?
In Vermont, we offer secure enclosed transport services to ensure the highest level of protection during vehicle transportation. Ideal for valuable or classic vehicles, our meticulously maintained fleet of enclosed carriers provides comprehensive shielding against adverse weather, debris, and potential hazards. Rest assured, we handle each vehicle with the utmost care, treating it as if it were our own, ensuring its safe and pristine arrival at the intended destination.
RV Shipping in Vermont
When it comes to your RV shipping needs in Vermont, our team is fully equipped to handle the intricacies of transporting these large vehicles. Whether you have a compact travel trailer or a full-sized motorhome, we possess the expertise and specialized equipment to ensure a safe and secure journey. Understanding the unique challenges associated with RV shipping, we are well-prepared to address them efficiently, providing you with a seamless and secure transportation experience.
Boat Shipping From/To Vermont
Rely on our specialized boat shipping services in Vermont to ensure the secure and efficient transportation of your watercraft. Whether it's a personal watercraft or a larger yacht, we handle each boat with utmost care and professionalism. Rest assured, our comprehensive insurance coverage provides you with the confidence you need, knowing that your boat will be securely transported to its new location. Choose us as the trustworthy choice for your boat shipping needs in Vermont.
Freight Transportation in Vermont
Tailored to meet the unique needs of our Vermont customers, our freight shipping services are the ideal choice for businesses or individuals seeking to transport large, bulky, or heavy items. From palletized goods to construction materials and other industrial freight, we possess the resources and expertise to handle diverse cargo. Count on us to provide efficient and customized solutions, ensuring your freight reaches its destination seamlessly and reliably in Vermont.
Choose Us For International Car Shipping
Considering an international move? Trust us to facilitate a seamless transition for your vehicle with our international car shipping services in Vermont. From handling customs documentation to managing foreign delivery logistics, we take care of every aspect of the transport process. Our goal is to make the international shipping journey as stress-free as possible, providing a smooth and worry-free experience for all our valued customers in Vermont.
Heavy Equipment Hauling in Vermont
With a focus on stringent safety protocols, we specialize in the transportation of heavy machinery and equipment, ensuring a smooth and secure journey in Vermont. Whether it's construction, farming, or industrial equipment, we have the expertise to transport it safely. Our dedicated carriers and skilled professionals work diligently to promptly and securely deliver your heavy equipment to its destination.
For reliable car shipping services and a comprehensive range of transportation solutions, contact Auto Transport Specialty today. Trust us to handle your transportation needs with the highest level of care and efficiency in Vermont.
Things to consider while shipping from Vermont
When shipping a vehicle from Vermont, there are crucial factors to keep in mind for a successful and stress-free experience.
Firstly, research and choose some reputable VT auto transport services or VT car shipping services, VT car hauling services, or VT car carrier services with a track record of handling shipments in and out of Vermont. Then from the selected Vermont auto transport companies select the best Vermont auto transport company or auto transport service. Here's how you choose a reliable and trustworthy shipping company.
Check if the company offers the specific type of transport you need, whether it's an open carrier for standard vehicles or enclosed transport for luxury cars.
Obtain multiple quotes to compare prices and services, but be cautious of unusually low prices that may indicate poor service.
Verify the company's insurance coverage to ensure your vehicle is protected during transit. Read customer reviews and testimonials to gauge the company's reliability and customer satisfaction.
Communicate clearly with the company about pickup and delivery times, as well as any specific requirements you may have for the shipment.
By considering these factors, you can make an informed decision and have peace of mind when shipping your vehicle from Vermont.
Reliable Vermont car shipping services
When it comes to car shipping services in Vermont, reliability is paramount. Entrusting your vehicle to a dependable and experienced Vermont car shipping company ensures a smooth and secure auto shipping process.
Look for a company with a proven track record of handling vehicle shipments in and out of Vermont. Check for certifications, licenses, and insurance coverage to guarantee your vehicle's safety during transit.
A reliable Vermont car shipping service will offer various transport options to suit your specific needs, whether it's open carrier transport for standard vehicles or enclosed shipping for added protection.
Transparent pricing, excellent customer reviews, and timely communication are also indicators of reliable service.
By choosing a reputable car shipping company, you can have the confidence that your vehicle will reach its destination safely and on time.
Using Vermont Car Transport Companies
Using Vermont car transport companies can make the process of moving your vehicle to or from the state much easier and more convenient. Whether you're relocating, purchasing a car from another state, or need to transport a vehicle for any other reason, a reliable car transport service ensures a seamless and stress-free experience.
When selecting a Vermont car transport company, consider factors like their reputation, experience, and customer reviews. Look for companies with proper licensing, insurance coverage, and a variety of shipping options to meet your specific needs. Transparent pricing and clear communication are also essential aspects to consider.
By choosing a reputable Vermont car transport company, you can rest assured that your vehicle will be handled with utmost care and professionalism, ensuring its safe and timely arrival at its destination.
How does Vermont car transport work?
Vermont car transport works by providing a reliable and efficient solution for moving vehicles to or from the state. The process typically starts with obtaining a quote from a reputable car transport company, where factors such as the distance, vehicle type, and chosen shipping method are considered.
Once the details are finalized, the company arranges for a carrier to pick up the vehicle from its current location.
During transportation, the vehicle is securely loaded onto the carrier and transported to its destination. Depending on the distance, delivery times may vary, but reputable companies ensure prompt and timely arrivals. Throughout the process, clear communication with the car transport company ensures a smooth experience.
By entrusting your vehicle to a Vermont car transport service, you can enjoy a stress-free journey, knowing that your vehicle will be handled with care and professionalism from start to finish.
Top 10 most popular routes for Vermont car shipping
When it comes to car shipping in Vermont, certain routes stand out as the most popular due to the high demand for transportation services to and from specific destinations. Here are the top 10 most popular routes for Vermont car shipping:
Vermont to Florida: The route from Vermont to Florida is highly sought after, especially during the winter months when many residents head south to escape the cold weather.
Vermont to California: This cross-country route is popular for individuals relocating to the West Coast or transporting their vehicles for vacations or temporary stays.
Vermont to Texas: Texas's size and diverse landscapes make it a common destination for car shipping from Vermont.
Vermont to Arizona: With its warm climate and stunning desert scenery, Arizona attracts many snowbirds and vacationers from Vermont.
Vermont to North Carolina: The route to North Carolina is frequently used by those moving to the southeastern United States.
Vermont to South Carolina: Similar to North Carolina, South Carolina is a popular destination for car shipping from Vermont.
Vermont to Georgia: Georgia's growing economy and southern charm make it a popular choice for relocation.
Vermont to Virginia: Many people choose to ship their cars from Vermont to Virginia, which offers a mix of urban centers and scenic landscapes.
Vermont to New York: The route to New York is common for those moving to or from Vermont's neighboring state.
Vermont to Massachusetts: Massachusetts, with its proximity to Vermont and major cities like Boston, is a popular destination for car shipping.
Regardless of the route you choose, finding a reliable car shipping company is essential to ensure a smooth and hassle-free transportation experience for your vehicle.
Consider factors such as the company's reputation, insurance coverage, and customer reviews when selecting a car transport service to make your journey a successful one.
How to prepare my car for shipping
Preparing your car for shipping is essential to ensure a smooth and safe transportation process. Whether you're moving to a new state or sending your vehicle for a vacation, following these steps will help you get your car ready for shipping:
Clean your car: Wash your car thoroughly to remove dirt and debris. Cleaning your vehicle will make it easier to inspect for any existing damage before shipping.
Document existing condition: Take photos of your car from different angles and note any pre-existing scratches, dents, or damages. This documentation will serve as a reference in case of any issues during transport.
Remove personal belongings: Clear out all personal items from the car, including valuables and important documents. Car shipping companies typically do not allow personal items in the vehicle during transportation.
Check for leaks and mechanical issues: Ensure that your car is in good working condition. Check for leaks, and if any mechanical issues are present, get them fixed before shipping.
Disable alarms and secure loose parts: Disable any car alarms to prevent them from triggering during transport. Additionally, secure or remove any loose parts or accessories to avoid damage.
Leave a quarter tank of gas: Keep the fuel level in your car to about a quarter of a tank. This is enough for loading and unloading without adding unnecessary weight.
Check tire pressure: Make sure your tires are properly inflated to the recommended pressure to prevent damage during shipping.
Remove custom accessories: If your car has custom accessories such as spoilers, roof racks, or antennas, remove them to prevent any potential damage.
Inform the shipping company of special requirements: If your car requires any specific handling or has unique features, inform the car shipping company in advance.
By taking these steps to prepare your car for shipping, you can ensure a smooth and worry-free transportation process, and your vehicle will be ready to hit the road at its destination. This blog will give you a complete idea on preparing your vehicle for transportation.
Long Distance Auto Transport to/from Vermont
Long-distance auto transport to/from Vermont is a convenient and efficient solution for transporting vehicles over extended distances. Whether you're moving to a new state or purchasing a car from afar, reliable car shipping services ensure a smooth and stress-free journey.
Trusted auto transport companies offer various options, such as open or enclosed carriers, to suit your specific needs and budget. With a team of experienced professionals and a focus on safety, your vehicle will be handled with utmost care throughout the entire transportation process.
From pickup to delivery, the transport company will coordinate the logistics, ensuring timely and secure arrival at the destination. Long-distance auto transport to/from Vermont is the ideal choice for those seeking a reliable and dependable way to move their vehicles across the country.
Instant Car Shipping Quote
Obtaining an instant car shipping quote has never been easier or more convenient. Reputable car transport companies now offer user-friendly online tools that allow you to get a quick and accurate estimate for shipping your vehicle. You can get an instant quote from us Here.
Simply provide essential details such as the pickup and delivery locations, vehicle make and model, and desired transport type (open or enclosed). With this information, the system will generate an instant car shipping quote tailored to your specific needs. This allows you to compare prices, plan your budget, and make an informed decision about your car shipping needs.
Take advantage of these hassle-free tools to get an instant car shipping quote and ensure a smooth and reliable transportation experience for your vehicle.
FAQs
How long does Vermont car shipping take?
The duration of Vermont car shipping can vary depending on factors such as the distance, destination, and chosen transport method.
For shorter distances within the state or neighboring regions, shipping may take a few days to a week. However, cross-country shipments could take up to two weeks. It's essential to consider these factors and consult with a reputable car shipping company to get a more accurate estimate for your specific transport needs.
How much does Vermont auto transport cost?
Vermont auto transport costs can vary based on several factors, including distance, vehicle type, transport method, and current market conditions.
On average, shipping a standard car within the state may cost around $500 to $800. Longer distances or specialized vehicles can incur higher costs. It's best to request quotes from multiple auto transport companies to get a precise estimate tailored to your specific shipping requirements. Through this blog, you'll know more about the pricing process of the shipping companies.