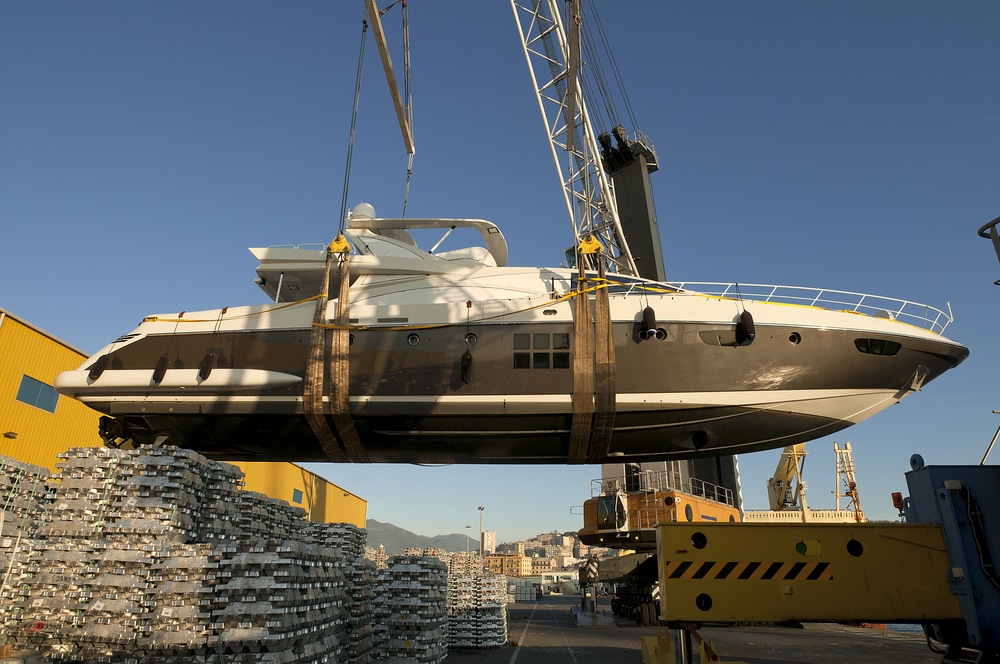 Yacht Transport by Road – Ship Your Boat Anywhere in the US
A yacht can be a source of endless joy and, as many boat owners know, just as much of a headache. One of the larger issues with owning a yacht comes when you need to transport it over longer distances.
Suppose you're moving across the U.S. Naturally, you'll want to bring your boat along, but the trip by sea might take excruciatingly long. Depending on your boat type, the starting point, and destination, you could spend upwards of 10 days at sea. For comparison, a coast-to-coast trip via one of the U.S. interstates would take about a week.
If you want your yacht waiting for you on the other side of the country, transport by road would be your best option. The same goes if you'd like the boat shipped conveniently to your holiday destination. Whatever the case may be you'll want to learn as much about the shipping process as possible.
And that's precisely what we'll discuss in the following text. This article will tell you everything you need to know about yacht transportation by road.
Should You Ship or Tow?
If you have a vehicle that can tow a yacht, you might be wondering why you shouldn't just move the vessel yourself. And indeed, this is possible, but it could be more complex than it seems.
The most important thing to consider is whether your boat is even able to be moved by trailer.
To be transported by trailer, a vessel needs to fit within specific measurements to pose minimal issues. In particular, you'll need a boat that's no more than 35 feet long and 13 feet wide.
However, if your vessel surpasses those dimensions, it might not be deemed safe for public transport by trailer. Height also plays a role in overland boat transport. Your trailer will undoubtedly pass under some bridges or overpasses, and the air draft (the distance from its highest point to the waterline) on your boat might be too high to fit. That's why the height limit for boats on a trailer is set to 13 feet, 6 inches.
Furthermore, moving your boat through several states can represent an additional complication. Even if your yacht fits the regulations in one state, it could be considered oversized in the next one. In other words, of all the states you'd be going through to get to your destination, the one with the harshest regulations could cause trouble if your boat is not compliant.
Potential troubles with road yacht transportation don't stop with regulations, though. If you decide to tow your boat, you'll be solely responsible for loading and offloading the vessel safely. After all, not only do you need to get your yacht from one city to the other, but you also to make sure it's ready for sailing once it reaches the destination.
Finally, you'll need to ensure your trailer is set up properly for boat hauling.
Unsurprisingly, the trailer should fit your boat's dimensions. Typically, you'll need the trailer to be longer than the boat by around 2 feet. Plus, you'll need to account for the yacht's weight. If it's lighter than 3,500 pounds, you'll be able to use a single-axle trailer. But if the boat is heavier than that, your trailer will have to be a tandem axle.
It would also be good to know how the trailer frame is constructed. Tubular steel frames are strong and sturdy but can, like all steel, succumb to corrosion and lose integrity. On the other hand, aluminum frames will be lighter and proportionally stronger but less protective.
The brakes on your yacht transportation trailer will, of course, need to be in perfect working order. All trailers used to haul more than 3,000 pounds are required by law to have brakes for all wheels When it comes to yacht haulers, the most common type of trailer brakes are the hydraulic surge types.
These brakes come in drum and disc variants. Discs are preferable since they can withstand greater gross weights.
In addition to all this, your trailer needs to have a safety cable, a tongue of just the right weight, and load guides. Lastly, the tires on the trailer should have a sufficient load index so they can carry the full load. A single boat trailer tire will usually have a load index of 80-110, which means it's rated for just over 2,300 pounds at maximum.
With all these concerns, it would seem that towing is a viable option only when it comes to relatively small boats. But even then, with all the state regulations and insurance considerations, transporting your vessel on a trailer might be more trouble than it's worth.
In most cases, a professional boat trucking company will be the ideal solution.
Crucial Considerations for Hiring a Yacht Trucking Company
The basic principles of finding the right company to move your boat are the same as with all shipping companies. You'll want a professional service with sufficient expertise and experience.
It would be best to first gather available options and then start comparing them based on several factors.
Firstly, you'll want to know how much experience the company has. It doesn't need to be as long-standing as Joule yacht transport, which has been around since the 1950s. However, you also don't want to entrust your boat to absolute beginners.
On a similar note, you'll want to make sure that you're dealing only with licensed yacht hauling companies. Such transporters will know what's needed for successful boat shipping and will be compliant with every regulation.
This becomes especially important when your boat needs to cross state boundaries. If you're dealing with a company that functions locally, they might know all regulations within their state. However, once they cross the border, even slight differences in regulations might take the hauler by surprise.
The next vital aspect is insurance. You'll want to make sure you have the right policy in place to cover any potential damages. Additionally, the company itself should have proper insurance. While this isn't necessarily your concern, it's always a good idea to ask if they have coverage and liability insurance.
Of course, pricing will have the greatest impact, and it's the most complex part of the equation.
Rather than just driving over the road, boat transport includes numerous requirements that will directly reflect on the total expense. For instance, the hauler will need to cover the cost of special equipment used for the job, wear and tear, fuel, state permits, potential escorts, and more.
When it comes to hauling oversized boats, crossing bridges can represent a significant cost increase. Many bridges have a toll for larger haulers and oversized cargo, and it can reach several hundred dollars per bridge.
Besides these elementary concerns, you'll also need to consider the boat size, journey length, and even the season. Also, if you want additional services like unloading or storage, these will increase the overall cost.
This all means that the final price can range from as low as $500 to over $5,000. Expressed in dollars per mile, an average cost of boat shipping shouldn't exceed $3 per mile. However, if the journey is longer than 1,000 miles, this number could jump up to well over $5.
When you decide on the company that will handle the yacht transport by road, you'll need to take some additional steps for safety's sake.
Preparing Your Boat for Transport on Land
It would be wise to take care of certain precautions before shipping your boat by road.
As mentioned above, you'll need to keep the height limitation in mind. If there's a piece on your yacht that makes it surpass 13 feet, it will be necessary to remove it beforehand.
Next, you should ensure your vessel is as safe as possible during transport. In other words, you should empty the boat of all liquids, including water, fuel, and waste. If the yacht is just over the weight limitation, this step could even make it light enough to avoid weight-related complications.
Furthermore, there should be no chance of onboard systems activating or connecting while in transit. To that end, it would be best to disconnect the boat battery, as well as secure all terminals on the vessel.
When it comes to safety, it's worth mentioning that yacht transport by truck can be somewhat bumpy on occasion. As a result, any items not properly secured could be thrown around the boat, leading to unnecessary damages.
If you want to ensure all your belongings stay safe, you should secure each accessory and any items left on the boat. Additionally, it would be best to shut and lock all hatches, doors, and windows.
Speaking of damages, you'll need to do your best to document the state of your vessel before it gets transported. Ideally, you should take photos of all important areas, ensuring you capture them well-lit and in ample detail.
Although boat trucking is supposed to be very safe for your property, there's no telling what may happen on the road. And if your yacht suffers damage in transit, you'll want to have proof that the vessel wasn't submitted for shipment like that.
Also, if you need to make some modifications to the boat to facilitate shipping, photos will help you return it to its original state.
Is Yacht Transport by Road Efficient?
You can get a very direct answer to this question if you look at the specialized company we've mentioned previously – Joule boat transport. This boat trucking company has been in business for over six decades, and that certainly wouldn't be the case if their yacht road transport service wasn't an efficient solution.
In fact, there are boat-building companies located in completely landlocked areas. Yet, they have no issue transporting their products over hundreds, if not thousands of miles.
The same goes for private yacht moving. Even though it can seem overly complicated to haul a massive vessel, especially across state lines, that task is more than achievable with a quality company. And on many accounts, road transport can prove to be a better solution than shipping by sea.
Yacht movers use specialized equipment to make specific aspects of boat shipping even easier. For example, trailers used by professionals are made at a particularly low angle that makes sailboat keels lower in relation to the trailer bed. This can often resolve the height issue, making the loaded trailer clear for passing under bridges.
The negative sides of road transportation most often occur because of oversized vessels. Special rules and regulations apply to those boats and can sometimes prohibit them from using certain roads. In those cases, the hauler needs to make a detour, which brings about additional complications.
If there's a mandatory detour, the journey can extend by several hundred miles. Even worse, if the detour takes the haul through narrower roads, an escort will be required to monitor the truck's front and rear.
Since escort companies often charge by the day, this means that even a short detour could increase the overall expense by a significant amount.
Similarly, oversized shipments might not be allowed during specific days of the year. In some states, this restriction could apply to weekends, as well as holidays. Naturally, such regulations will result in lost days.
Still, when everything is considered, road yacht transport often turns out to be more efficient than the alternatives.
Drive Your Boat Across Country
Whether you need to reach the furthest parts of Alaska and Hawaii or just want to go a few miles down the coast, yacht transport by road will be your best bet. This method of yacht shipping is reliable, quite fast, and, in most cases, very convenient.
Putting your boat on a truck is certainly preferable to traversing thousands of miles along the U.S. coastline. This is particularly true if you find a professional moving service to take care of your vessel.
And if you've decided to move your yacht by truck, why not ship your car the same way? After all, boat and car transport often go hand in hand. Luckily, you can do that, too, with ease.
Visit Cross Country Car Shipping to check out one of the leading car shipping services nationwide. Depending on the destination, you might be able to have your boat and car arrive at the new location the same day.