Transporting A Car To Or From Bridgeport, CT
Bridgeport's trusted authority when it comes to long distance auto transport.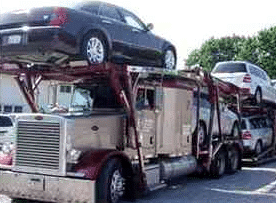 Moving a car from one state to another–or even across the country–can be expensive and confusing, especially for first time auto movers. The key to hiring a good auto transport company is to find one that has the necessary experience, backed up by high standards of performance and customer reviews. For more than 25 years, we have provided affordable auto moving solutions to and from Bridgeport for individuals, families and businesses in Connecticut and across the United States. 
Bridgeport has an interesting connection to the early days of the auto industry which began in 1900 when the Locomobile Company of America moved their base of operations from Watertown, Massachusetts to Bridgeport. Though the company only lasted until 1929, they produced steam-powered automobiles until 1903 which were smaller and cheaper before transitioning into making luxury cars powered by the internal combustion engines that would grow to become the industry standard.
For a free, no-obligation estimate on moving your car across the country, call us today or fill out the quote form and see how easy it can be!
Why It Makes Sense To Hire A Professional
There are many reasons why someone might hire a professional long distance auto mover. Our customers include people, businesses and organizations from all walks of life: college students, military personnel, government officials, auto dealers, car collectors, auto show participants, luxury car owners and classic car enthusiasts. Here are some of the many benefits of hiring a car moving professional:
Prevent wear and tear

Avoid bad road conditions and potential damage with professional auto movers!
This is a big factor for many car owners, especially those with high-end or performance vehicles. The simple fact of the matter is that putting 1,000 or more miles on your car can easily result in damage or malfunction, which can add considerable time and cost to what was supposed to be a simple process.
A question we often get is "What happens if my auto is damaged while being moved?" It's a great question and the simple answer is that all of the cars we move are insured against damage and theft while they are in our care. We are also a fully licensed and bonded auto transporter, which operate as safeguards and methods of consumer protection in the vehicle transport industry.
Protection from road hazards
With our enclosed auto transport option, you won't have to worry about stray debris or bad weather affecting the condition of your car while it's being moved. This is an often overlooked element of shipping a vehicle, especially when shipping an exotic or valuable car.
To learn more about the range of services we provide, call us today for a free consultation or fill out the form at the top of the page to receive an instant quote!
Online Auto Resources for Bridgeport
Bridgeport DMV – Hours, location and services from the Bridgeport Department of Motor Vehicles.
Shop For Cars – True Car is a great online marketplace for car buyers and sellers.
BMW of North America –  Everything you need to know about shopping for, buying and owning a BMW.