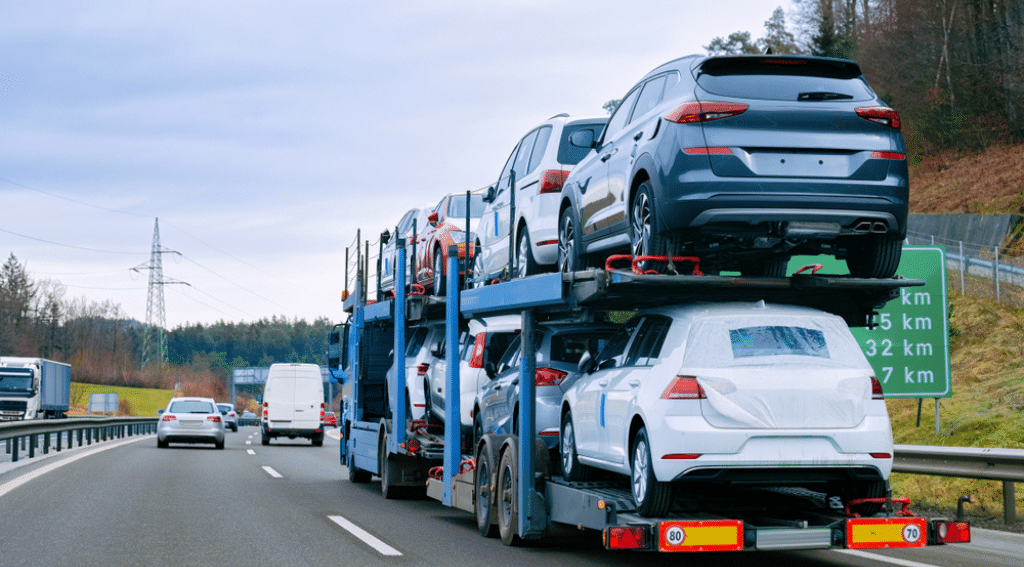 Get The Best Car Shipping Services in Wyoming
When it comes to moving vehicles across long distances to or from Wyoming, car shipping services offer a convenient and dependable solution. Whether you're relocating to the picturesque landscapes of Wyoming or departing the state for a new adventure elsewhere, entrusting your vehicle to a reputable auto transport company ensures a smooth and stress-free journey.
Car shipping services cater to a diverse range of needs, from transporting luxurious and classic cars with specialized enclosed carriers to efficiently moving standard vehicles with open transport options. Understanding the factors that influence car shipping, such as distance, chosen shipping method, and specific routes, helps in planning a seamless transportation experience.
In this article, we delve into the essential aspects of car shipping services in Wyoming, exploring the benefits, average transit times, and important considerations to ensure your vehicle reaches its destination securely and on time.
Get the Best Shipping Services From Our Company
Bringing years of industry expertise, Cross Country Car Shipping is devoted to delivering exceptional car shipping services in Wyoming. Our team comprises highly skilled professionals well-versed in the intricacies of safely and promptly transporting vehicles and freight. Recognized as the go-to service provider in the region, our commitment to customer satisfaction and service excellence remains unwavering. Count on us to handle your transportation needs with utmost care and efficiency.
Our Services
Cross Country Car Shipping takes pride in providing an extensive range of services tailored to meet a diverse set of transport requirements:
Car Shipping in Wyoming
Count on our general car transportation services to guarantee prompt and impeccable delivery of your vehicle to its destination. With our wealth of experience and a strong logistics network, we expertly navigate Wyoming's transportation routes. From compact cars to SUVs, we handle it all, providing convenient door-to-door service, and ensuring your vehicle arrives in the same pristine condition as when it was picked up.
Motorcycle Transportation in Wyoming
Rely on our dedicated shipping services for motorcycles, ensuring the secure and dependable transport of your beloved two-wheeled companion. Equipped with specialized tools and a profound knowledge of motorcycle transport, we cater to everything from vintage classics to modern sport bikes. Our commitment is to deliver your cherished motorcycle to its destination with utmost care and punctuality, ensuring its safe journey every step of the way.
Need Enclosed Trailers in Wyoming?
For utmost protection during transit, we offer secure enclosed transport services designed to shield your vehicle from external elements. Ideal for high-value or classic vehicles, our expertly maintained fleet of enclosed carriers ensures maximum safeguarding against weather, debris, and potential risks. With meticulous care and attention, we handle each vehicle as if it were our very own, ensuring its safe and pristine arrival at its destination.
RV Shipping in Wyoming
For all your RV shipping needs in the county, our team is fully equipped to manage the intricacies of transporting these large vehicles. From compact travel trailers to full-sized motorhomes, we possess the expertise and specialized equipment to ensure their safe journey. Understanding the unique challenges associated with RV shipping, we are well-prepared to tackle them with the utmost efficiency, providing you with a seamless and secure transportation experience.
Boat Shipping From/To Wyoming
With our specialized boat shipping services, rest assured that your watercraft will be securely and efficiently transported. Whether it's a personal watercraft or a larger yacht, we handle each boat with the utmost care and professionalism. Our comprehensive insurance coverage further adds to your peace of mind, making us the trustworthy choice to transport your boat securely to its new location.
Freight Transportation in Wyoming
Tailored to meet the unique needs of our Wyoming customers, our freight shipping services are the ideal choice for businesses or individuals seeking to transport large, bulky, or heavy items. From palletized goods to construction materials and other industrial freight, we possess the resources and expertise to handle diverse cargo. Count on us to provide efficient and customized solutions, ensuring your freight reaches its destination seamlessly and reliably.
Choose Us For International Car Shipping
Embarking on an overseas move? Allow us to facilitate a seamless transition for your vehicle with our international car shipping services. From coordinating customs documentation to managing foreign delivery logistics, we take care of every aspect of the transport process. Our goal is to make the international shipping journey as straightforward as possible, ensuring a smooth and worry-free experience for all our valued customers.
Heavy Equipment Hauling in Wyoming
With a focus on strict safety procedures, we expertly handle the transportation of heavy machinery and equipment, ensuring a smooth and secure journey. From construction to farming and industrial equipment, our capabilities extend to safely hauling it all. Our specialized carriers and trained professionals work diligently to deliver your heavy equipment to its destination in a timely and secure manner.
Contact Auto Transport Specialty today for dependable Wyoming car shipping and a comprehensive range of other transportation services. Trust us to handle your transportation needs with utmost care and efficiency.
The Steps in Auto Transport: Wyoming Car Transport
When it comes to moving your vehicle across long distances, auto transport services offer a convenient and reliable solution. Whether you're relocating to a new city or purchasing a car from out of state, Wyoming car transport services can efficiently and safely transport your vehicle to its destination. Understanding the steps involved in auto transport can help you prepare for a smooth and stress-free experience.
Research and Select a Reputable Transport Company: Start by researching reputable auto transport companies that serve Wyoming. Look for companies with positive customer reviews, proper licensing and insurance, and a track record of delivering vehicles securely.
Request Quotes and Compare Services: Obtain quotes from different auto transport companies and compare their services. Consider factors such as shipping options (open or enclosed transport), estimated delivery time, and pricing.
Schedule the Transportation: Once you've chosen a transport company, schedule the transportation of your vehicle. Provide necessary information such as the vehicle's make, model, and pick-up and delivery locations.
Prepare Your Vehicle for Transport: Before the pick-up date, ensure your vehicle is prepared for transportation. Remove personal belongings, clean the car, and take note of any existing damages.
Vehicle Pick-up: On the scheduled date, the transport company's carrier will arrive to pick up your vehicle. Conduct a thorough inspection of the car and note any pre-existing damages on the Bill of Lading.
Transportation and Tracking: The transport company will transport your vehicle to its destination using the chosen method (open or enclosed transport). Many companies offer tracking services, allowing you to monitor your vehicle's progress throughout the journey.
Vehicle Delivery: Once your vehicle arrives at the destination, conduct another inspection to ensure it's in the same condition as when it was picked up. If everything looks good, sign the Bill of Lading and complete the delivery process.
In conclusion, Wyoming car transport services streamline the process of moving vehicles across long distances. By following these essential steps and choosing a reputable transport company, you can ensure a seamless and successful auto transport experience, giving you peace of mind as your vehicle reaches its destination safely and efficiently.
Average Auto Transportation Cost in Wyoming
When you find yourself in need of auto transportation services in Wyoming, one of the crucial considerations is the cost involved. The cost of shipping a car can vary based on several factors, and understanding these factors will help you make informed decisions when selecting an auto transport company.
One of the significant factors influencing the cost is the distance to be covered. Wyoming's vast landscape and sometimes remote locations can impact the price, as longer distances typically entail higher costs. Additionally, the type of transportation service you choose, such as open or enclosed transport, will also affect the overall cost.
Another essential aspect to keep in mind is whether the vehicle will be picked up or delivered to a residential or business location. Delivering to a residential address might incur additional fees due to potential challenges with accessibility.
The make and model of your car can also influence the cost, as larger or heavier vehicles may require specialized handling, impacting the final price.
To get the best possible rate for shipping your car in Wyoming, it is essential to obtain quotes from multiple car shipping companies. Comparing the services offered, estimated delivery times, and pricing will help you identify the most suitable option for your needs.
In conclusion, the average auto transportation cost in Wyoming can vary depending on factors such as distance, type of transport, and vehicle specifications. By exploring different options and finding a reputable car shipping service, you can ensure a smooth and cost-effective experience when shipping your car in Wyoming.
Luxurious and Classic Car Shipping in Wyoming
For car enthusiasts who own luxurious or classic vehicles, ensuring their prized possessions are transported safely and securely is of utmost importance. Wyoming offers a range of specialized services, including enclosed car shipping, designed to cater to the needs of shipping cars that require extra care and protection.
Enclosed car shipping services provide an added layer of security, shielding valuable vehicles from the elements and potential road debris during transit. This option is particularly ideal for transporting luxury cars, classic automobiles, and exotic vehicles, where preservation is paramount.
When shipping cars in Wyoming, entrusting your beloved luxurious or classic car to an experienced auto transport company is crucial. Reputable transport companies have the expertise and equipment to handle high-end vehicles with the utmost care and professionalism. Their specially designed enclosed carriers ensure that these cars arrive at their destination in pristine condition, free from any damage that might occur during open transport.
In addition to top-notch security, enclosed services often include features like soft tie-downs and climate-controlled environments, maintaining the perfect conditions for your cherished vehicle throughout the journey.
Before choosing an enclosed car shipping service in Wyoming, be sure to research and compare different auto transport companies. Look for customer reviews, licensing, and insurance coverage to ensure that you select a reliable and reputable provider.
In conclusion, Wyoming offers luxurious and classic car owners the peace of mind they need when shipping their valuable vehicles. With specialized enclosed car transport companies, transporting high-end cars becomes a worry-free experience, allowing car enthusiasts to enjoy their prized possessions wherever they go. Trusting your luxurious and classic car to an experienced auto transport company ensures a smooth and safe journey, preserving the beauty and integrity of your cherished vehicle.
Get Trustworthy Wyoming Car Shipping Services From Us
When it comes to Wyoming auto transport, you need a reliable and experienced company to ensure your vehicle's safe and efficient journey across the country. At Cross Country Car Shipping, we take pride in providing top-notch car shipping services that you can trust.
Shipping your car can be a complex process, but with our expertise, we make it simple and hassle-free. Our team of professionals is well-versed in the intricacies of cross country car shipping, ensuring your vehicle reaches its destination securely and on time.
One of the key benefits of choosing our Wyoming car shipping services is that you can save money in the long run. Driving your vehicle cross country can incur significant expenses, including fuel costs, accommodations, and potential wear and tear on your car. With our car shipping services, you can avoid these expenses and enjoy a cost-effective solution to transport your vehicle.
We understand that the cost to ship a car is an essential factor for our customers. That's why we offer competitive pricing without compromising on the quality of service. Our transparent pricing and no hidden fees policy mean you'll know exactly what to expect, giving you peace of mind throughout the process.
So, when you're in need of trustworthy Wyoming car shipping services, turn to Cross Country Car Shipping. Let us handle the logistics, so you can focus on what matters most. Your vehicle's safe and timely arrival is our top priority, and we're committed to providing you with a seamless and reliable cross country car shipping experience. Contact us today to learn more about our services and get a quote for your car shipping needs.
FAQs
Can I Take Personal Items During Auto Shipping?
Yes, you can typically take personal items during auto shipping, but it's important to note some restrictions. Most auto transport companies allow a small number of personal belongings inside the vehicle's trunk or securely packed in the back seat. However, it's essential to avoid overloading the car with items, as excessive weight can pose safety risks and may violate transport regulations. Valuables and fragile items should be avoided, as the auto transport company may not be liable for any damage or loss of personal belongings during transit. Always check with your chosen auto transport provider for their specific guidelines on personal item allowances.
How Long Does Vehicle Transport to/From Wyoming Take?
The duration of vehicle transport to or from Wyoming can vary depending on several factors. The distance involved, the chosen shipping method (e.g., open or enclosed transport), and the specific route taken can all influence the time frame. Generally, within the contiguous United States, car shipping can take around 1-2 weeks on average. Cross-country transports may take slightly longer. To get a more accurate estimate, it's best to consult with the auto transport company you choose, as they can provide you with a specific timeline based on your unique transport needs.