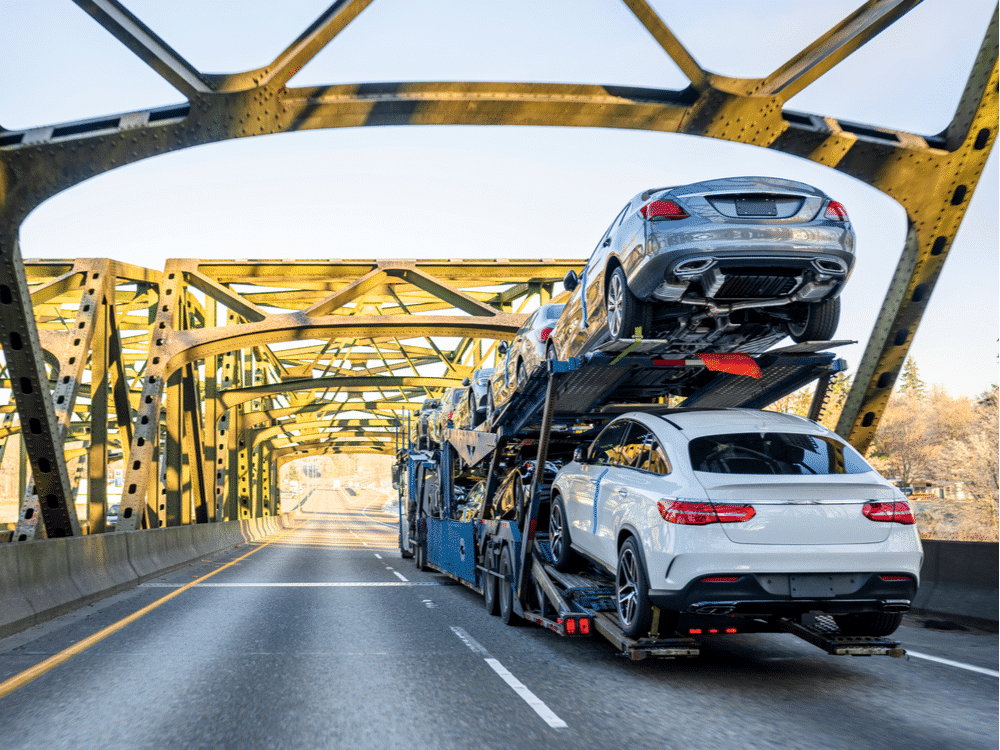 Cross Country Auto Shipping Reviews
If you're in a large city or metropolitan area, finding an auto shipping company can be a hit or miss. This means you'll have to sift through tens, if not hundreds of companies to find the best value for your money.
Cross Country Car Shipping entered the auto transport industry with the knowledge the industry was competitive, and the vision to offer customers reliable and quality service.
Customers always want to know which company is the best to save themselves the research hours, and trial-and-error. Several publications have made it their mission to compare top car transport companies in the United States to settle the debate. Today, we'll zone in on the "Best Car Shipping Companies of April 2022" by Forbes.com and "The 5 Best Car Shipping Companies of 2022" by Move.org.
Using similar parameters, we'll see how their bests compare with Cross Country Car Shipping Company, and why it is an excellent choice for meeting car transport needs:
Best Car Shipping Companies According to Sources
To generate their top 5 list, Forbes used the following parameters:
BBB Score
National Coverage
Customer Service
Cancellation Policy
International Car Shipping Option
Insurance Coverage
Multi-Car Transport Options
This is a good metric since established car shipping companies are expected to have great auto shipping reviews and excellent customer service. Plus, their service areas should be extensive to allow customers greater convenience and access, spanning the United States, overseas territories, and other countries.
Other factors such as their cancellation policy, insurance coverage, and multi-car transport options are crucial to helping customers determine if the company aligns with their needs.
A similar approach is taken by Move.org, with a strong emphasis on industry averages and pricing trends.
Top 6 list
Easy Auto Ship
Easy Auto Ship has been in operation for just a few years and specializes in moving POVs, motorcycles, and heavy equipment to all 50 states, and beyond. The company boasts a high BBB rating, as well as a great Google Review, along with raving reviews and testimonials on their website.
One unique thing about this company is the free car wash they offer to vehicles that get dirty during shipment. They also provide rental cars for delayed shipments of 2 weeks. The company's rates are roughly 10% below industry pricing averages.
Easy Auto Ship only enlists carriers with at least $100,000 in liability insurance to protect the interest of the customers. There is no additional charge under Easy Auto Ship's Contingency Cargo Policy, with an additional $100,000 in insurance to benefit from. This separate policy means that customers save more if the carrier's policy is maxed out.
U-Ship Car Marketplace
U-Ship Car Marketplace also has excellent reviews, and services in all U.S states, and internationally. This company has nearly 20 years of dedicated service under its belt, offering competitive prices and contingency plans to accommodate all customers.
This company is unique in that it is not your typical vehicle transport company. As the name suggests, it is a marketplace where you can compare prices and driver history to cut out the costs of a broker altogether. In the event of damages or loss, U-Ship will reimburse up to $500 to customers.
It should be noted that this company reserves the right to retain all funds under its cancellation policy. However, it may be used for later services.
Montway Auto Transport
Montway Auto Transport was established in 2007, and since then has maintained a high BBB rating and other service reviews. Both publications give this company the nod, but Move.org has highlighted it as the best car shipping company on their list. The company's rates are 5% below the industry average and are used by other car shipping companies as a standard or reference.
This company specializes in and only transports automobiles across the United States and internationally. GPS-enabled drivers mean that customers can track their shipment wherever, whenever.
According to their cancellation policy, if your order has not been dispatched/assigned, you are entitled to a full refund, otherwise, a $199 service fee is charged. Additionally, there are no guaranteed quotes, and the company's site is full of annoying pop-ups.
A noteworthy thing about this company is that they were the recipient of the Patriot Award, having served military personnel and veterans well.
A-1 Auto Transport
For over 30 years, A-1 Auto Transport has provided domestic auto transport services in the U.S. They offer free rental car services for delayed shipments, three levels of delivery service (standard, priority, and expedited), and a cash wash offering for dirty vehicles. Prices are guaranteed and there are no hidden fees.
Unfortunately, this company does not offer international car shipping services but compensates by offering a wide range of domestic services and offerings. For example, you don't have to pay a deposit.
There is a noticeable lack of customer reviews when compared to other vehicle transport companies on the list. There are about 2000 reviews for a company that's been around for over 20 years.
Sherpa Auto Transport
Sherpa Auto Transport is also limited to domestic auto transport services. With only 4 years in the auto transport industry, this company can be considered an underdog with bared teeth.
The company has great reviews, a generous cancellation policy, and free car washes. It also has a Price Lock Promise, meaning there are no hidden fees in your quote. If the price exceeds the initial estimate, the company offers up to $300 to cover the difference.
Sherpa Auto Transport also has an impressive vetting process that favors both the customer and the company. This begins with an exhaustive search of government records to verify insurance and safe driving records, and of course, authorization to operate. It also features in-house data analysis to monitor shipments and ends in an internal 'naughty list' to boot incompetent drivers.
The company is so confident in this process that it lists itself as a certificate holder on the customer's insurance policy to assist with the claims process if there is evidence of negligence.
AmeriFreight
AmeriFreight is only mentioned by Move.org and the main reason for doing so is the apparent low rates. The company services all 50 states in the U.S and has largely positive customer reviews to back up the company's promises.
Interestingly enough, their vetting service for truck drivers features a "do not use" list to weed out low-quality drivers and lower the risk of incidents on the road. The company also has a gap coverage plan, allowing customers two days to identify and report damage where they pay up to $2000 towards deductibles if a claim is to be filed.
With over 15 years in service, competency is not a question, and today the company focuses on offering different price points to accommodate customers. This may be confusing to some, but essentially there are three different rates depending on how soon you need your vehicle to arrive.
How Cross Country Car Shipping Compares
Using the same parameters as Forbes.com and Move.org, Cross Country Car Shipping stands shoulder-to-shoulder with the companies on this list.
Price match guarantee
Getting a quote from a car transport company is one thing, getting a price-match guarantee is another. Cross Country Car Shipping encourages customers to compare quotes from different transport companies online. If a better price is found, the company beats it without question!
We don't lowball our quotes, and our prices are guaranteed. No hidden fees and a favorable cancellation policy mean no surprises and a satisfied customer.
Driver-vetting
There are tons of carriers in the U.S, but Cross Country Car Shipping wouldn't dare choose at random. There are also a ton of bad apples, so a strict driver-vetting process is maintained to produce the best carriers for car shipping jobs.
Service coverage
Cross Country Car Shipping offers both domestic and international car shipping services. Services include but are not limited to, car and motorcycle shipping, RV transport, heavy equipment shipping, door-to-door service, expedited shipping, enclosed transport, and enhanced insurance.
Customer service
Cross Country Car Shipping prides itself on top-class customer service, hiring only the best drivers and most courteous staff to manage shipping needs and customer concerns. Customers are able to call in and speak to a representative as needed to explain the shipping process, provide necessary documentation and information and work out a shipping schedule.
Reviews and Testimonials
Reviews and testimonials say a lot about what a company purports to offer versus reality. Having good testimonials is one thing, but it's also important to note the shortcomings of the company to see if that's a risk you're willing to take.
The Better Business Bureau (BBB) is a great place to start, however, other valuable mediums exist, like Yelp, Google Reviews, Yahoo Reviews, Facebook Ratings and Reviews, and the company's website.
Insurance coverage
While U.S law dictates that every car shipping company should have insurance (among other things), there are some that continue to operate outside the law at great risk to the customer. Always check to ensure the company is insured, regardless of the one you choose.
You should also find out if the company offers liability insurance or cargo insurance. The former applies when the customer can prove the carrier was at fault, while the latter speaks to overall loss and damages while the vehicle was in the carrier's possession.
Note that the law does not expressly dictate the amount of coverage each vehicle gets, but it should be enough to make sense. Check with your company to ascertain the value of the insurance, and if you will need additional coverage for your vehicle(s).
Multi-car Transport Options
Yes, Cross Country Car Shipping offers multi-car transport options. Even better, it is offered at a reduced rate. This means that all your vehicles can be transported at the same time, or within a similar time frame, to ensure everything arrives at the same time.
This is especially important for customers that depend on these vehicles for business, and cannot afford delays.
Use of Modern Technology
Cross Country Car Shipping utilizes the latest technology to ensure maximum convenience for their customers. This includes, but is not limited to, the option to track shipments as they travel to their destination, flexible payment options, accurate online quote tools, user-friendly website interface, price-match software, online booking and scheduling, and modern carriers and equipment.