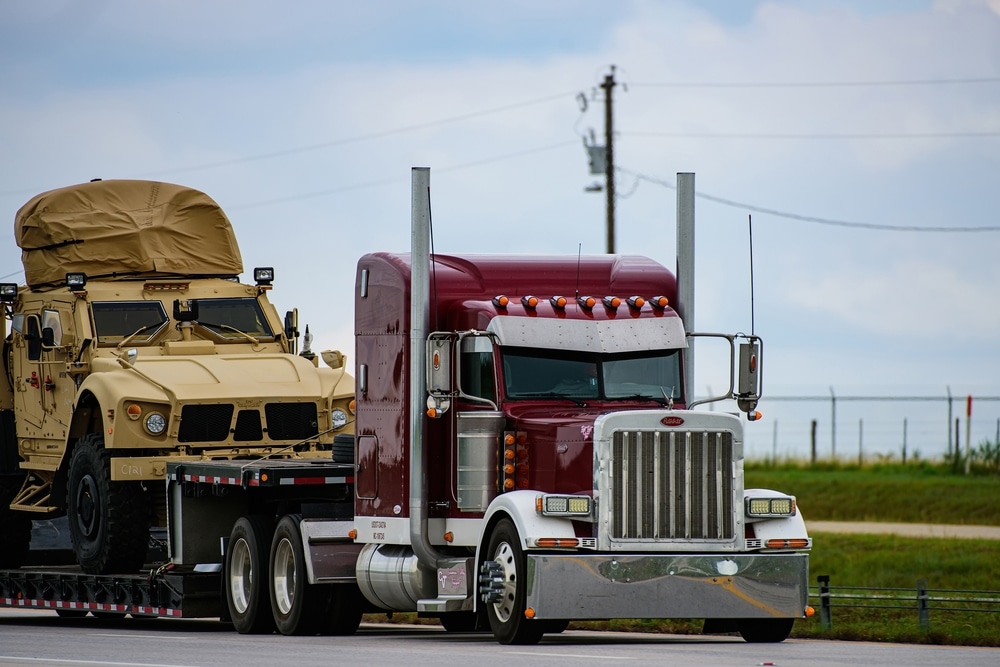 Military Discounts for Cross Country Vehicle Shipping
At Cross Country Car Shipping, we assist members from all military branches when they need shipping military vehicles from one base to another within the continental US. No matter which branch of the Armed Forces you are serving under, we provide military discounts for cross-country vehicle shipping to members of all 5 branches. If you are a military personnel, don't hesitate to call us and ask for for a military discount
We are proud to serve those individuals that are military personnel that serve and protect or have served and protected our country and our freedom. When you rely on us for vehicle shipping services, you can be assured that your personally owned vehicles get military discount and are in good hands.
All auto transport requirements will be met and as one of the best military car shipping companies, we ensure hassle free military auto transport services with military discount.
What are Military Vehicle Shipping Services?
although there are many auto shipping companies, but military car shipping services are services that were designed and developed for active duty military personnel and retired service members. Even if you receive your PCS (permanent change of station) orders on short notice, the military car shipping service you choose must do everything in their power to ensure a smooth vehicle shipping experience. And with military discount.
As one of the best car shipping companies, we will complete all aspects of auto transport, right from pick up and deliver your vehicle as close as possible to your new location. Thus, military pay less than other individuals.
Is this a Permanent Change of Station (PCS) Move?
Whether you or your spouse one of thousands of military members that needs PCS vehicle shipping services, it can be a daunting task to prepare for a cross-country or long-distance relocation. This is especially true for military personnel that have multiple vehicles and are trying to juggle children, households, and pets at the same time.
Let us take on the hassle and stress of your relocation and solve your car shipping issues. We'll do auto transport affordably and efficiently from Point A to Point B. Thus, whether you need door to door service or enclosed car shipped, we do it all. You can fill in the form to get car shipping quotes to budget your shipment with auto transport companies.
How do Our Military Car Shipping Services work?
Cross Country Car Shipping military car shipping services function in similar fashion to standard auto transport, whether it's for active duty or retired military members. The Federal Government may pay for the cost of shipping a single privately owned vehicle (POV) when it's a PCS order. However, if you have multiple vehicles that require a military vehicle shipping service for auto transport to your new location, you will be responsible for the additional cost of shipping those vehicles.
Does the Military Ship Your Vehicle for FREE?
If you're an active duty member of the Armed Forces and you need military PCS vehicle shipping services, the Federal Government might pay for one POV. However, there are specific Department of Defense requirements for auto transport that must be checked first.
This will help you determine whether or not you'll be responsible for the cost of their military car shipping services. In any event, Cross Country Car Shipping is here to help with your military car transport needs.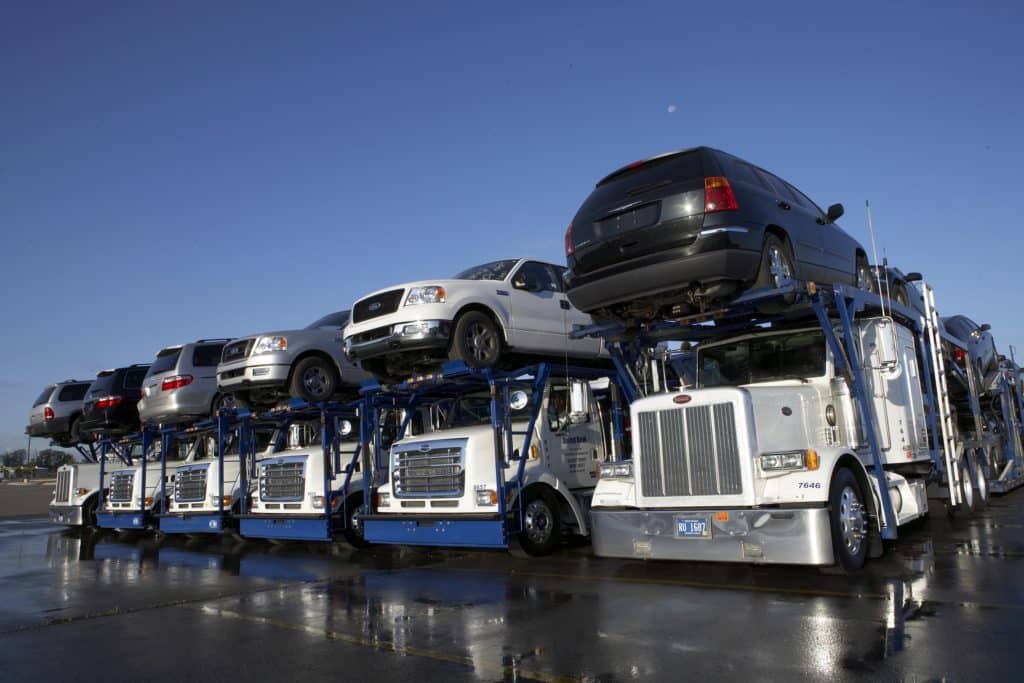 About Our Military Car Shipping Services
Our POV military auto transport services apply to domestic and international PCS moves as well as relocations to Alaska and Hawaii. As your military car shipping specialists, we have one of the industry's largest transport carrier fleets, including access to overseas military car transport vessels that operate on a global scale year round. Furthermore, car shipping military discounts are available for all service members, whether active duty or retired.
POV (Privately Owned Vehicle) Transfer Requirements
Cross Country Car Shipping can help transfer your POV from your current military base to your next PCS location. However, you must meet the following auto transport requirements:
· The vehicle being shipped must be leased or owned by an active duty or retired member of the US Armed Forces or a dependent.
· The vehicle being shipped must be self-propelled and be highway and street legal.
· If the vehicle being shipped is a leased vehicle, the 3rd party must provide written consent to ship it.
· The vehicle being shipped must have a minimum of 4 wheels with the exception of mopeds and motorcycles.
Military Discounts for Car Shipping Services
As one of the top-rated American auto shipping companies, Cross Country Car Shipping offers military discounts to help offset some of the shipping costs. No matter where you are currently stationed or where you're getting transferred to, if you're active duty or retired military, we'll give you a price break on our car shipping process.
These military discounts apply to Air Force, Army, Coast Guard, Marine, and Navy personnel. We even offer these military discounts to members of the National Guard. Thus, if you are looking for ship car across country military discount, call us today.
Required Auto Transport Forms
Naturally, there are certain forms required to ship your car, motorcycle, or van. These forms are available through the Defense Technical Information Center and need to be completed before you can take advantage of our military car shipping program. Just choose which one of the following apply and complete it:
· DD Form 788 – Private Vehicle Shipping Document for Automobile
· DD Form 788-2 – Private Vehicle Shipping Document for Motorcycle
· DD Form 788-1 – Private Vehicle Shipping Document for Van
In addition to the above, you must have your military ID in order to pick up your vehicle at the delivery location. When transporting a vehicle back to the US from overseas, a valid physical street address will be required if you want to get it through customs.
How much does PCS Vehicle Shipping cost?
At Cross Country Car Shipping, there are several different factors that influence the cost of military car transport and PCS vehicle shipping including:
Auto transport peak season
Believe it or not, the auto transport industry has it low and peak seasons like many other major industries. Compared to many other transport services, transporting a vehicle during wintertime will be more expensive than during the summer and that applies to military car shipping services as well.
Wintertime is often referred to as "Snowbird Season" when many retirees head south for warmer climates (e.g. Arizona, Florida, and Texas). The dangerous road conditions and heavier traffic drives car shipping costs up and although there won't be a dramatic difference in the price, the season and time of year will affect the price that a car transport company charges.
Why think of enclosed transportation?
Plus if you own a high-end or luxury vehicle, you may want to consider enclosed transport rather than open car shipping as this will protect your vehicle from the elements and road hazards. Enclosed car shipping is a factor that will add to your military vehicle shipping cost (see below).
Auto transport time frame flexibility
A primary concern for active duty military members is the amount of time that will be required for a car shipping company to deliver their vehicle to their new location. Typically, expedited or express car shipping services will cost more when delivery time frame is a factor. As with any other shipping service, express military car shipping services will cost you more. Transport requests that are more flexible will be less expensive.
Distance from military base pick-up to delivery location
When it comes to auto shipping services for active duty and retired military members, one of the major factors that influence the cost of military car shipping is the pick-up and delivery location. The standard moving companies out there usually won't ship vehicles, meaning that you'll have to find a military car shipping company to move your vehicle.
Whether you're having your vehicle transported domestically or internationally will also influence the cost of a military car shipping program. Consequently, the auto transport distance is a significant cost-influencing factor. Additionally, transporting your vehicle to a larger, urban area with Cross Country Car Shipping is usually less expensive than having it shipped to a more remote rural area.
Enclosed car shipping vs. open car shipping
Car shipping companies typically offer a choice between enclosed car shipping and open car shipping options. Although open car shipping options are more cost-effective, vehicles are exposed to road conditions and the weather.
Furthermore, open car shipping is less expensive because more vehicles can be loaded onto the auto transport company carrier. Because this option is the more affordable of the two, most customers choose open car shipping.
On the other hand, enclosed car shipping was developed to protect vehicles from the elements, especially for classic cars, high-end or luxury vehicles, and sports vehicles.
Clients who want to prevent damage to their vehicles and have them transported in the safest and most secure way possible will choose the Cross Country Car Shipping enclosed car shipping option despite the additional shipping costs involved.
Additional Considerations for Military Car Shipping Pricing
In addition to the above 4 cost-influencing factors, there are some additional factors that contribute to the cost of military car shipping services. These include:
Vehicle modifications
Car shipping companies provide premium and standard auto shipping services to accommodate as many customers as possible. For instance, if there have been certain modifications made to a vehicle, special handling and shipping may be required. This will impact vehicle shipping costs. A modification that lifts or lowers a vehicle will alter its overall height.
So the car shipping company will have to make adjustments in order to accommodate that vehicle's non-standard height. As a result, these types of adjustments will directly impact auto transport service costs.
Vehicle size and weight
A vehicle's size and weight can also be a cost-influencing factor where military auto transport pricing is concerned. The larger the vehicle, the more the car transporter will charge.
Conversely, a compact, smaller vehicle requires less space in an auto transport carrier and is lighter in weight. This adds up to lower overall military auto transport cost.
Since larger vehicles take up more space and weight more, this affects fuel consumption and drives up the shipping costs that Cross Country Car Shipping charges.
Personal items in the vehicle
In many cases military members and their families take advantage of their vehicles interior space and load the area with as many personal items as possible. For anyone that is relocating, this would normally be a good option as the cargo and passenger areas can be used to transport personal items. However, this increases the vehicle's weight which in turn increases vehicle shipping costs.
While many military clients wouldn't mind the additional charge, most car shipping companies don't allow loading personal items into vehicles. Even if those items are insured, car shipping companies aren't licensed to ship personal items in this manner.
Therefore, they refuse to do this. As a result, clients need to arrange for the household moving company they hire to leave the vehicle empty and transport their personal items and leave the vehicle empty for Cross Country Car Shipping.
How Our Military Vehicle Shipping Service works
We provide safe and secure, military-friendly car shipping services for active duty and retired military members. Here is how our 3-step military car shipping services work:
Step #1: Get a quote from Cross Country Car Shipping and book your order
Just fill out the FREE Domestic Auto Transport Quote form on our home page and click on the "NEXT" button at the bottom of the form to get an initial cost estimate for our military car shipping services. It will only take you a few seconds and you will know your military car shipping cost. Just provide the following information:
· pick-up city and state
· delivery city and state
· make, model, and year of your vehicle
· condition of the vehicle
· transport type
· first available ship date (i.e., the first date your vehicle will be ready to be picked up).
You can also call Cross Country Car Shipping at (888) 230-9834 or e-mail us from our Contact Us page to discuss your military car shipping needs, as a service member, with one of our auto shipping specialists. The quote we provide is fully inclusive so there are no hidden fees to worry about. Plus, you're under no further obligation.
Step #2: We come pick up your vehicle
The military car transporter assigned to you will call you within a few hours prior to your scheduled pick-up time. They'll need an adult to confirm access to your location for a large commercial hauler and release the vehicle to Cross Country Car Shipping.
Don't worry about access to your vehicle's location. If it's not possible to come to your home (on or off base), we'll work with you to arrange a more suitable pick-up location.
You can also nominate a family member, friend, or neighbor to release your vehicle to us. However, at the time your vehicle is picked up you and the driver must carefully inspect the vehicle for any damage that has occurred prior to the pick-up date.
This must be recorded on our Bill of Lading which you must also sign. This document is extremely important so you'll be provided with a copy of it for your records.
Step #3: We deliver your vehicle to your new location
You'll receive a call letting you know that your vehicle is almost at your new location roughly 3 hours prior to its delivery. That way, you'll know you need to be home within a certain amount of time if you're out and about. If you cannot be at your new location in time to accept your vehicle's delivery, you can have a family member, friend, or neighbor accept the vehicle delivery for you provided that are a minimum 18 years old.
Final vehicle inspection
Once your Cross Country Car Shipping specialist has delivered your vehicle, the last step is a final vehicle inspection. This will ensure that everything is in order before signing the Bill of Lading and accepting your vehicle. This is also the time that you'll be asked for the final payment, including any car shipping military discounts you may be entitled to, if you're paying in cash. You have the option of paying in cash, with a cashier's check, or with a money order.
6 Questions to ask a Military Car Shipping Company before hiring them
Statistics show that the US is connected by over 4.2 million miles of highways and roads, 600,000 bridges, and roughly 25,000 miles of navigable waterways. Whether you're moving for educational reasons, family purposes, a new job, or a PCS for the military, Cross Country Car Shipping is the auto transport service to rely on.
It's important to remember that no two car shipping companies – especially military car shipping services – are created equal, even with military discount.
As with other forms of moving, military relocations can be extremely stressful. There are a number of factors that play a significant role in cross-country and long-distance moving from uprooting family members to the safe and secure transport of vehicles.
Ensuring a successful move is all about working with a reputable company and the same is true when it comes to finding the best car shipping company for active duty and retired service members. And always ask if military discount is available or not.
As an active duty personnel or military member, you're the most important part of our business. Whether you choose us for your shipping company or you select a different military car shipping service, here are 6 questions you should ask every one of those car shipping companies before making your hiring decision:
Does their military vehicle shipping service provide no-obligation price quotes?
If you've been searching for a military car shipping program online, then you've probably seen that most companies provide FREE auto transport price quotes. This is a sign that the company is legitimate and on the up and up.
How much do they charge for military car shipping services?
The more reputable military car shipping companies like, Cross Country Car Shipping, will tell you how military car shipping works and what it will cost upfront. There won't be any additional charges or hidden fees when you work with our shipping company and hire our military auto shipping service. In most cases, the upfront price is the final price.
Is everything included in the price quoted?
While a surprise birthday party and one or more unexpected gifts can be an enjoyable occasion, you don't want this to be the case when hiring military auto shipping company. We have always believed that our military clients deserve to know what our auto shipping services entail, including their military discount for letting us handle their auto shipping needs.
Is the military auto shipping company licensed and registered?
When you're looking for the best military auto transport company, never take anything for granted. If you want to guarantee that the military car transport company you're dealing with can get your vehicle from your current location to your new destination, make sure they are properly licensed and registered with the US DOT.
What does vehicle pick-up and delivery entail?
Most car shipping companies that offer military car shipping services request that someone 18 years of age or older be present when your vehicle is picked up and delivered. What is the reason for this? It's because this is the time when an inspection occurs, keys get collected, and all of the paperwork gets signed. So if, for some reason, you can't be there when your vehicle gets picked up or delivered, have a family member, friend, or neighbor take your place.
Will your vehicle be insured?
A lot can happen when your vehicle is getting shipped from Point A to Point B. That's why there is insurance coverage for those unexpected mishaps that can occasionally occur in transit. Cross Country Car Shipping will be happy to explain what is and isn't covered with our military auto shipping services.
We want Your Relocation to be a pleasant Experience
There are literally hundreds of car shipping services scattered throughout the US. Yet while they all work in the same industry sector, they can be extremely different where their approach to customers, policies, and price quotes are concerned. When picking the best car shipping company for your military auto shipping needs, the hiring of that company should be based on their level of customer service, reputation, and their ability to exceed your expectations.
At Cross Country Car Shipping, we understand that active duty military members are required to move from one military base to another, sometimes with very short notice. We also understand how challenging and frustrating this can be for military families.
Thus, car owners that are looking for personal vehicle shipment using a reliable American auto shipping service, your search stops with our transportation company. We understand your apprehensions as you move across the country or to the next state, so entrust us with the responsibility of shipping your vehicle while you focus on other aspects of the move.
Allow us to ship your car
Our goal is to ensure you are provided with the most exceptional and stress-free military auto shipping services at the most affordable price possible. Our business representatives are available to assist you with your requirements and will walk you through the whole process.
That will help you understand the whole process and we'll take care of the logistics of the auto transportation. To learn more about these services or for more information about our company, contact Cross Country Car Shipping today at (888) 230-9834.