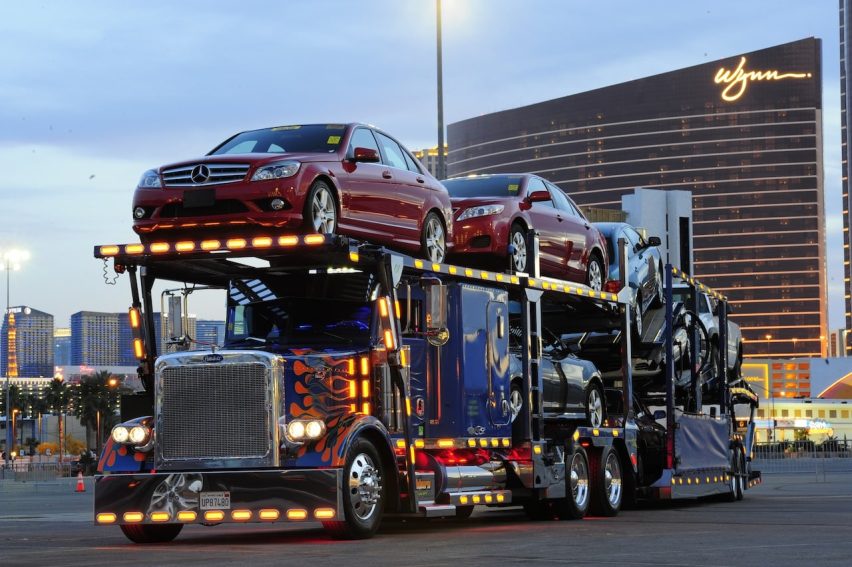 Auto Transport Services In Houston, Texas
Moving a vehicle, whether locally or across the country, can be a complex and sometimes stressful task. That's where our car shipping services in Houston, Texas, come into play. We understand the importance of a smooth, secure, and efficient vehicle transport process, and we are committed to making it hassle-free for you.
Our experienced team in Houston, Texas, specializes in providing tailored solutions to meet your unique transportation needs. Whether you're relocating to or from the Lone Star State, need to move your cherished classic car, or require the shipment of heavy machinery, we've got you covered.
In this comprehensive guide to our car shipping services in Houston, Texas, we'll explore the various aspects of vehicle transportation, from choosing the right shipping method to understanding the cost factors and timelines involved. We'll also highlight the key attributes that set us apart as your trusted partner in car shipping, including our commitment to safety, transparent pricing, and customer satisfaction.
At the heart of our services is the goal of delivering your vehicle to its destination in the pristine condition you expect, on time, and with the peace of mind you deserve. Whether you're shipping a personal vehicle or managing a commercial fleet, our team is here to provide you with a seamless and reliable car shipping experience in Houston, Texas.
Check Our Houston, Texas Car Shipping Services
Cross-country car shipping offers a perfect solution for your vehicle and freight transportation needs in Houston, Texas. Our dedicated team, located in Houston, takes great pride in providing outstanding services throughout the area. Rely on us for smooth, reliable, and secure transportation, earning the trust of numerous satisfied customers in the region. Your vehicle's journey begins right here
Our Company
Cross-country car shipping's dedication to Houston, Texas, is centered on providing top-notch car shipping services, leveraging our deep industry expertise. Our team consists of highly skilled professionals with a comprehensive grasp of safe and efficient vehicle and freight transportation. Customer satisfaction and service excellence are of utmost importance, and our unwavering commitment to these principles has solidified our reputation as the trusted option for service delivery in Houston, Texas.
Get the Best Services From Us
Cross-country car shipping takes great pride in offering a wide array of services customized to meet diverse transportation needs in Houston, Texas
WV Car Transport Services
Rely on our comprehensive vehicle transportation solutions in Houston, Texas, to guarantee the timely and perfect delivery of your vehicle, preserving its pristine condition throughout the entire journey. Leveraging our extensive knowledge and established logistics network, we expertly navigate the transportation routes of Houston, Texas.
Whether you own a compact car or an SUV, we cater to a wide range of vehicle models, providing convenient door-to-door service for your peace of mind.
Motorcycle Shipping in Houston, Texas
Motorcycle enthusiasts in Houston, Texas, can depend on our specialized shipping options, which provide a secure and reliable transportation solution for your cherished two-wheeled partner. With specialized equipment and in-depth expertise in motorcycle transport, we cater to the requirements of classic motorcycles and modern sport bikes alike.
Our top priority is ensuring the safety and on-time delivery of your motorcycle, and we take great pride in achieving this goal with the highest level of care and attention.
Houston Texas Enclosed Shipping
Committed to ensuring the utmost safety, Cross-country car shipping provides trustworthy enclosed transport services in Houston, Texas, assuring the protection of your vehicle from external elements throughout its trip. Designed to accommodate valuable or classic automobiles, our carefully maintained fleet of enclosed carriers offers comprehensive shielding against adverse weather, debris, and potential risks.
You can be confident that we handle each vehicle with meticulous care, treating them as if they were our own treasured possessions.
RV Shipping in Houston Texas
When it comes to RV shipping services in Houston, Texas, our team is fully prepared to manage the intricacies of transporting these sizable vehicles. Whether you have a compact travel trailer or a roomy motorhome, we possess the expertise and equipment to guarantee a secure voyage.
We recognize the distinct challenges associated with RV shipping and are ready to address them effectively, ensuring your peace of mind throughout the entire transportation process.
Get Boat Shipping Services
Rely on our expert boat shipping services in Houston, Texas, to ensure the safe and effective transport of your watercraft. Whether you have a personal watercraft or a larger yacht, we treat your boat with the utmost care and professionalism.
Rest assured that our comprehensive insurance coverage provides the reassurance you need, guaranteeing the secure delivery of your boat to its intended destination.
Houston, Texas Freight Shipping Services
Tailored to accommodate the diverse requirements of businesses and individuals alike, our freight shipping services in Houston, Texas, are excellently suited for transporting oversized, heavy, or unwieldy items. Whether you're handling palletized goods, construction materials, or industrial cargo, we possess the necessary capabilities and expertise to oversee every aspect of the process.
Regardless of the specific demands of your freight shipping in Houston, Texas, we are completely ready to provide customized solutions designed to meet your distinct needs.
Reliable Houston Texas International Car Shipping
Thinking about relocating abroad from Houston, Texas? Rely on our international auto transport services to ensure a seamless transition for your vehicle.
We take care of all the transportation arrangements, manage customs documentation, and coordinate the logistics for international delivery, streamlining the entire process for you. Our main goal is to simplify international shipping, offering you peace of mind throughout your entire journey.
Heavy Equipment Hauling in Houston, Texas
Emphasizing safety as our top priority, we skillfully manage the transportation of heavy machinery and equipment in Houston, Texas, ensuring a smooth and secure voyage.
Whether it involves construction, agriculture, or industrial equipment, our proficient experts and specialized carriers assure the secure and efficient conveyance of your substantial cargo. You can have confidence that your heavy equipment will reach its destination punctually and in a secure state, offering you peace of mind.
For reliable car shipping and a range of transportation services in Houston, Texas, get in touch with American Auto Transport today. Contact our office, and we eagerly look forward to addressing all your vehicle and freight transport needs.
Auto Transport Costs in Houston, TX
Auto transport costs in Houston, TX, can vary depending on several key factors. Understanding these factors will help you accurately estimate the cost of shipping your vehicle to or from Houston.
Distance: The distance your vehicle needs to travel is a significant factor in determining the cost. Longer distances typically result in higher shipping expenses.
Vehicle Type: The size, weight, and type of your vehicle can impact the Houston car shipping cost. Larger or heavier vehicles may require specialized carriers and could cost more to transport.
Shipping Method: You can choose between open and enclosed transport. Open carriers are more common and cost-effective, while enclosed carriers offer extra protection but are usually pricier.
Season and Demand: Prices can vary throughout the year due to seasonal demand. Summer tends to be more expensive as more people relocate.
Delivery Timeframe: If you require expedited or guaranteed delivery, expect to pay more than for standard shipping.
Vehicle Condition: Non-running or inoperable vehicles may need special equipment for loading and unloading, which can increase costs.
Additional Services: Extras like door-to-door delivery, top-loading, or white-glove service will add to the overall cost.
To get an accurate quote for auto transport in Houston, TX, it's best to reach out to reputable auto transport companies. They can consider these factors and provide a personalized estimate based on your specific needs. While cost is crucial, prioritize reliability and experience to ensure your vehicle's safe and secure transportation.
How To Choose a Car Transport Company in Houston
Choosing the best car transport company in Houston requires careful consideration of several factors to ensure a smooth and stress-free experience.
Reputation and Reviews: Start by researching the company's reputation. Look for online reviews and testimonials from previous customers to gauge their satisfaction level.
Licensing and Insurance: Verify that the Houston auto shipping company is licensed, bonded, and insured. This ensures they meet legal requirements and can cover potential damages during transit.
Experience: Choose a company with a proven track record and experience in the auto transport industry. Experienced companies are more likely to handle various situations and challenges effectively.
Services Offered: Determine if the company offers the specific vehicle transport services you need. This may include open or enclosed transport, door-to-door delivery, or expedited shipping.
Quotes and Pricing: Obtain quotes from multiple car shipping companies and compare their prices and services. Be cautious of extremely low quotes, as they may indicate subpar service or hidden fees.
Customer Service: Assess the company's customer service. They should be responsive, helpful, and willing to address your concerns and questions.
Insurance Coverage: Inquire about the insurance coverage provided during transportation. Ensure it adequately protects your vehicle in case of damage or loss.
Delivery Timeframe: Clarify the estimated delivery timeframe and any guarantees offered. Understand if delays may occur due to factors like weather or traffic.
Contract and Terms: Read and understand the contract thoroughly before signing. Pay attention to cancellation policies and any additional fees.
References: Request references or ask for recommendations from friends, family, or local car enthusiasts who have experience with car transport.
Communication: Choose a company that maintains clear and consistent communication throughout the shipping process, keeping you informed about your vehicle's status.
By carefully evaluating these factors and conducting thorough research, you can select a reputable and reliable car transport company in Houston that meets your specific needs and ensures the safe and secure transportation of your vehicle.
How Does Texas Vehicle Shipping Work?
Texas vehicle shipping involves a well-organized process designed to safely transport vehicles within the state or to/from other locations. Here's a breakdown of how it works:
Request a Quote: The process begins when a customer requests a shipping quote. This can typically be done online or by contacting the auto transport company directly. To provide an accurate estimate, you'll need to provide details about your vehicle, such as its make, model, and condition, as well as the shipping destinations and preferred dates.
Choose Services: Based on your needs, you'll select the type of auto transport service you require. Options may include open transport (cost-effective but exposes your vehicle to the elements) or enclosed transport (offers additional protection and security but is pricier). You'll also decide on pickup and delivery options, such as door-to-door or terminal-to-terminal.
Booking and Scheduling: Once you've received a quote and chosen your services, you'll book your shipment. The auto transport company will work with you to schedule a suitable pickup date and location.
Vehicle Inspection: Before loading your vehicle, a thorough inspection is conducted. This includes documenting the vehicle's current condition, noting any existing damage, and taking photographs. Both you and the carrier sign off on this inspection report.
Transportation: The carrier loads your vehicle onto the transport trailer, ensuring it's properly secured. During transit, your vehicle is typically tracked using GPS technology, allowing you to monitor its progress.
Delivery and Inspection: Upon reaching the destination, the carrier will contact you to arrange delivery. Upon arrival, you'll inspect your vehicle to ensure it arrives in the same condition as when it was loaded. Any discrepancies should be noted and discussed with the carrier.
Finalizing Payment: Once you're satisfied with the vehicle's condition, you'll finalize the payment, which is typically handled in advance or upon delivery, depending on the company's policies.
Completion: With the payment settled, your vehicle transport is complete, and you can start enjoying your car at its new location.
It's essential to work with a reputable auto transport company in Texas, one with a strong track record of safe and reliable vehicle shipping, to ensure a smooth and worry-free experience.
Top 10 Most Popular Routes for Car Shipping to/From Texas
Shipping a car to or from Texas involves several well-traveled routes due to the state's size and its connections to major cities and regions across the United States. Here are the top 10 most popular car shipping routes to/from Texas:
Texas to California: This route connects the two largest states in the U.S., facilitating car shipments between the West Coast and the South.
Texas to Florida: Transporting vehicles between Texas and the Sunshine State is common, especially for seasonal residents.
Texas to New York: Shipping cars from Texas to New York or vice versa is frequent, as it connects the financial hub of the U.S. with the business centers in Texas.
Texas to Illinois: Chicago, in particular, serves as a major destination, creating a steady flow of car shipments between Texas and Illinois.
Texas to Arizona: The Texas to Arizona route caters to individuals moving between the Southwestern states.
Texas to Nevada: Transporting cars to/from Texas and Nevada is popular, connecting major cities like Dallas and Las Vegas.
Texas to Colorado: Colorado's scenic beauty and job opportunities make it a common destination for car shipping from Texas.
Texas to Georgia: This route links major Southern states, with car shipments moving between Texas and Georgia's key cities.
Texas to North Carolina: Car shipments between Texas and North Carolina are frequent, connecting business centers like Dallas and Charlotte.
Texas to Washington: Transporting cars from Texas to Washington or vice versa is essential for those moving to the Pacific Northwest.
These routes are popular due to economic and lifestyle factors, job relocations, seasonal travel, and college students moving to and from universities. When shipping your vehicle along these routes, it's crucial to choose a reputable auto transport company that specializes in interstate car shipping for a smooth and stress-free experience.
Door-to-Door car Shipping Service in Houston TX
Door-to-door car shipping service in Houston, Texas offers a convenient and stress-free way to transport your vehicle. This car transportation service is designed with your comfort and ease in mind, ensuring that your car is picked up from your doorstep and delivered directly to your desired destination.
Here's how it works:
Booking: Start by contacting a reputable car shipping company in Houston, TX. They will provide you with a quote based on your specific needs and preferences.
Pickup: Once you've confirmed the booking, a professional auto transport carrier will be dispatched to your location. They will inspect your vehicle and load it onto the carrier securely.
Transport: Your car will be transported using a carrier appropriate for your vehicle type and shipping preferences. Whether you choose an open or enclosed carrier, rest assured that your vehicle will be handled with care.
Delivery: Upon arrival at your destination, the carrier will unload your vehicle and deliver it to your new location, whether it's your new home, office, or any other address you specify.
The advantages of door-to-door car shipping are numerous. It saves you time and effort by eliminating the need to drop off or pick up your vehicle at a terminal. It also reduces the risk of wear and tear on your car since you won't need to drive it to a terminal.
By choosing a trusted car shipping service in Houston, TX, you can enjoy the convenience of door-to-door delivery, ensuring a smooth and hassle-free transportation experience for your vehicle.
Enclosed vs. Open Car Transport
When it comes to car transport, one of the key decisions you'll need to make is whether to opt for enclosed or open transport. Each method has its advantages, and your choice largely depends on your vehicle and personal preferences.
Open Car Transport:
Open car transport is the more common and cost-effective option. It involves transporting vehicles on open trailers, typically with multiple cars exposed to the elements. Here are some considerations:
Affordability: Open transport is usually more budget-friendly because it allows for the shipment of multiple vehicles simultaneously, sharing the costs.
Visibility: With open transport, your vehicle is visible and easily accessible during transport.
Exposure to Elements: While most vehicles arrive in excellent condition, open transport exposes your car to weather conditions and road debris.
Enclosed Car Transport:
Enclosed car transport is a premium service that offers additional protection for your vehicle. Here's what you need to know:
Protection: Enclosed carriers shield your vehicle from the elements, road debris, and potential damage during transport.
Security: Your vehicle is secured in an enclosed trailer, offering an extra layer of security and privacy.
Specialized Transport: This option is ideal for luxury cars, classic vehicles, or any car where extra protection is a priority.
Higher Cost: Enclosed transport is more expensive than open transport due to the added level of protection and individual vehicle transport.
Ultimately, the choice between open and enclosed transport depends on your vehicle's value, your budget, and your peace of mind. If you're transporting a high-value or classic car, the extra cost of enclosed transport might be well worth the added protection. However, for everyday vehicles, open transport is a cost-effective and reliable choice.
Why Should You Choose Us "Cross Country Car Shipping"?
When it comes to moving your vehicle across the country, choosing the right car shipping company is crucial. At Cross Country Car Shipping, we understand the unique needs and concerns that come with long-distance vehicle transport. Here's why you should choose us as your trusted partner:
Experience: With years of experience in the industry, we have perfected the art of cross-country car shipping. Our team of professionals is well-versed in the intricacies of long-distance transport, ensuring a smooth and hassle-free process for you.
Nationwide Coverage: We offer comprehensive nationwide coverage, making it easy to transport your vehicle to and from any location in the United States. No matter where you need your car delivered, we've got you covered.
Diverse Transport Options: Whether you have a standard sedan, a luxury vehicle, or a classic car, we have a range of transport options to suit your needs. Our fleet includes open and enclosed carriers, allowing you to choose the level of protection your vehicle requires.
Safety and Security: We prioritize the safety and security of your vehicle. Our carriers are equipped with state-of-the-art technology to ensure that your car arrives at its destination in the same condition it left.
Transparent Pricing: We believe in transparent pricing with no hidden fees. When you choose us, you'll know exactly what to expect, making budgeting for your vehicle transport simple and straightforward.
Customer Satisfaction: Our commitment to customer satisfaction is unwavering. We take pride in delivering your vehicle on time and in pristine condition. Our customer reviews and repeat business are a testament to our dedication to your satisfaction.
At Cross Country Car Shipping, we're more than just a car shipping company; we're your partners in hassle-free cross-country vehicle transport. Choose us for a stress-free and reliable experience, knowing that your vehicle is in capable hands.
FAQs
How Long Does Texas Car Shipping Take?
The duration of Texas car shipping varies depending on several factors, including distance, route, and specific transport arrangements. Generally, shipping a vehicle within Texas or to neighboring states may take a few days to a week. However, if you're moving your car across the country, it can take approximately 1 to 2 weeks. Factors like weather conditions and road closures can impact these timelines. To get an accurate estimate for your specific needs, contact a reputable car shipping company like ours, Cross Country Car Shipping, for a customized quote and timeline based on your unique transport requirements.