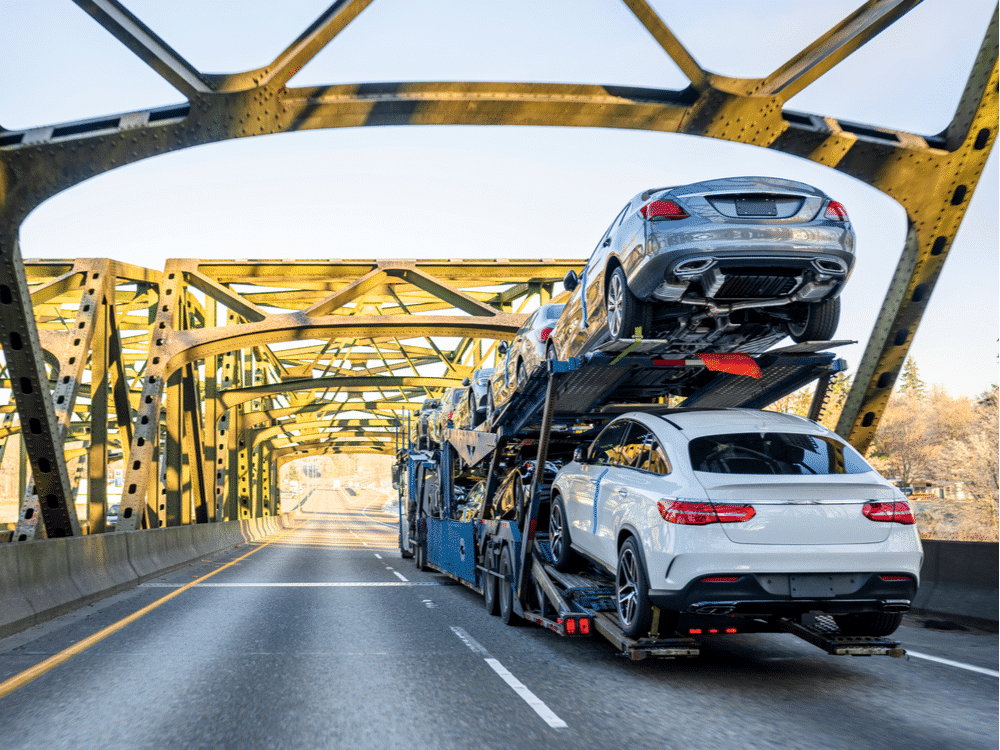 Open Transport vs. Enclosed Transport – Which Is Better?
Moving to a new city is challenging. Besides hauling the possessions from your house, you also need to transport your car. If you're making a long-distance move, you may decide to have the vehicle shipped and not drive it yourself at all. There are two main options: open car transport and enclosed shipping.
This article will discuss both methods and recommend the right one for your needs.
What Is Open Transport, And How Much Does It Cost?
Open auto shipping is when a company ships your ride on its trailer without a solid floor, ceiling, or walls. As the name suggests, the automobile is transported in the open, exposing it to weather. This type of shipping usually takes place on long, two-tiered trailers that accommodate 10 or more vehicles, depending on their weight and size.
There are three types of open car carriers.
Two-level, multi-car transporters – most people opt for this method
Single-level, multi-car transporters – this type is generally used for relocating luxury or sports autos and expedited deliveries
Dolly trucks with single-level tow trailers – local and other short-distance deliveries typically rely on dolly trucks
Open carrier shipping is the most widely used shipping method for a couple of reasons. First, car haulers prefer this option because it lets them fit more vehicles than their enclosed counterparts. They're more affordable for vehicle haulers that wish to expand their fleet. Finally, maintaining and operating the trailers is much simpler.
Customers also prefer open carrier shipping since it costs less than enclosed transport. You may need to spend around $1,000 to have your ride shipped with an open carrier.
However, this isn't a definitive price. You'll need to consider many other factors to determine the cost of open transportation shipping.
Distance
The most important detail you'll need to take into account when pricing vehicle transport is the distance. The general rule of thumb is that the shorter the length, the more affordable your transport is. That said, a ride shipped locally still requires a certain amount of fuel. It can even be more demanding to haul due to traffic and other problems associated with city driving, which can cause the price to skyrocket.
Location
If your car is in the countryside, shipping it can be complicated. Many carriers refuse to work in remote areas to deliver or pick up just one vehicle. This leads to longer wait times and higher costs.
Besides the remoteness of the place, the elevation also plays a pivotal role. For example, if the car is located in the mountains, you'll need to fork up more money. The truck requires additional security measures, and the transport time is increased. This especially applies to steep roads. The carrier needs to drive slowly, which can raise the price by a few hundred dollars.
Car Make, Model, and Condition
Smaller and lighter vehicles are cheaper and easier to ship than heavier, larger ones. The company will weigh your vehicle before shipping to help determine the price.
Here's another recommendation associated with open shipping: the car's components should be in great shape. Otherwise, you can expect additional fees. It gets even worse if the ride is inoperable. The carrier may need to winch it with a forklift or truck to the trailer, resulting in higher shipping costs.
Time of Year
Hiring open car carriers is costlier during certain seasons. For instance, hauling your vehicle on a holiday is invariably more expensive. Likewise, you'll need to cough up more money when transporting the ride during snowbird season, when many people go to warmer climates.
Don't forget about the timing of your shipping. You can get a lower price by booking your service a few months in advance. Waiting until the very last moment puts the carrier in a better position to charge more money.
What Are the Pros and Cons of Open Transport?
When choosing between open vs enclosed car shipping, you want to make an informed decision. The best way to do so is to consider the pros and cons of both methods.
Pros
Here are the benefits of hauling your vehicle through open transportation.
Stabilizes and Secures Your Vehicle
The last thing you want is to ship your car on a carrier that lets your vehicle wobble back and forth. This increases the risk of damage, especially on uneven terrain.
Fortunately, open transport is known for stability. The trailers are constructed from metal bars and beams surrounding your ride to keep it fixed. Another great thing about this robust build is that it deflects debris and other objects that could cause serious harm.
For extra security, the carrier fastens your ride with a reliable locking mechanism, such as chains. This method is safe, and the companies take extra care to prevent unauthorized people from accessing your car. This also applies when the driver pulls over in rest areas. They check the trailer before leaving the cargo to make sure no one can unlock the chains and steal your ride.
Insurance Gives You Peace of Mind
As previously discussed, the risk of damaging your car through open vehicle transport due to safety measures is practically non-existent. The ride is secured with chains, and there are metal beams to safeguard against impact.
But even if your car gets damaged and the carrier is at fault, you should be able to make an insurance claim and cover the costs. To maximize the chances of a successful claim, take pictures before the carrier loads the vehicle on the trailer. In addition, ask the company about any insurance policies and obtain all crucial details, such as the amount covered and limitations.
Cost Efficiency
One of the most important characteristics of open transport is that it's available to more people. This method is cheaper than hauling the car on your own. It's also less expensive than enclosed carriers, enabling you to haul your ride safely without denting your budget.
The Most Widely Used Shipping Option
How many times have you been recommended a service, but the small customer base puts you off buying it? You won't have this problem with open auto shipping. It's the most popular transport option, both among the customers and car manufacturers. This gives you more peace of mind, knowing people trust open carriers to haul their rides safely.
Cons
While open carrier car shipping is beneficial, it's not perfect. You need to be aware of the following disadvantages.
Exposure to the Elements
When the carrier loads your vehicle on the trailer, it won't be protected from the elements. This list includes sun, rain, snow, hail, insects, dust, road grime, birds, rocks, and gravel. This can lead to fading paint, and severe storms can lead to significant structural damage.
Most people aren't too concerned about these threats, as they're used to them in their everyday driving.
Susceptibility to Theft
Open trailers have no walls to shield your car, making your vehicle ideal for theft. When the driver stops and isn't careful enough, a professional might hijack your automobile.
What Is Enclosed Transport, and How Much Does It Cost?
Enclosed transport is a convenient shipping option, particularly for hauling custom or classic vehicles. Unlike open car carriers, these companies transport your ride in covered trailers. There's a solid floor, ceiling, and walls to maximize protection from debris. The companies usually have a lower capacity (up to five autos, in most cases).
When it comes to the trailer structure, you can choose between hard-sided and soft-sided units. There are two different types of enclosed carriers.
Multi-car trailers –7-8 vehicles, generally the most affordable option
One and two-car trailers –cost more, used for rare, antique, or high-end rides
As enclosed carriers can't transport as many vehicles, they charge more money. The workers are also highly specialized and highly trained at handling expensive cars. Therefore, they charge more for their expertise.
On average, enclosed shipping is about 40-50% costlier than open transport car shipping. Most companies charge approximately $1,500, but you may need to pay some carriers upwards of $2,500. Again, a number of factors affect the price, such as the location, make, model, condition of the car, time of year, and distance.
What Are the Pros and Cons of Enclosed Transport?
We've gone over the advantages and disadvantages of an open car transport carrier. Let's now analyze the pros and cons of enclosed shipping when making your decision.
Pros
Here's what makes enclosed transport a great choice.
Ultimate Protection From Hijacking
Stealing a vehicle from inside enclosed trucks is practically impossible. All the doors are locked, so the thief can't roll them out. If a hijacker wants to make an extra effort, they'll need to find out where the carrier is keeping the ride, locate the locks, and overcome many other obstacles, all of which discourage robbers from attempting the heist. Excluding inside jobs, there's generally nothing to worry about safety-wise when transporting your ride with an enclosed carrier.
Neutralizing the Elements
Your vehicle doesn't fare well against the elements. Snow, sunlight, rain, and hail can cause massive damage, particularly when traveling long distances.
The most effective way to mitigate the risk is to transport your car in an enclosed trailer. The walls and ceiling prevent the elements from compromising the vehicle. On top of that, your auto is also shielded from extreme temperature fluctuations.
Stability and Minimal Risk of Scratches
If you want to reduce the chance of scratches on your classic ride, enclosed shipping is your best bet. Even a tiny scratch can devalue your vehicle and cause a headache if you're adamant about maintaining the pristine condition of your car.
You won't have to worry about scratches or other marks with enclosed transport. The sealed trailer prevents bugs and debris from reaching the vehicle. The ride is stabilized with dependable locking systems to minimize motion.
Perfect for Classic Cars and Lowriders
If your vehicle was constructed in the 1980s, '70s, or earlier, enclosed shipping is the right way to go. It's meant to keep your classic car in mint condition. The automobile is well-protected from the elements, to give you peace of mind. Rather than bunking with nine other models, your favorite toy is stored with just a few other vehicles and enclosed on all four sides. This ensures it arrives at its destination unscathed.
Apart from classic vehicles, you should also use enclosed transport for lowriders. These models may suffer irreparable damage if they bottom out over bumpy roads or potholes. Some enclosed carriers come with special equipment to safely lift your ride onto the trailer. This makes them ideal for your lowrider; but check if the company has the necessary tools for safe shipping.
Cons
Enclosed shipping has a few notable downsides.
On the Expensive Side
The most significant drawback of enclosed carriers is the price. As it's 40-50% costlier than open auto transport, you might not be able to afford it. If you're looking for a cost-efficient method to haul your vehicle, you might want to choose open carriers.
Enclosed trailers are more expensive, but the higher price is justified. Your car is better protected from all sorts of threats. As a result, the chances of scratches, fading, and other types of damage are slim to none.
Lower Storage Capabilities
The main purpose of enclosed carriers is to shield the vehicles on board. That's why they can only store about five or six cars at a time. Anything more than that, and the integrity of your classic, vintage, or antique car would be at risk. This can be an obstacle if you want to move multiple rides at once.
Open vs. Enclosed Car Shipping: What's the Verdict?
Open and enclosed auto shipping have their strengths and weaknesses, but which one should you go for? The answer depends on your preferences.
Open shipping is the better option if you want to cut costs. Your car isn't as protected, but the method is more budget-friendly.
If you want to transport a high-end vehicle, you're better off with enclosed shipping. It's more expensive, but the increased safety more than makes up for it.