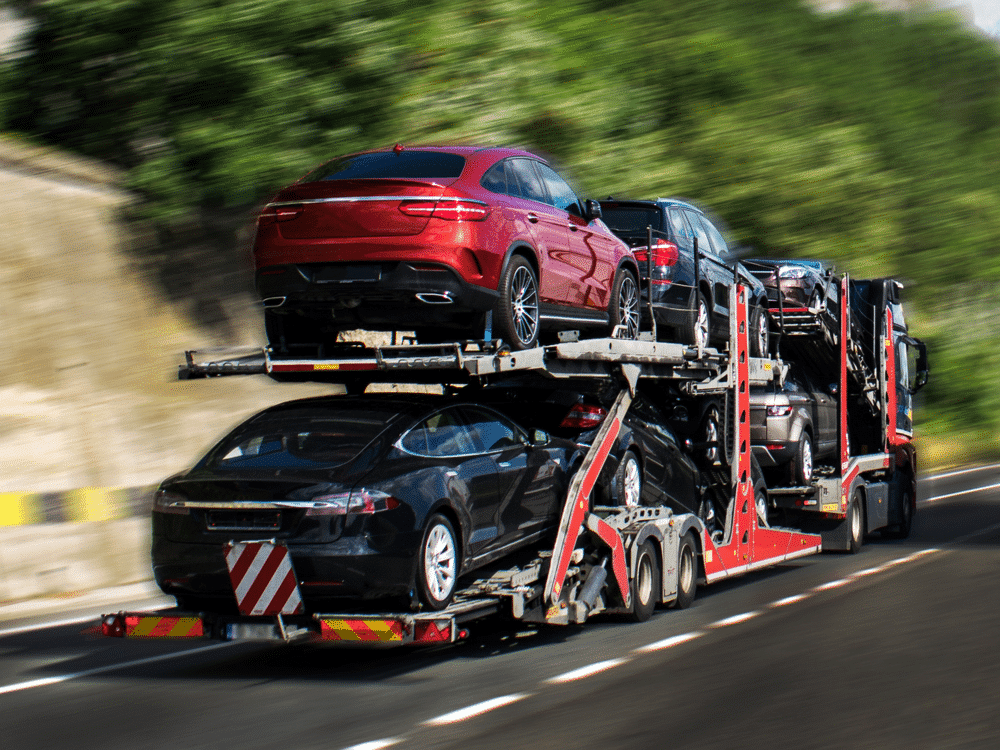 Terminal-to-Terminal Car Shipping – All Your Questions Answered
There are several options you can choose from when transporting your vehicle. One of the most popular solutions is terminal-to-terminal car shipping. This is a great way to haul more vehicles at once. Many people rely on this method, but what exactly does it involve?
You'll find out in this article. We'll answer the most common questions about terminal-to-terminal auto shipping and explain when this method makes sense.
What Is Terminal-to-Terminal Car Shipping?
As you start digging into transportation options, you're probably wondering, how can terminal-to-terminal shipping companies help me ship my vehicle? Terminals may seem confusing if you've never used one, but the principle is pretty straightforward.
Auto transport terminals work precisely as the name suggests. You take your ride to a particular drop-off terminal, where the car remains until the carrier picks it up. Once collected, the company takes your ride to the designated place where you'll reclaim your vehicle.
Sometimes, you may pay for hybrid services. These require the carrier to pick up the car at your address and deliver it to the agreed-upon terminal. Similarly, you can hire a company to collect your ride at a specific terminal and drop it off at your home or work for extra convenience.
What Kind of Car Shipping Terminal Can I Use?
Many customers prefer terminal delivery due to its flexibility. Your car terminal can transport your vehicle under three arrangements:
Open transport terminal – This is the most widely-used and economical delivery method. Most of the country uses it due to its affordability.
Enclosed auto terminal – Enclosed carriers are more expensive than open solutions. They're also harder to find, and are reserved for high-end customers. They guarantee better protection from hazards, debris, dust, and rain.
Flatbed terminal-to-terminal moving – Few people use flatbed hauling, as it's costlier than the other two options. On top of that, it takes companies longer to pick up, dispatch, and transport your vehicle.
What Are the Advantages of Terminal-to-Terminal Transport?
There are several reasons people and businesses rely on terminal-to-terminal shipping.
No Parking Problems
Terminal shipping makes sense if you live in a large city. Street parking may be scarce, and access to other types of transport may be limited. Having your ride hauled by a terminal company eliminates the hassle of finding a parking space and contacting door-to-door providers.
Flexibility
As previously mentioned, another great thing about this arrangement is its high flexibility. There are a number of types to meet your needs, but some protect your car better than others. For instance, enclosed trailers have a ceiling and walls to reduce the risk of damage caused by debris and the elements. The same cannot be said for open units.
Convenience
Furthermore, you can drop off the vehicle in advance. This makes the relocation much easier, since there's no pressure of arranging the move at the last moment.
Consider a terminal car shipping drop-off location if your vehicle doesn't run or is damaged. Many companies offer forklift or towing services to their terminals. Otherwise, relocating the ride will be practically impossible.
Finally, terminal delivery is popular because it doesn't force you to move your vehicle immediately. You can store it in a particular location and transport it at your convenience.
What Are the Disadvantages of Terminal-to-Terminal Transport?
You can gain a lot from hauling your vehicle through with a terminal-based service, but there are also a few cons. You should consider the following drawbacks carefully before scheduling the delivery.
Complexity
Transporting your ride to car shipping terminal locations can be more challenging than door-to-door solutions. If your auto is modified or lifted, the company might not be able to haul it in the first place.
Nobody Monitors the Vehicle
Another major problem associated with these services is that your car is unattended at the terminals. This poses a huge security issue, as it makes your ride more susceptible to theft. Consider removing your belongings before the shipment to lessen the effects of potential car theft. There's a higher risk of environmental damage because the car might be exposed to bad weather.
Storage Limitations and Time-Consuming Stages
Some people prefer door-to-door delivery or other methods because they're time-saving. Driving your car to a terminal and waiting for the company to relocate it can take a while. The provider often needs to pick up other vehicles for a full load, which can take a few days. Moreover, most terminals can only store limited cargo.
Greater Risk of Damage
Your vehicle stays in a terminal where trucks and cars come in and out, which can jeopardize your ride. The more moving around and loading it has to undergo, the higher the chances of dents, scratches, and other forms of damage.
How Much Does Terminal-to-Terminal Shipping Cost?
The price of hiring a terminal-to-terminal shipping business varies by company. But in general, you can expect the provider to charge you between $15 and $35 per day. The most important factor affecting the cost is the terminal's location. If the place is in a metro area, you'll need to pay more money. Some arrangements might also be subject to storage fees, increasing the total cost further.
That's why door-to-door shipping is typically more affordable.
Does Every Auto Shipping Service Use Terminals?
Many people wonder if every auto shipping service uses terminals. The answer is no. Most transport services operate under the door-to-door arrangement.
Still, this doesn't mean terminal-to-terminal car shipping is inferior. Door-to-door transportation is better in some respects, but terminal delivery is superior in others. For instance, you're better off with terminal-based companies if you don't want to wait for your carriers at home. You just drop your car off at the agreed-upon location, and a driver will pick it up sometime later.
Many terminal companies offer discounts. This makes it a better option if you're on a budget.
How Do You Obtain a Terminal-to-Terminal Car Shipping Quote?
The most important thing you need to do before the transport is ask about the price. Contact several companies and find out the cost of hauling your vehicle from point A to point B.
You should also inquire about the type of shipping. For example, open trailers are more affordable than enclosed units because they're not as secure. However, the latter minimizes the risk of scratches and elemental damage. Determine your priority and make a decision accordingly.
Be sure to visit the company's web page and see if they offer obligation-free quotes. But avoid sharing your information with a quote calculator unless you're seriously considering the provider. This may authorize the business to call or email you.
Lastly, don't forget to ask about specials or discounts. You might be eligible for programs to cut costs, but companies may not be willing to disclose this themselves. Take matters into your own hands to find out if you can get a better deal.
How Do I Find the Right Terminal-to-Terminal Car Shipping Company?
There's a huge number of terminal-to-terminal companies, so it's hard to find the right one. You can improve the odds with several tried-and-true methods.
First, look for quality rather than quantity. This means you shouldn't base your decision on the price only. Budget-friendly providers may rank highly on your list, but hiring them may not pay off if they're inexperienced. Instead, look for a seasoned team that knows what they're doing, even if it means paying an extra buck. It should be well worth it.
Second, be sure the company is registered. The law requires all shipping businesses to obtain registration with the Department of Transportation. They need to have appropriate US-DOT and MC numbers. The easiest way to check this is to Google the company's name.
Third, you should steer clear of businesses with fishy websites. You might consider grammatical mistakes and spelling errors negligible, but these are telltale signs of disreputable companies.
The next step is to request a terminal-to-terminal car shipping quote. Companies should offer this service for free, so avoid the ones that charge you for an estimate.
After receiving quotes, you want to research the terminal companies you're considering. You've already done some digging, but you primarily focused on websites. Now it's time to check out terminal-to-terminal car shipping reviews, both the good ones and the bad ones. Check out the carriers' blog posts and social media. This content should help you find the most suitable provider.
Once your research is done, find out more about your carriers by contacting them. You probably want to ask many questions about their services, and the FAQ section on their website may not suffice. You can gain more insight by talking to their representatives. They'll answer your inquiries, and you can determine what their staff is like based on the communication. They need to be friendly and willing to help you. Otherwise, move on to another company.
Here are the questions you can ask the representatives.
How will you take care of my car? How will you ensure nothing happens to it?
What are your services? Do you only provide open transport, or do you also offer enclosed shipping?
How much does it cost to transport my vehicle? (Ask this question if you haven't obtained a quote).
How long does the shipping take?
What is the condition of the trailer that will transport my vehicle?
Is there any insurance?
The final step is to decide on your auto shipping company. Pick one by comparing every aspect of the service, including the type, quality, price, friendliness of the staff, and credibility. Choose a carrier that checks all the boxes, and you're more likely to have your ride transported safely.
What Storage Facilities Does Terminal-to-Terminal Transport Involve?
An integral part of terminal-to-terminal auto shipping is storage facilities. Where are these units located, and what do they contain?
As for the location, you can usually find these terminal facilities in open metro areas that large trucks can access easily. These regions are much more suitable for terminal delivery than residential zones that are mainly comprised of narrow roads. Navigating the trailers would be more difficult there. The storage also tends to be near highways, harbors, and airports.
Terminals generally contain a large number of high-end vehicles. Hence, thieves often target the facilities for their heists, which is why companies take robust security measures.
The buildings are normally gated, and the access is limited. Few employees have unlimited access to the facilities, minimizing the risk of inside jobs. Furthermore, the locations are used by car manufacturers that typically install their own surveillance cameras and bring security guards. This makes your ride even more secure.
Is Terminal Delivery Insured?
Unlike some companies that offer no insurance when transporting your vehicle, terminal facilities guarantee that any damage will be covered. This gives you peace of mind, knowing you won't have to pay for the repairs if your vehicle gets dented or scratched when in storage.
When Should I Schedule Terminal-to-Terminal Transport?
Terminal delivery is available all year long, but you should avoid scheduling the service during the holiday season. Shipping a vehicle in winter generally takes longer because many roads are closed due to heavy snow. Sometimes, the carriers stop servicing northern regions with extreme conditions to avoid safety risks. As a result, there are often delays and longer deliveries.
If you still opt for winter transport, you may get discounts and more choices in terms of the delivery date. Fewer cars are shipped at this time, giving your greater flexibility. Most people wait for summer or spring to relocate their vehicles, so there's more space on trailers in winter. Furthermore, the carriers make fewer stops on their route, which can slightly decrease delivery times.
Is Terminal-to-terminal Car Shipping the Right Choice for Me?
It's easy to see why terminal-to-terminal auto shipping is so popular. It's convenient, as you don't have to wait for the carrier to pick up your vehicle. Leave it at a terminal, and the company will take care of the rest. Your ride will be delivered to the destination safely and efficiently.
If you want to maximize safety, only work with a trustworthy company. Also, consider enclosed trailers, because they drastically reduce the risk of damage.