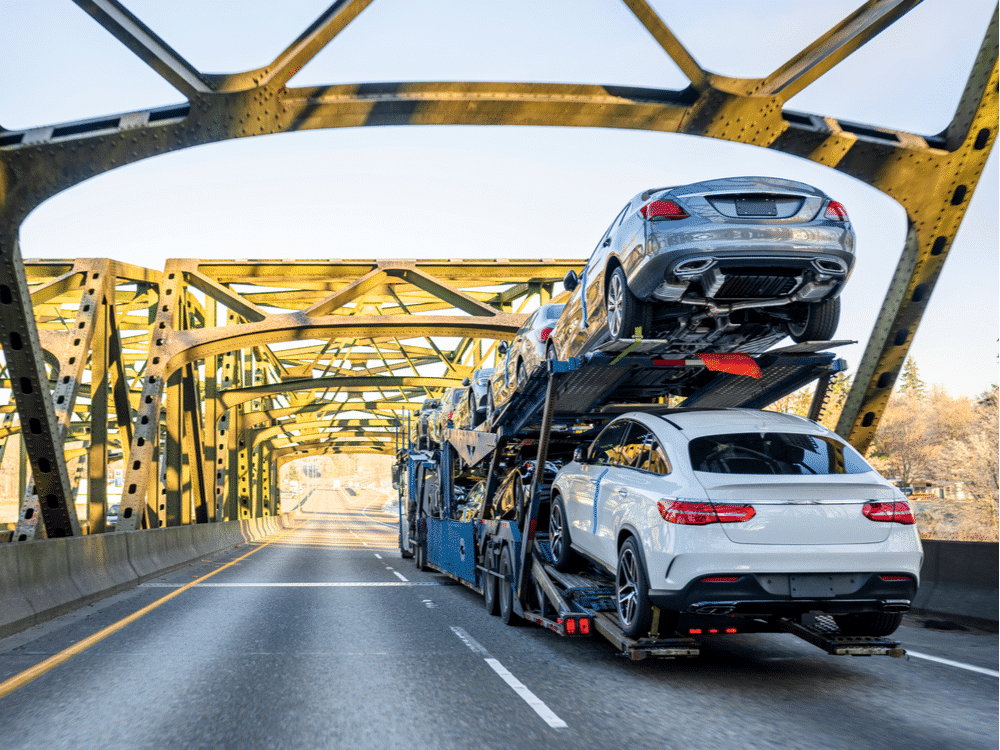 Transporting a car across country – How long does it take?
Are you moving across the country? How will your car get there? Have you figured out all the logistics of the move?
Working with a car shipping company takes the guesswork out of cross country moves, and most certainly makes the entire process easier. Cross country car shipping offers solutions for all your transport needs and gets your car where it needs to go with less hassle and more surety.
One of the most popular questions we have to answer is "How long does it take to transport a car across country?" Well, it depends on a few factors:
6 Factors Influencing Delivery Times
Most people think that the only thing that influences the delivery time and the cost is how far the vehicle has to travel. However, there are more factors influencing delivery time than just distance.
Here are the 6 main factors that determine how long it will take for your vehicle to get to its destination:
Delivery location and Distance
One factor which strongly influences delivery time is the delivery location and the distance that needs to be traveled.
Popular shipping routes are generally faster since more carriers traverse them daily. This means that even though one route may be the same distance as another, the delivery times can be very similar simply because more carriers transport along it.
More remote or less populated areas have fewer carriers on the route. This means they will have to wait until they have enough transport requests to leave the terminal for the journey to make sense.
Besides delivery location, distance remains one of the most important factors that influence delivery time. The more miles the carrier has to travel the longer it will take for the vehicle to arrive at the delivery location. Therefore, transporting a car across country will take much longer than transporting a car to a neighboring state.
Season and Weather Conditions
The shipping industry's peak season is during the summer month. This follows the relocation patterns of humans and the fair-weather conditions of the season. With the uptick in vehicles to be transported, it may mean facing personal delays due to the available pickup dates.
It's important to note that though demand is high, there is a possibility your vehicle may arrive sooner than expected since the routes and drivers are at their most efficient.
During the offseason, there are fewer available drivers willing to traverse the routes due to the holidays and poor weather conditions. This is where auto shipping companies offer incentive discounts to customers to encourage them to ship during this time.
This may mean longer transit times, as carriers have to wait until they have enough vehicles to transport before leaving the terminal. If there aren't enough vehicles, the journey will not be profitable, and you will face delays when you transport a car.
Traffic
While auto carriers try their best to factor in traffic conditions in delivery time, there are unpredictable situations that can cause delays, such as road accidents and blockages.
Besides daily rush hours, traffic conditions are at their worst during the holiday season and special events (e.g Superbowl). During these times, drivers take alternate routes which may end up delaying regular delivery times.
Vehicle Type
The type of vehicle you want to be transported does influence delivery time to a certain extent. Most cars can be transported without special accommodations and should be able to transport without any issue.
However, other vehicles that are larger and heavier than a sedan take up more space on the carrier, and may face delays with transport.
Regular vs Expedited service
Regular service is fine for most transport needs. Auto transport requires a lot of planning, and pickup dates are usually scheduled ahead of time.
There are, however, special instances, where regular service is not enough, and customers wish to have their vehicle delivered ahead of the standard transit time. This service comes at an extra cost, but it can be worth it if you truly need to shave off a day or two from your delivery time.
Personal preparation
You play an important role in how quickly your car gets on the road. Before the driver arrives, you're expected to properly prepare the necessary documentation and get the vehicle ready for transport.
Failure to properly prepare for pickup day can result in transport delays. In peak season, you're less likely to be rescheduled for next-day pickup, and you may have to wait a little while for a spot to be available on another carrier.
How long does it take to transport a car cross country?
On a typical day, our drivers are able to travel anywhere from 500 miles to 700 miles a day. If you do the math, a 500-mile journey, or less, will take a day or two max.
Similarly, a journey of 1000 miles will have a standard transit time of two to three days. If you want to know how long a journey will take, simply find the distance between point A and point B, then divide by 500. Whichever number you get, add a day or two, and that should give you a pretty accurate estimation of transit time.
So, for instance, the distance from Boston to San Diego is roughly 3000 miles. 3000/500= 6 days + 2 days, which is a little over a week.
How to schedule vehicle pickup
The sooner you schedule your vehicle pick up the sooner the truck driver can get it on the road and to its destination. We always advise our customers to schedule their pickup as soon as they know they will be moving. Waiting till the last minute can mean the dates you had in mind could be snatched up by other customers.
The first thing you need to do is to figure out what dates work best for you and your schedule. If you work or go to school during the week, choose a weekend date when you will be free to prep the vehicle and sign it over to the truck driver.
Reach out to us at Cross Country Car shipping to compare it to the available dates and choose the best option. Once you have a date, you'll need to figure out which transport method works best for your needs.
Open-air transport
Open-air transport is the most popular vehicle transport method and is the most readily available. This method of transport involves loading and securing vehicles onto a carrier, and transporting them exposed to the open air.
Open-air transport is also the cheapest way to ship a car cross country. Though the vehicles are exposed to the open air, it is still a safe means of transport. The most you will have to worry about is your car arriving a bit dirty after the journey. Nothing a trip to the car wash won't fix!
Enclosed transport
Enclosed transport is popular among owners of expensive luxury vehicles and the occasional classic car. It is a more expensive method of transport because fewer vehicles can be transported at a time on enclosed carriers.
This is perfect for vehicle owners who want to ensure their vehicle arrives in mint condition and would faint if a small stone on the road happens to nick the precious cargo. This method of transport also ensures more security for vehicle owners who don't want the prying eyes of passersby on their vehicles.
How to schedule vehicle delivery
Scheduling vehicle delivery follows the same steps as scheduling pickup. Delivery times are generally dictated by the carrier, and the 6 aforementioned factors influencing it. However, you can choose a delivery date that aligns with your schedule. For example, if you are free on the weekends, secure terminal storage until you can pick it up or have it dropped off at your home.
Terminal delivery
Terminal delivery is where the vehicle is dropped off at the designated terminal and the customer picks it up there. This is the cheaper option since the driver does not have to go out of his way to drop it off. Terminal delivery is sometimes assumed unless a customer specifies otherwise.
Terminal-to-terminal means that you drop off your vehicle at the terminal on pickup day, and receive it at the next terminal on delivery day. This is the most cost-effective method.
Door delivery
Door delivery is the opposite. Instead of dropping off the vehicle at the designated terminal, the carrier brings the vehicle to your house, hence 'door', or to another predetermined location, like your office, or even your school. It's all up to you.
This service will cost you a bit extra, but it can be really convenient for people who are too busy to make their way to the terminal, or who are not familiar with a new area.
Door-to-door delivery is something you may come across while shopping around for an auto carrier. It means that the car is picked up at your home, or any location besides the terminal, and brought directly to another location you choose, whether your home or otherwise.
Terminal-to-door/Door-to-terminal delivery
As an auto shipping company, our goal is to make car transport as convenient as possible for our customers. For this reason, we allow you to choose the method of pickup and delivery. You can even mix them to your convenience, meaning you can drop it off at the terminal, and have it delivered to your new home. Similarly, it can be picked up at your old home and brought to the terminal closest to your new home. Whichever works best for you! Just be sure to specify ahead of time so we can accommodate your request.
Using Cross Country Car Shipping to ship a car across the country
Shipping a car across the country is a nerve-wracking experience. The transit time is longer, which means there are more days of fretting to endure until your vehicle is back in your possession.
This is why it's important to work with an auto shipping company that can guarantee safe transit, speedy delivery, and a stress-free shipping process. Cross Country Car Shipping has been in the business for over 25 years and has shipped to every state in the country, along with overseas territories.
Peace-of-mind
Nearly three decades in the business have taught us the importance and sensitivity of the service we provide. Our cars are like our babies, very expensive babies, so we try our best to give them the best care possible. Handing our babies over to complete strangers is not easy, but it's necessary if we want them to reach their destination.
At Cross Country Car Shipping, we offer the kind of peace of mind you can't put a price tag on. With us, our customers know their car, or their baby, is going to be well taken care of and there's little to worry about when they're in the hands of people who know what they're doing.
Transparency and Communication
Our team works hard to ease any fears and works diligently to transport vehicles where they need to go. If there is ever a doubt in mind, our lines of communication are always open to putting any doubts to rest.
From the minute you schedule a pickup, to the second the car arrives at its destination, you will know exactly where your car is and the next step in the journey. If there is any misunderstanding, or simply something you need clarification on, our staff is ready to provide you with the necessary information.
Got any burning questions? Have them answered today when you call Cross Country Car Shipping at 888-230-9834!
Quality over Profit
Most auto carriers aim to earn a quick buck by hauling vehicles across the country. We aim to provide quality service that customers can depend on.
The Cross Country Car Shipping difference means that our carriers are inspected before leaving the terminal, and are serviced frequently to avoid mishaps that can lead to delay or damage. It also means that our carriers are never overladen, so your vehicle will have a comfortable journey without the worry of other vehicles bumping into it and causing damage in any other way.
Our company prides itself on hiring the best and most competent drivers who are not only capable of handling long journeys on the road but are equipped to deal with challenges should they ever arise.
In the end, our customers receive quality service that is worthy of the expense.
Timely and Affordable Transit
The two biggest questions customers have about cross country shipping is "How long will it take?", and "How much will it cost me?"
Both are fair questions, and every customer has a right to know what they are getting into. This means that when we give you a quote, there are no hidden fees that will spring up on you when it's time to collect your vehicle.
We offer some of the most competitive rates in the country, and you will discover this by using our free online quote tool. Simply compare quotes from other companies online, then compare with the result you get by clicking here.
It also means that the timeline we give you for delivery is something you can work with almost certainty unless there are unforeseen circumstances that cause delay. In most instances, however, we prepare for the unpredictable and give our drivers more than enough time to complete their hauls, obstacles or not.