Shipping A Car Or Truck in Tuscaloosa
Welcome to Cross Country Car Shipping, Tuscaloosa's top rated car shipping experts! 
For more than 25 years, we have answered the call as Tuscaloosa's premier car relocation service. We maintain transport carriers and delivery terminals throughout Alabama and can accommodate literally any type of auto shipping request in the area.
We don't just ship cars and trucks either! We ship all types of vehicles including boats, jet skis, buses, vans, electric vehicles and RVs. We offer free quotes for all types of vehicle moving services and boast some of the cheapest rates in the industry, while still maintaining our excellent service and communication every step of the way. We a proud member of the Environmental Protection Agency's SmartWay Program,a program that helps reduce emissions in the transportation industry.
Start saving on car shipping today by filling out the short form to the right or give us a call today to receive a free auto moving quote!
Vehicle Relocation Services We Offer in Tuscaloosa
Military Car Shipping
The men and women of the armed services are frequent customers of ours and we are proud to be a preferred car shipping option for them. No one understand the difficulties of relocating more than a military family and our goal is to make that process as pain-free as possible. We provide several different shipping options for military personnel and offer discounts to active duty members.
Corporate Relocation
Corporate relocations are also a specialty of ours at Cross Country Car Shipping. If you need a company car or even an entire fleet of company cars moved, we are more than equipped to handle the job. In the past, we have shipped cars for all types of businesses and government agencies, whether it's one state away or all the way across the country.
High-performance and Luxury Cars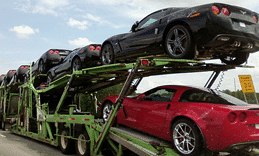 For owners of performance vehicles or high-end cars, finding the right auto transport company is very important. After all, if you're going to trust a company to ship your car hundreds–or even thousands–of miles, you want to know that you've made the right choice. We make the decision easy for you at Cross Country Car Shipping by providing straightforward and accurate cost estimates, as well as excellent communication from pickup to delivery.
For a free long distance car shipping quote in Tuscaloosa, fill out the form at the top of the page or call us today! Don't wait to start saving! 
Shipping A Motorcycle, Chopper or Harley in Tuscaloosa
Moving a motor bike comes with it's own particular challenges and most owners are pretty particular when it comes to handling their motorcycle, much less shipping it. We offer several transport solutions for motorcycle owners including pallet shipping, container shipping, crated shipping and uncrated shipping. Each method offers a different level of care and we also offer air-suspension transport and additional insurance coverage for high-end and delicate bikes.
Need a motorcycle professionally shipped? Fill out the quote form to get an estimate today or call us for a free consultation!