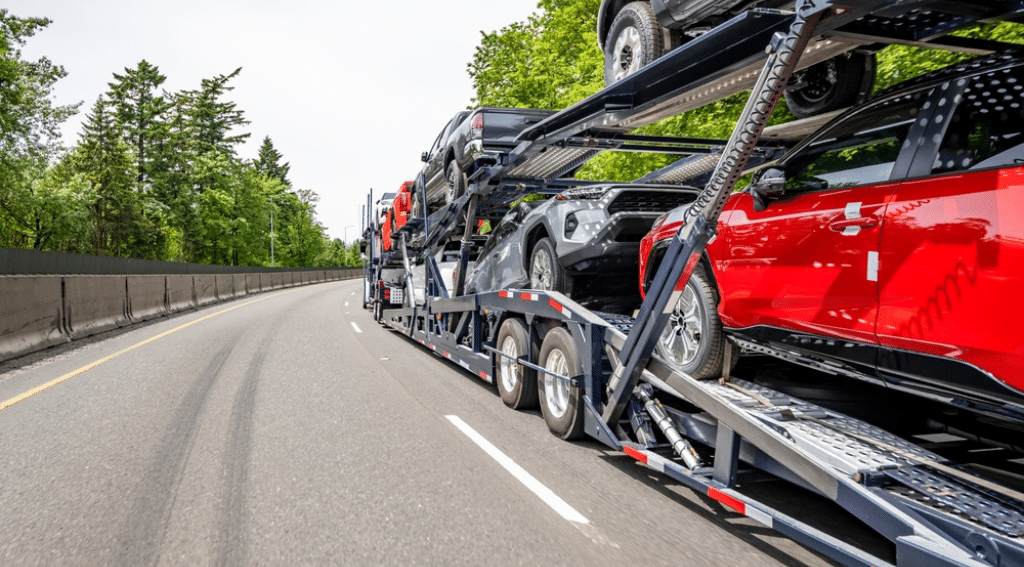 Explore Your Delaware Car Shipping and Transport Options
Delaware, a dynamic and diverse state recognized for its urban centers and breathtaking scenery, captures the interest of many individuals and businesses seeking dependable auto transport solutions. Whether you're moving to or from Delaware, purchasing a vehicle from a distant seller, or requiring heavy machinery transport, securing a reputable auto transport service is crucial for a seamless and hassle-free process.
Amidst the numerous car shipping companies operating within the state, selecting the right one can prove to be a challenging task. Elements such as safety, dependability, flexibility, and pricing all contribute significantly to making an educated choice. Fortunately, Delaware boasts a range of well-established and reliable auto transport service providers, each offering distinct qualities to accommodate a variety of transportation needs.
In this article, we will delve into the top-rated auto transport services in Delaware, showcasing their exceptional attributes, specialized offerings, and steadfast dedication to customer contentment. Whether your requirement is transporting a regular car, a luxury vehicle, or heavy machinery, these trustworthy companies ensure the secure and efficient conveyance of your vehicle to its designated destination.
Auto Transport Services in Delaware
For your car and freight transportation requirements in Delaware, Cross Country Car Shipping provides the optimal answer. Our committed team located in Delaware takes great pride in delivering exceptional services across the state. Count on us for a seamless, secure, and dependable transportation encounter, fostering assurance in numerous contented customers in the region. The journey for your vehicle begins right now.
Get the Best Shipping Services From Our Company
Drawing upon a wealth of industry knowledge, Cross Country Car Shipping is devoted to providing outstanding car shipping services in Delaware. Our team consists of adept experts well-versed in the nuances of secure and effective vehicle and freight transportation. Renowned as a leading service provider in the area, we uphold an unyielding commitment to ensuring customer contentment and service excellence. You can rely on us to handle your transportation needs with the utmost precision and competence.
Our Services
Cross Country Car Shipping in Delaware is proud to offer a wide array of services customized to fulfill a diverse range of transportation needs:
Car Shipping in Delaware
Rely on our comprehensive vehicle transportation services in Delaware to ensure your car arrives punctually and seamlessly at its intended destination. Utilizing our extensive expertise and robust logistical network, we skillfully navigate transportation routes throughout the state. Irrespective of whether you possess compact cars or SUVs, we cater to diverse vehicle types, offering convenient door-to-door service that ensures your car maintains its flawless condition from pickup to drop-off.
Need Enclosed Trailers in Delaware?
To ensure the highest level of safety during travel, we offer dependable enclosed transport services in Delaware, meticulously designed to shield your vehicle from external elements. Perfect for safeguarding cherished or classic cars, our fleet of well-maintained enclosed carriers delivers superior protection against adverse weather, debris, and potential risks. With careful and consistent attention, we treat each vehicle with the utmost care, ensuring its safe and impeccable arrival at the designated destination.
RV Shipping in Delaware
When it comes to your RV transportation requirements in Delaware, our team is completely prepared to handle the complexities of moving these sizable vehicles. Whether you're dealing with compact travel trailers or larger motorhomes, we have the expertise and specialized tools necessary to ensure their safe transport. Recognizing the distinctive challenges associated with RV shipping, we are well-equipped to tackle them with the highest level of proficiency, offering a smooth and secure transport journey.
Boat Shipping From/To Delaware
Via our specialized boat transportation services in Delaware, you can have confidence that your marine vessel will be expertly and efficiently transported. Whether you're overseeing a personal watercraft or a larger yacht, we treat each boat with meticulous care and expertise. Our comprehensive insurance coverage provides an additional level of confidence, positioning us as the reliable choice for safely transporting your boat to its desired location.
Freight Transportation in Delaware
Customized to cater to the distinct requirements of customers in Delaware, our freight shipping services offer a superb answer for individuals or businesses seeking to transport bulky, weighty, or cumbersome items.
Whether you're managing palletized goods, construction supplies, or industrial cargo, we have the expertise and capability to handle a diverse range of load types. Rely on us to deliver efficient and tailored solutions, guaranteeing the seamless and reliable transportation of your freight to its designated endpoint.
Choose Us For International Car Shipping
Contemplating an international relocation from Delaware? Let us assist you in achieving a smooth vehicle transition through our worldwide auto transport services.
We expertly manage all elements of the transportation process, from navigating customs documentation to orchestrating overseas delivery arrangements. Our goal is to simplify the international shipping journey, ensuring a hassle-free experience for all our esteemed clients.
Heavy Equipment Hauling in Delaware
Prioritizing robust safety measures, we adeptly manage the transport of significant machinery and equipment in Delaware, ensuring a secure and seamless journey.
Our expertise spans various industries, including construction, agriculture, and industrial machinery, ensuring the safe transportation of diverse items. Our dedicated carriers and seasoned professionals work diligently to guarantee the timely and protected delivery of your heavy equipment to its designated destination.
Contact Auto Transport Specialty today for reliable vehicle shipping services in Delaware and a comprehensive range of transportation solutions. Rely on our meticulous care and effectiveness to handle all your transportation needs.
Things to consider before moving your car from Delaware
Moving your car from Delaware involves careful planning to ensure a smooth and stress-free process. First, choose a reputable auto transport company. For that first, select a few reliable Delaware car shipping services, DE auto shipping services, or DE car hauling services based on their reputation and reviews. Then from the selected DE auto transport services or DE car transport services select the best Delaware car shipping service or the best Delaware auto transport service. Here's how you choose a reliable and trustworthy shipping company
Compare quotes and services to find the best fit for your needs.
Next, prepare your vehicle for transport by cleaning it, removing personal items, and documenting any existing damage. Ensure you have all the necessary paperwork, including registration and insurance. This blog will give you a complete idea on preparing your vehicle for transportation.
Consider the timing of your move – certain seasons and routes might affect pricing and availability. Confirm the pick-up and delivery locations and be flexible with dates if possible.
Communication is key – stay in touch with the auto transport company and inquire about insurance coverage during transit. Once your car arrives, inspect it for any new damage and ensure everything is in order.
By taking these considerations into account, you'll be better equipped to navigate the process of moving your car from Delaware, ensuring a safe and successful transportation experience.
Top 10 most popular routes for transporting a car to/from Delaware
When it comes to transporting a car to or from Delaware, knowing the most popular routes can greatly simplify the process. Whether you're moving to a neighboring state or across the country, these well-traveled routes can provide insight into planning your car transport journey.
1. I-95 Corridor: Running from Florida to Maine, this major highway passes through Delaware, making it a prime route for north-south and south-north car shipments.
2. Delaware to New York: The route connecting Delaware to New York is frequented due to the economic ties between the two states.
3. Delaware to New Jersey: Neighboring New Jersey is a common destination, especially for that commuting between states.
4. Delaware to Pennsylvania: The proximity of Pennsylvania makes it a convenient route for car transport.
5. Delaware to Maryland: As another neighboring state, Maryland is a popular destination for car shipments.
6. Delaware to Washington, D.C.: The nation's capital draws many car transport requests due to its importance as a metropolitan hub.
7. Delaware to Boston: For those heading to Massachusetts, the route to Boston is in high demand.
8. Delaware to Atlanta: Atlanta's prominence in the South makes it a frequently traveled route.
9. Delaware to Chicago: This route connects the Mid-Atlantic to the Midwest and is often used for car transport.
10. Delaware to Florida: Many individuals and snowbirds transport cars between Delaware and Florida, particularly in the winter.
When choosing an auto transport company for your Delaware car transport, consider those with experience along these popular routes. Their familiarity with the roads, logistics, and potential challenges ensures a smoother journey for your vehicle.
Long Distance Auto Transport to/from Delaware
Embarking on a long-distance move to or from Delaware comes with the challenge of transporting your vehicle. Long-distance auto transport requires careful planning and consideration to ensure a seamless process.
Opting for professional auto transport services can alleviate the stress of driving your vehicle over long distances. By entrusting your vehicle to experienced transport companies, you benefit from their expertise in navigating interstate routes, ensuring safety, and delivering your vehicle on schedule.
Delaware's strategic location along the East Coast makes it a crucial point for numerous long-distance auto transport routes.
Whether you're relocating to the West Coast, Midwest, or any other destination, professional auto transport services offer a convenient and efficient solution.
When selecting an auto transport company for your long-distance journey to or from Delaware, prioritize reputable companies with a history of successful long-distance shipments.
Ensure they offer transparent pricing, reliable communication, and insurance coverage for added peace of mind. With their assistance, your long-distance move becomes a stress-free endeavor, allowing you to focus on other aspects of your relocation.
International Auto Transport from/to Delaware
For those seeking to transport vehicles to or from Delaware across international borders, a seamless and secure process is essential.
International auto transport involves intricate logistics, regulations, and considerations that require professional expertise.
Delaware's strategic location along the East Coast makes it a convenient departure or arrival point for international auto shipments. Whether you're moving your vehicle for work, personal reasons, or selling to international buyers, relying on experienced auto transport companies ensures a smooth transition.
Professional international auto transport providers navigate customs procedures, documentation, and shipping regulations. They offer various shipping methods, including container shipping or roll-on/roll-off services, tailored to your preferences.
When selecting an international auto transport company, prioritize those with a proven track record in global vehicle transportation.
Transparent communication, insurance coverage, and a commitment to adhering to international regulations are essential attributes to look for.
By entrusting your vehicle to skilled professionals, you can enjoy peace of mind knowing that your international auto transport needs will be met efficiently and safely.
Whether your vehicle is destined for Europe, Asia, or any other corner of the world, reputable international auto transport providers from/to Delaware ensure your vehicle's journey is a success.
Cheap Car Transportation Options in Delaware
When it comes to transporting your vehicle, cost-effectiveness is a priority. Delaware residents have access to various cheap car transportation options that ensure both savings and quality service.
Open-Air Transport: Opting for open-air transport, where your vehicle is placed on an open trailer, is often more affordable than enclosed transport. While it exposes your car to weather elements, it's a reliable choice for short to medium distances.
Terminal-to-Terminal Service: Choosing terminal-to-terminal service instead of door-to-door can reduce costs. You drop off and pick up your car at specified terminals, saving on transportation to your doorstep.
Multiple Vehicle Transport: If you have multiple vehicles to transport, many companies offer discounts for shipping more than one car.
Seasonal Discounts: Keep an eye out for seasonal promotions or off-peak periods when transportation rates might be lower.
Comparing Quotes: Request quotes from multiple reputable car transportation companies. Comparing prices and services helps you find the most affordable and reliable option.
While seeking affordable options, prioritize reputable companies with positive customer reviews and a history of safe deliveries. Balancing cost with quality ensures that your cheap car transportation experience in Delaware remains a value-driven investment.
Instant Car Shipping Quote
Obtaining an instant car shipping quote has become an integral step in planning vehicle transportation. Reputable car shipping companies offer online tools that allow you to receive a quote instantly, saving you time and effort. You can get an instant quote from us Here.
With just a few details such as pickup and delivery locations, vehicle type, and desired timeframe, you can receive a preliminary estimate of your car shipping costs. This instant quote empowers you to make informed decisions and budget effectively for your transportation needs.
However, while the instant quote gives you an initial idea of the cost, it's essential to engage in further communication with the car shipping company. Factors like vehicle conditions, specific routes, and additional services can influence the final pricing.
By utilizing the convenience of an instant car shipping quote and engaging with reputable companies, you're taking a proactive step toward hassle-free vehicle transportation, ensuring transparency, and allowing you to plan your move with confidence.
FAQs
How much does auto transportation to/from Delaware cost?
The cost of auto transportation to/from Delaware varies based on factors like distance, vehicle type, transport method, and current market conditions. Typically, short distances within the state might cost less compared to long-distance or cross-country transport. Open transport is usually more affordable than enclosed transport. Requesting quotes from reputable car shipping companies will provide a more accurate estimate for your specific needs. Keep in mind that while cost is important, prioritizing a reliable and experienced car transport service ensures the safety and quality of your vehicle's journey. Through this blog, you'll know more about the pricing process of the shipping companies.
How long does vehicle transport to/from Delaware take?
The duration of vehicle transport to/from Delaware depends on factors like the distance, route, weather, and specific circumstances. Shorter distances within the state might result in quicker transport times compared to longer interstate journeys. Reputable car transport companies provide estimated delivery timeframes during the booking process, considering these variables. While unforeseen factors can occasionally affect timelines, engaging with experienced transport services ensures a smoother process and more accurate delivery estimates.