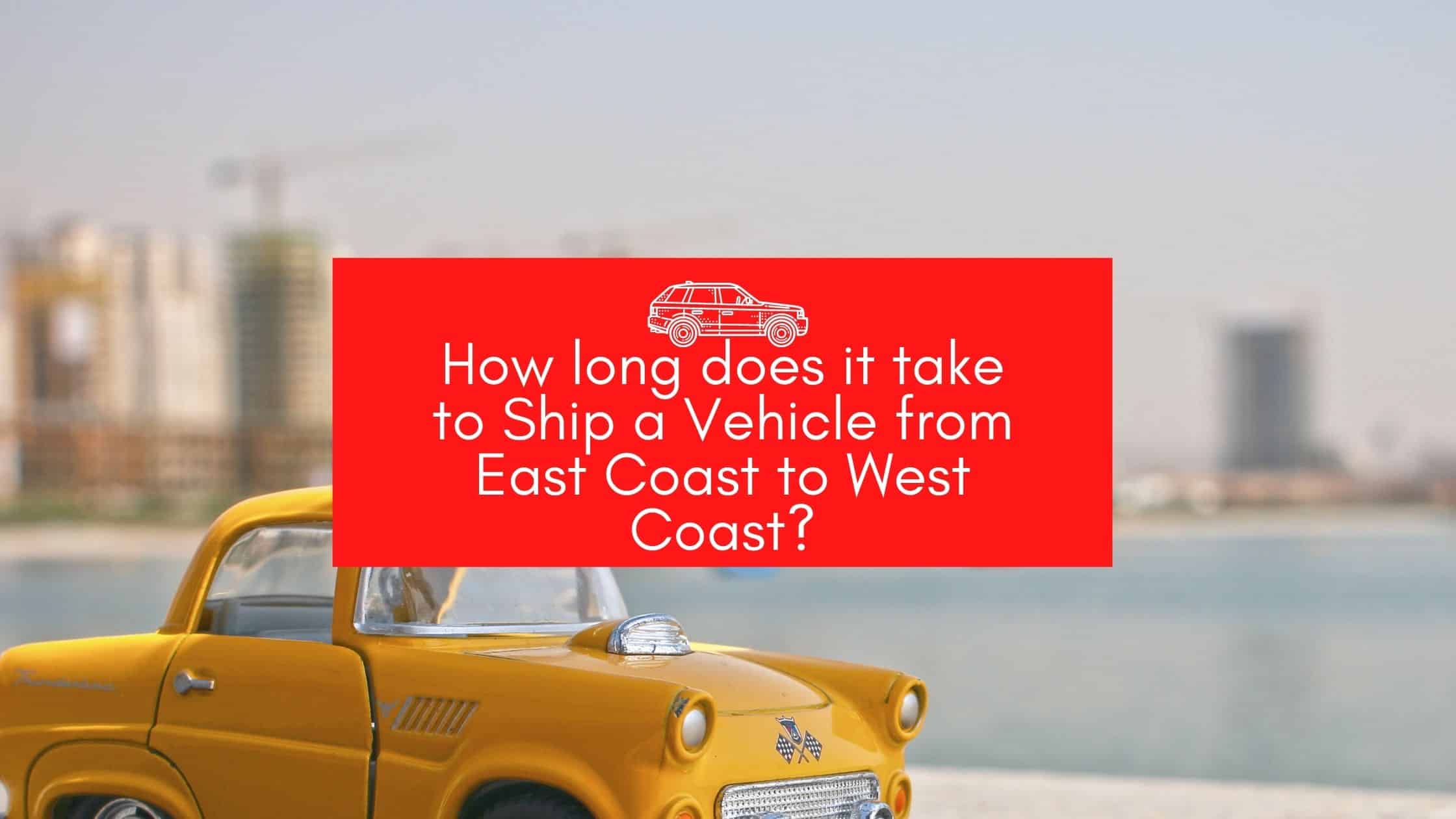 How long does it take to Ship a Vehicle from East Coast to West Coast?
Shipping a vehicle from the east coast to the west coast or vice versa can be a daunting task if you're planning on driving or towing it yourself. There is a lot of planning and preparation involved, not to mention the additional expenses of such a venture. Luckily, Cross Country Car Shipping can transport your vehicle from coast to coast and will ensure that it will be safe and secure while in transit. Consequently, the more you know about the coast-to-coast transport process, the more pleasant your shipping experience will be overall.
What should you do first?
When you're relocating from the east coast to the west coast, there is a lot to consider, especially if you have two vehicles and don't want your spouse or another family member driving one of them. So, the first thing you need to do is decide on a way to move that other vehicle. Since you've already ruled out driving that other vehicle, you'll probably want to hire an auto transport company such as Cross Country Car Shipping to move it from Point A to Point B.
How do we transport vehicles from the east coast to the west coast?
As with other auto transport companies, we offer different options for shipping vehicles from the east coast to the west coast. The most popular method is door-to-door transport. This is by far the most convenient method for transporting a vehicle cross-country because the driver picks up and delivers your vehicle to your new home or a nearby location provided it is legally and safely possible. As the most convenient and popular method, door-to-door transport is also the costliest.
When having your vehicle transported door-to-door, you have the option of having it shipped in an enclosed or open trailer. Here's what you need to know about both:
Enclosed transport carriers can carry up to 7 or 8 vehicles at a time. This method is your best option because it protects your vehicle from road conditions and the weather.
The open transport method is ideal for those clients who need to have their vehicle delivered to their new location quickly and cost-effectively. While this is the cheapest transport method to use, it offers little if any protection from the elements.
No matter which Cross Country Car Shipping method you select, it will save you time and money as well as additional wear and tear on your vehicle. Thus, this is a valid point to consider before you choose the method for vehicle shipping.
How long will it take to ship your vehicle from the east coast to the west coast?
When shipping your vehicle from the east coast to the west coast, there are certain factors that will influence how long it takes to get from Point A to Point B. With other shipping companies, the transit time you're quoted doesn't include the time between booking their services and when they actually pick up your vehicle. Once you have made your reservation with Cross Country Car Shipping, it can take 2 to 7 days to pick up your vehicle. However, if you want to pay extra for expedited shipping, it will be picked up within 1 to 3 days.
It normally takes between 5 and 8 business days from the time your vehicle is picked up until it is delivered to your new home. Our drivers typically drive up to 500 miles daily depending on certain factors such as:
delays caused by breakdowns, driver's health, or other emergencies
delays caused by ice, rain, sleet, or snow
driver regulations
having to pick up and/or deliver vehicles out-of-the-way or rural areas
time of year
Keep in mind that you could have more control over delivery times with our expedited shipping service. However, this could cost up to 30% for the added convenience. You can usually expect to pay between $600 and $1,000 for a 4-door vehicle. However, if you're shipping a pick-up truck, SUV, or van, it could cost between $800 and $1,100. If it's a luxury or vintage vehicle, you can expect to pay even more.
Naturally, these prices are based on estimates and national averages and your price may vary based on the factors listed above. You may contact us to get a FREE, no obligation quote and you can be sure that if you opt to work with us, we'll take good care of your vehicle all through transit.
For additional information regarding coast-to-coast vehicle transport times, visit our website by clicking here. If you prefer to speak with a Cross Country Car Shipping representative, call us today at (888) 230-9834. We're here to assist you.