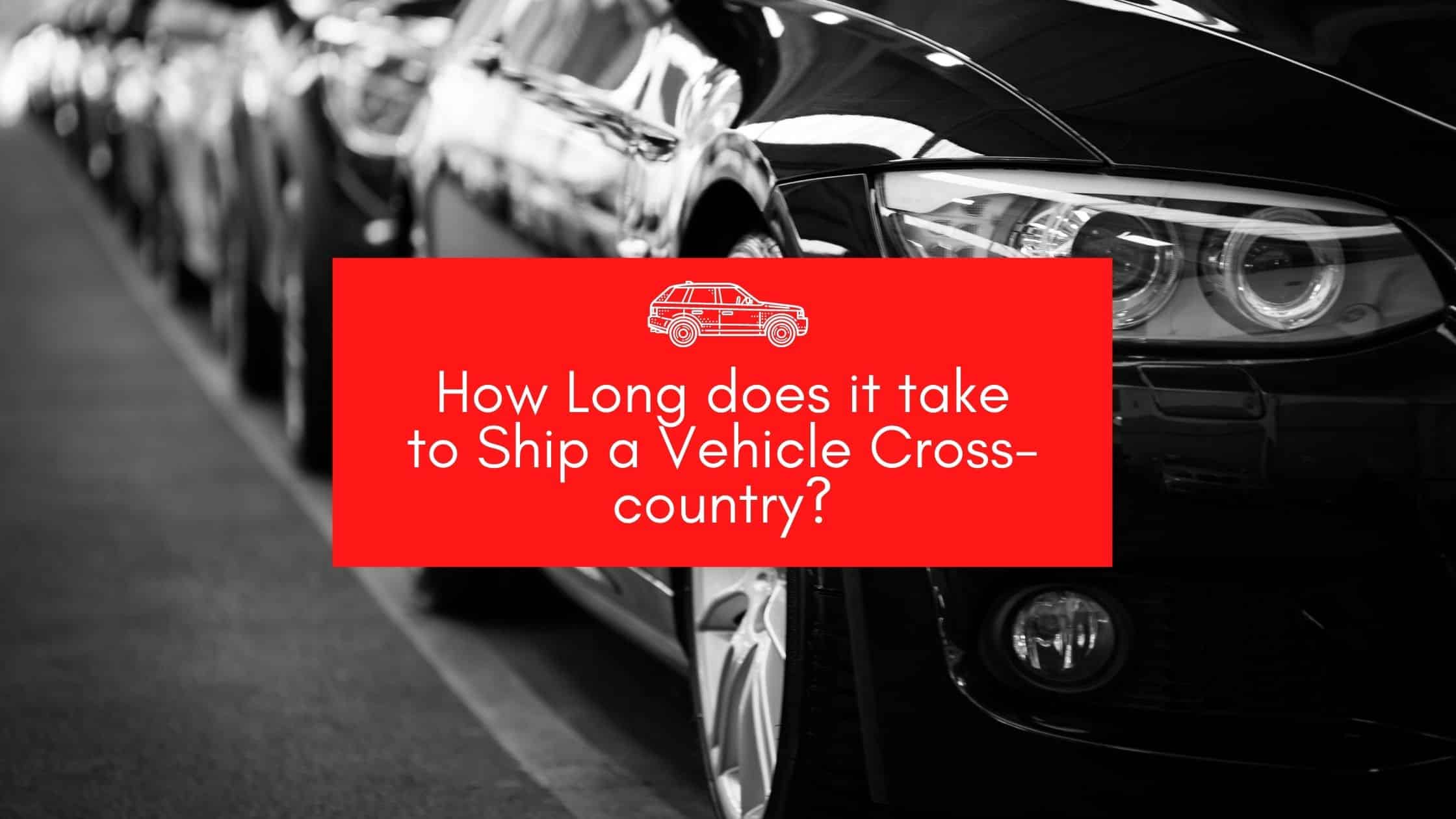 How Long does it take to Ship a Vehicle Cross-country?
Families who are relocating long distances across state lines or cross-country often have to decide how to get a second vehicle to their new location. They are faced with deciding between driving their vehicles separately or letting a professional auto transport company pick up and deliver one of them when moving to their new location. That's where Cross-Country Car Shipping can help. For over three decades, we've been the go-to company when it comes to helping clients move their vehicles from coast to coast quickly and efficiently.
What is cross-country auto transport?
In the simplest of explanations, cross-country auto transport is a service that moves cars, SUV's, trucks, and vans from city to city, state to state, or coast to coast. Our drivers typically drive between 500 and 700 miles per day and will deliver a vehicle within 12 to 14 days after booking the service. Certain delivery locations such as Alaska and Hawaii often take longer for the obvious reasons. Furthermore, you can request expedited delivery at an additional cost.
What information is needed before getting a quote?
First and foremost, there is very few if any auto transport companies that can match the services provided by Cross Country Car Shipping, especially where affordability and quality of service are concerned. If you've already spent a few hours Googling for an auto transport company that can accommodate your needs, you've probably gotten overwhelmed by the number of results you're search has yielded.
Along with the planning and preparing for a relocation of this magnitude, there's a ton of information and options which can complicate matters even more. For instance, we'll need to know the following information in order to give you a basic quote:
desired dates for pick-up and delivery
make, model, and year of your vehicle
pick-up location and delivery destination
your e-mail address and phone number
All you need to do now is choose Cross Country Car Shipping to handle your needs, get a shipping rate quote, and book your order with one of our specialists. We are available to answer your queries and give you clarifications on any doubts you may have about shipping your vehicle with us.
What factors will influence the delivery time involved?
As with any other auto transport company, we will do our best to provide you with the most accurate estimate of when you can expect your vehicle to be delivered to your new location. The following factors will be taken into consideration when calculating an accurate estimate of how long the process will take:
pick-up and delivery locations
distance from the pick-up location to the delivery destination
time of year that you book our services
driver's hours (it will take longer if only one driver is operating the transport truck and trailer, less time if there is two or more drivers)
road conditions
transport method requested (enclosed or open transport)
weather conditions
Keep in mind that there are advantages and disadvantages involved with either one of the transport methods mentioned above. Cross Country Car Shipping enclosed auto transport costs more but it provides the highest level of protection and security for your vehicle. On the other hand, open auto transport is the most cost-effective method but offers little if any security and protection from road conditions and the weather. However, we'll try to find the best option for your vehicle and the available budget. We know that you'd be worried about your vehicle. However, you can be assured that we'll go that extra mile to ensure it is delivered to you safely at the new location.
So what's the bottom line on how long it will take to ship your vehicle?
As seen in the above section, there are a number of factors that can influence the amount of time it takes to get your vehicle from Point A to Point B. It's important to consider these factors when shipping your vehicle. Based on our experiences with past clients and national averages for auto transport delivery times, the following table will give you a better idea of the time frame you'll be looking at:
| | |
| --- | --- |
| Distance | Travel Time |
| 500 miles or less | 1 to 2 days |
| 500 to 999 miles | 2 to 3 days |
| 1,000 to 1,499 miles | 3 to 4 days |
| 1,500 to 1,999 miles | 5 to 6 days |
| 2,000 to 2,499 miles | 6 to 7 days |
| 2,500 to 2,999 miles | 7 to 8 days |
| 3,000+ miles | 10 to 12 days |
For additional information about shipping your vehicle across state lines or across the U.S., contact Cross Country Car Shipping by calling us toll free at (888) 230-9834 or visiting our website at your earliest convenience.